State ministers' meeting convened by Modi a 'super flop': Mamata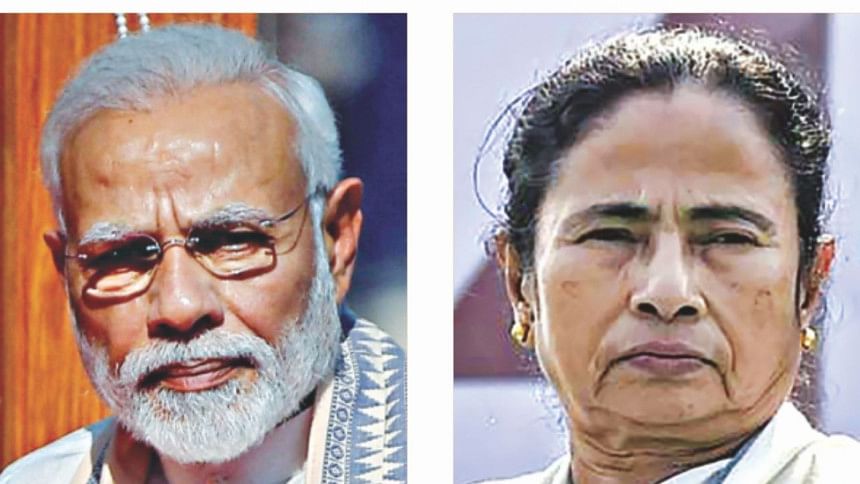 Fresh political heat gripped West Bengal today as Chief Minister Mamata Banerjee called a virtual meeting of chief ministers convened by Indian Prime Minister Narendra Modi a "super flop", saying she along with her counterparts from non-BJP-ruled states was not allowed to speak.
After the meeting, held to discuss the Covid-19 situation in India, a furious Mamata claimed that only chief ministers of BJP-ruled states were allowed to speak, while others were "reduced to puppets".
"This was a casual and super flop meeting. Only chief ministers of BJP-ruled states were allowed to speak and others were reduced to puppets. We feel insulted and humiliated. This is an attempt to bulldoze the federal structure of the country. PM Modi is so insecure that he did not listen to us," Mamata told reporters at the state secretariat "Nabanna" in Kolkata.
"This was not a one-way communication… it was one-way humiliation," she alleged.
She said at the meeting the prime minister neither asked how West Bengal is handling the Covid situation nor did he enquire about the stock of vaccines or oxygen in the state.
"There was not a single question from the PM about the 'black fungus'," Mamata said, adding four such cases have been detected in the state.
Referring to the PM's claim that the Covid-19 caseload is reducing in the country, Mamata asked, "If the total number of cases is declining, why are so many deaths due to the coronavirus infection being reported?"
However, central government officials, who requested anonymity, claimed Mamata did not allow the district magistrates of 24 North Pargana district in West Bengal to speak at the meeting with Modi to create "drama" later.
The officials noted that DMs from opposition-ruled states like Chhattisgarh, Kerala, Rajasthan spoke at the virtual meeting.
Today's angry reaction of Mamata came in the backdrop of the arrest of two of her senior cabinet colleagues Firhad Hakim and Subrata Mukherjee and key TMC leader Madan Mitra in connection with the Narada sting operation case relating to alleged graft.
Mamata's former aide and present BJP leader Suvendu Adhikari took to the Twitter to accuse her of politicising a meeting the prime minister held with district officials "where grassroots-level practices to fight Covid-19 were being discussed."
Meanwhile, the Calcutta High Court today deferred the hearing in the case filed by CBI against bail given to Hakim, Mukherjee, Mitra and ex-Kolkata Mayor Sovan Chatterjee "due to unavoidable circumstances".
"Due to unavoidable circumstances, the First Division Bench will not assemble today," a notice in the Calcutta High Court website said.