Cops press panic button after snakes invade Indian police station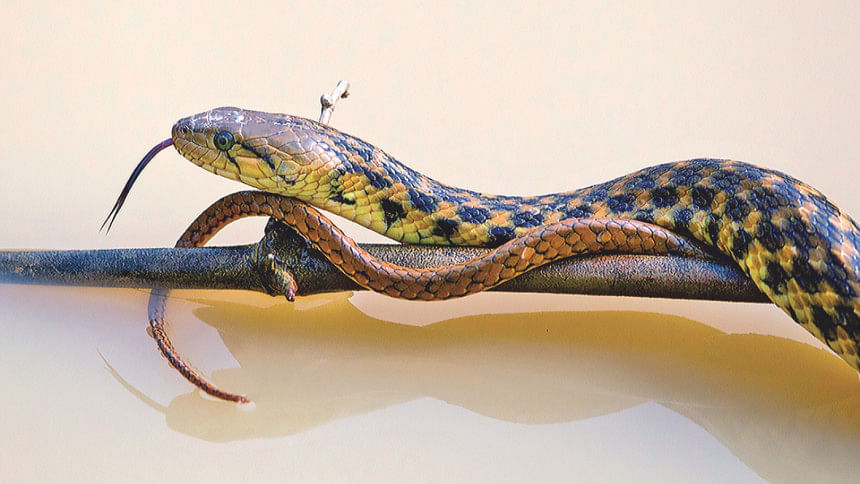 Three venomous snakes were removed from inside the Barjora Police Station, in the state of West Bengal of India, premises this morning where officers had pressed the panic button after a snake had appeared yesterday evening. 

The police Station which has responsibility for an area spread over 239.6 square km in seven Gram Panchayat areas in Bankura district is located beside the Bankura-Durgapur highway and it is surrounded by heavy growth on its eastern and south-eastern sides.

The forest area lies within yards of the police station premises. One of the officers said: "Venomous snakes are not uncommon here but for a few days our officers were hearing the noise of the hissing reptiles from different locations." Yesterday evening, a civic police volunteer spotted a Russell's Viper at the residential quarters of the Inspector In-Charge of the police station.

The snake was beaten to death. Shortly after, another policeman spotted another snake entering the barrack area. The police summoned a team of expert snake catchers from Nimo in Burdwan (East). The four-member team led by Palash Mal, after almost five hours' toil, rescued two cobras and a Russell's Viper today. Palash said: "A few months ago I had rescued a dozen Russell's Vipers from Dankuni police station in Hooghly."

Biswajit Mukherjee, Inspector, Barjora police station said: "My officials were becoming panicked as snakes were appearing here and there within the police station premises. A few snakes were killed by the staff. So, we made no delay and called the snake catchers." Biswajit Mal, Ranger, Barjora Forest Range said: "Kraits and Russell's Vipers are very common in this part of the Bankura (North) Forest Division. Cobras usually avoid inhabited areas."