6 women ministers in Modi govt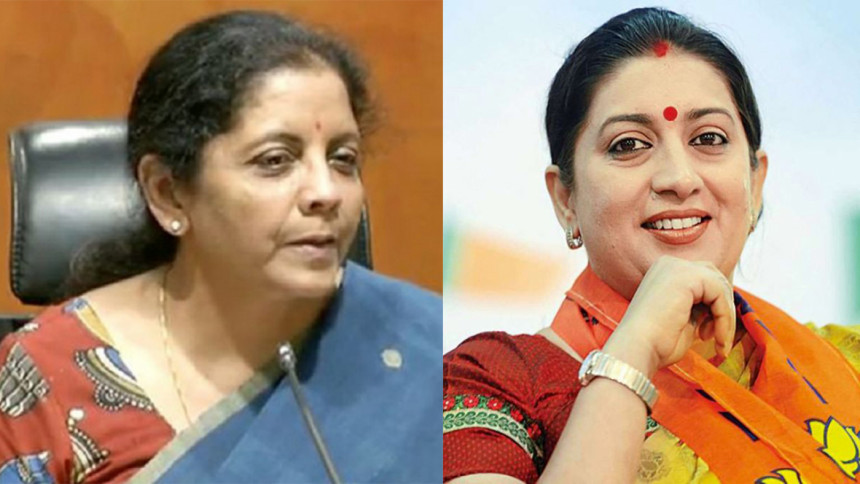 There are six women in Prime Minister Narendra Modi's new government, which was sworn in last night, including actress-turned-politician Smriti Irani who defeated Congress President Rahul Gandhi in Amethi in recent parliamentary elections.
While three women ministers are of cabinet rank, the rest are ministers of state, reports our New Delhi correspondent.
The number of women ministers in this government is lower than the last time even though the number of women elected in the 2019 Lok Sabha polls is the highest ever. There were eight women ministers in the last government of Modi.
The average age of women lawmakers this time is 51 years, with 43-year-old Irani being the youngest woman minister and Nirmala Sitharaman, 59, the oldest. Irani and Sitharaman belong to the Bharatiya Janata Party (BJP).
Sitharaman, who was India's first full-time defence minister, Irani, and Harsimrat Kaur Badal, 52, a lawmaker of regional party Shiromani Akali Dal, an ally of the BJP in Punjab, took oath as cabinet ministers and the rest three as ministers of state.
First-time lawmaker Debashree Chaudhuri, 48, from West Bengal was appointed as a Minister of State for her win against veteran politicians Md Selim of CPI (M) and Deepa Dasmunshi of the Congress in Raiganj. Chaudhari and Babul Supriyo are among the BJP's 18 newly-elected lawmakers from Bengal who made it to the council of ministers.
Among the women ministers in the previous government, Sushma Swaraj (External Affairs), Uma Bharati (Drinking Water and Sanitation), Maneka Gandhi (Women and Child Development) and Anupriya Patel (Health and Family Welfare) are not part of the new council of ministers.
Sitharaman, Swaraj and Bharti did not contest the Lok Sabha polls but Maneka Gandhi, Badal, Irani and Jyoti won from their constituencies.
A total of 78 women were elected in the 2019 Lok Sabha polls.
With over 14 per cent female members, the 17th Lok Sabha will have the highest number of women lawmakers since 1952.