The history and the political landscape of Bengal have been greatly determined by its geographical position, like that of many other countries of the world. Being the largest delta region created by the silt deposits of mighty rivers such as Ganges, Brahmaputra and Meghna, Bengal is bestowed with highly fertile soil and life sustaining resources. Thanks to its natural fertility, kind climate and fabled riches, Bengal has always attracted new settlers, traders and conquerors.
Traces of urban centers or large cities in Bengal have been found dating back more than 2,000 years. Though the economy was predominantly agricultural; the trades (especially cotton and Muslin, a very fine piece of clothing), both internal and international,  also flourished. Cities emerged centering trade hubs and ports; there have also been cities surrounding administrative, military and academic centers.
In eleventh century, the Turkish Ghaznavid ruler Sultan Mahmud (971-1030) initiated the first of numerous invasions of North India. A couple of centuries after Mahmud's invasion, Ikhtiyar Uddin Muhammad Bakhtiyar Khilji (died in 1206) made his way to Bengal at the beginning of thirteenth century. Establishment of a Muslim stronghold in Bengal encouraged several Muslim saints and sufis to come to preach here. Baba Adam Shahid of Dhaka, Shah Sultan Rumi of Mymensingh, Makhdum Shah Dawlah Shahid of Pabna, Jalal-Din Tabrizi of Deotala (in Nawabganj, Dhaka) and Shah Jalal of Sylhet and last but not the least, Khan Jahan Ali of Bagerhat were a few of them.
Legacy of Khan Jahan Ali
Ulugh Khan, better known as Khan Jahan Ali (a title given by the Bengal Sultan Nasiruddin Mahmud Shah: 1437-1459) of Khalifatabad (present day Bagerhat) had the qualities to become both a ruler and a preacher. Although little has been known about his early life, the first name Ulugh suggests his Uzbek origin and there happen to be many myths about him. He was a prominent practitioner of sufism and was instrumental in converting the locals. Interestingly, to this day it remains unclear what had brought him to southern Bengal in the first place: one wonders, if it was to establish human settlements in this remote, inhospitable region of Bengal far away from the comforts of Delhi, or was he simply inclined to live in peace in this distant land.
According to historian Satish Chandra Mitra, Khan Jahan undertook a long voyage to Bagerhat across Nadia (now a district in West Bengal, India) along the river Bhairab, by crossing the mighty Ganges River and appeared at Barobazar in the district of Jhenaidah. Barobazar became the first township, among the four townships established by him in Bengal: (i) Barobazar, (ii) Murali Qashba, (ii) Poyogram Qasba and (iv) Khalifatabad. Monuments built by Khan Jahan Ali in Barobazar and Bagerhat were mostly documented and made available by the Department of Archeology of Bangladesh. But not much has been written either about the settlements at Murali Qasba and Poyogram Qasba, or about the courageous journey made to the remote land. A tentative list of the archaeological sites has been prepared and presented in the following table.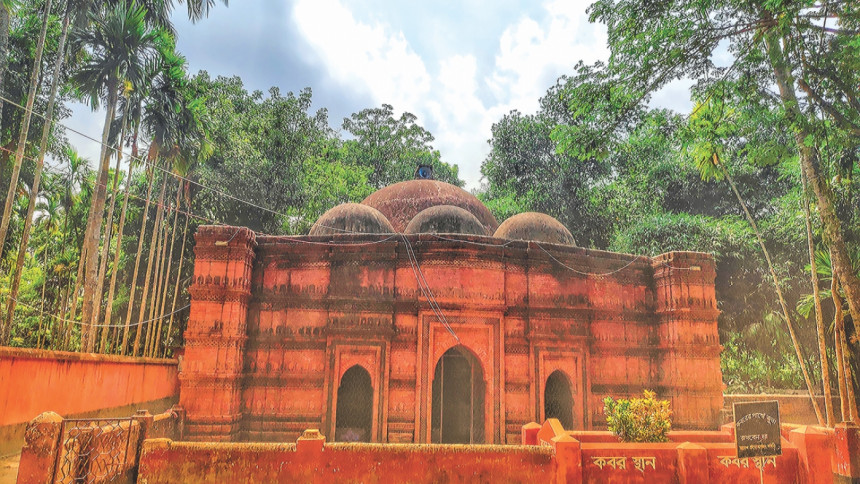 Barobazar
The first settlement of Khan Jahan, laid out on an earlier Hindu-Buddhist township known as Champanagar, in Barobazar was named after the twelve (Baro) saints who had inhabited the place earlier. It is said, when Khan Jahan appeared there, the saints welcomed him wholeheartedly. The small township of Barobazar (a union of Kaliganj upazila in the present day Jhenaidah district) encompasses an area of about 6.44 km. Gorar Mosque, Golakata Mosque, Jor-Bangla Mosque, Pir Pukur Mosque, Satgachia Mosque, Ghoper Dhipi Graveyard, Namaz Gaon Graveyard, Monohar Mosque, Jahajghata, Damdama protnosthan (archaeological site), Gorar Mosque, Sukkur Mollick Mosque, Nungola Mosque, Khorer Dighi Graveyard, Pathagar Mosque, Badedihi Graveyard, Saudagar Dighi mound, Sanaidar Dighi mound, Adina Mosque, etc. are some of its key monuments. Khan Jahan's involvement in the establishment of these architectural marvels in Barobazar suggests that he stayed there for quite a few years.
Murali-Qasba
Khan Jahan Ali settled next in a place called Murali Qasba (a place in Jashore Sadar upazila in present day Jashore district) after leaving Barobazar. To continue his missionary work, he left behind two of his dedicated followers named, Garib Shah and Beram Shah. The Mosque of Garib Shah near Jashore Collectorate and the grave of Beram Shah near Christian cemetery reflect the history of that time. Khan Jahan divided his followers into two groups at this point; one group followed him to Bagerhat and the others went to the Sundarbans.
The northern reaches of the present day Jashore town was known as Murali Qasba in the past. There was also a place called Bogchar, by the river Bhairab near this town. The Murali township spread about four km to the north-east of the city with Palpara, Bamun para and old Qasba. Sir Cunningham assumed this to be the capital of the Samatat region. Although no concrete proof has been found about this statement, there is no doubt about its antiquity. Some historians also suggested the presence of a few Viharas in that area. Satish Chandra stated that a large mound on the western side of the Karbala pond is possibly an old Buddhist Stupa. The highway Khan Jahan Ali built to connect these settlements is still known as Khanjalir Jangal.
Furthermore, there is a mosque named Shubharara Mosque, a few kilometers southeast of Abhaynagar thana in Jashore district and about 8 km north of Dhulgram. According to historian AKM Zakaria, this was probably built by Khan Jahan or one of his disciples.
Poyogram-Qasba
The township of Poyogram Qasba (a union in Phultala upazila in Khulna district at present) was a new colony established by Khan Jahan; it was located about 32.2 km away from Bagerhat and around 35 km southeast of Jashore. Ruins remain as a testament to the glory of the old days; two of them are as big as the Shat Gombuj mosque in Bagerhat and are said to have survived till a century ago. There are also a few ancient water tanks. This township was roughly divided into two approximately equal halves by a 15.24m wide Khanjali road, now known as Uttar (North) Dihi and Dakshin (South) Dihi. A grid of other roads and streets sub-divided the town into a rectangular chessboard pattern. Unfortunately, none of the mosques survived, except the remains of a large mosque in the Dakkhin Dihi village. Apart from that, the road (Khanjali Road) still exists.
Khalifatabad (Bagerhat)
Khan Jahan Ali adorned his capital city with numerous mosques (traditionally 360 in number), bridges, roads, palaces and other public buildings within an astonishingly short span of time. But the present day Bagerhat can be distinguished by about fifty monuments and ponds. However, most of them are gone. There are only two surviving monuments that describe the distinct style of Khan Jahan and its significance; one is Khan Jahan's own tomb and the other is the Shat Gombuj mosque. The United Nations Educational, Scientific and Cultural Organization (UNESCO) recognised the mosque city of Bagerhat as a world heritage site way back in 1985.
Apart from these monuments, UNESCO also included the mosques of Singar, Bibi Begni, Reza Khoda, Zindapir among the unique monuments. The structures built during the era of Khan Jahan resemble the nuances of the architectural style of Delhi's Tughlaq dynasty, which led to the discovery of Khan Jahan's origin.
According to a report on 'Khalifatabad' by Bangladesh Archeological Department, the city's dimensions are approximately 6.5 km (East-West) and 3.5 km (North-South). Whereas, a survey by Satish Chandra Mitra in 1910, found the city boundary to be 4 miles, starting from the Ghora Dighi on the west and up to the bank of Bhairab River on the east. It spread from the old bed of the Bhairab River, now known as Magrar Creek on the north, up to the Karapara Creek on the south for about two to three miles.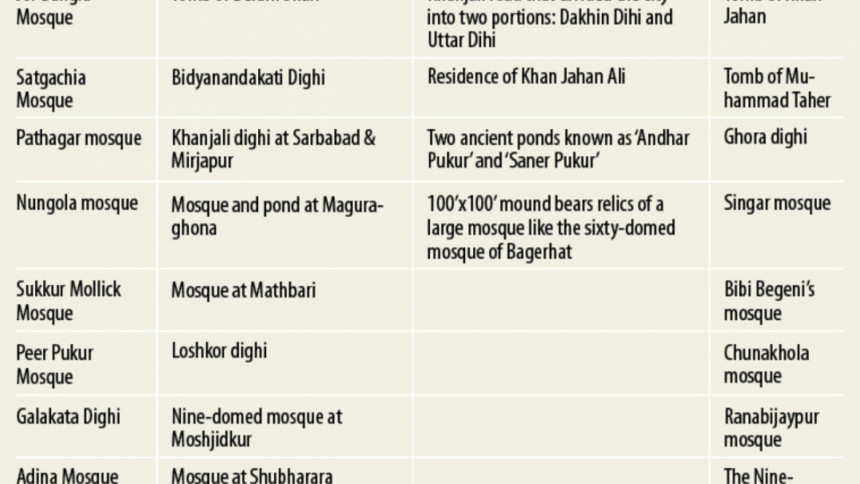 The Trails
The earthen road built by Khan Jahan Ali is a 112.7 km long stretch made by Khan Jahan Ali and his followers from Barobazar to Bagerhat. The first part of the road from Barobazar to Jashore had actually been built earlier by someone named Gazi. When the road by Khan Jahan was built, the entire stretch was named 'Khanjali road'. The road went into two directions from Murali Qasba. The path led by Khan Jahan to Bagerhat was along the river Bhairab, and the path along the river Kopotakkho went straight to the Sundarbans and was led by one of his trusted followers called Bura Khan. Among the axial roads of Bagerhat, one is said to have link with the royal highway from Gaur to Chittagong.
The group with Bura Khan and his son Fateh Khan started their journey following the footsteps of Khan Jahan. They built their own road and dug ponds along the way to supply fresh water to the villagers. Their first stopover was at Khanpur and then Bidyanandakati in Keshabpur where they dug an enormous lake. This Khanjali road further connected Maguraghona, Ataroi, Jeyala-Baruihati, Tala, Chapanghat, Khalin nagar, Gangarampur, Ghoshnagar, Kopilmuni, Ramnathpur, Gadaipur, Mathbari and Paikgacha. Crossing the Shibsa River it linked Laxmikhola, Gajalia, Alatala and Masjidkur (in Amadi) and went deep into the forest as far as Amadi and Bedkashi.
The path lead by Khan Jahan Ali went about 4 miles south-east from Murali-Qasba to a place called Ramnagar. There he dug a pond known as Shahabati Dighi. Then he went to Poyogram Qasba (currently a village in Phultala thana in Khulna district). There he left his disciple Taher, and went to Bashuri which still bears a pond excavated by him. In Shubharara he built a single dome mosque and proceeded to Ranagati, Gopinathpur, Nawly, Dhulgram, Siddhipasha to Barakpur. They stayed there for a while and continued to Bagerhat through Senhati, Chandnimohal, Senerbazar (at present Mongla port), Talimpur, Srirampur, Lakhpur and Modhudia. Most of the places mentioned here have been marked in the map.
The structures left behind by Khan Jahan Ali are the extraordinary heritage of a wise commander and a noble man who spent years in southern Bengal and laid out well planned settlements and infrastructures in that area. His distinct architectural taste and preferred method of construction have bestowed these structures with unique characteristics. Though much confusion prevails about his origin, the significance of this great warrior to the development of southern Bangladesh cannot be denied. He has been compared with Emperor Shahjahan and claimed to be as important to southern Bengal as Shahjahan was to Delhi by esteemed historian A K M Zakaria. Although UNESCO has recognised the mosque city of Bagerhat (originally named as Khalifatabad) as a world heritage site, very few know about the initial settlements there, and the significant role Khan Jahan had played in shaping its history.
Fatiha Polin is an architect and independent researcher. She can be contacted at fatihapolin@gmail.com.
Farah Mahboob is an architect working at Humanitarian Play Lab, BRAC IED. She can be reached at fmahboobarc@gmail.com.
Dhrubo Alam is a technical consultant (Transport) at Dhaka Transport Coordination Authority. He can be reached at dhrubo101@yahoo.com.