How the Mukti Bahini was trained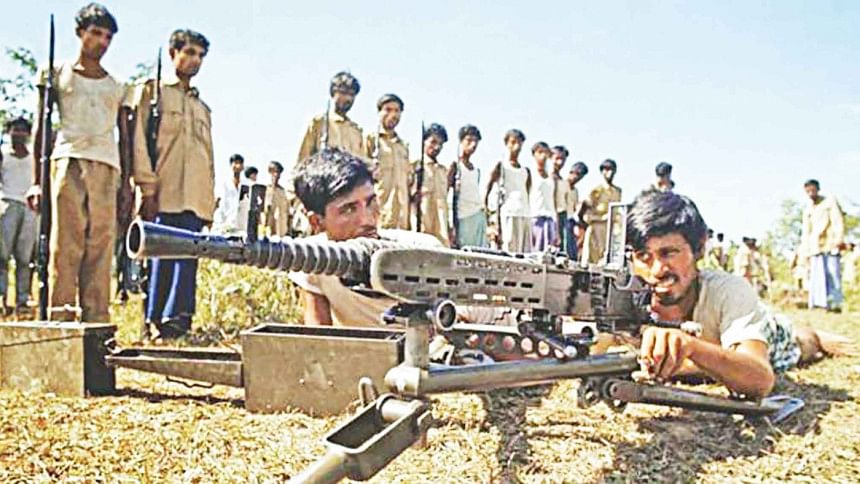 On May 1, 1971, General SHFJ Manekshaw issued the Indian Army Operational Instruction No. 52. A structured policy to provide training facilities and logistical and operational support for the liberation of Bangladesh was prepared by Lieutenant General Jagjit Singh Aurora, General Officer Commanding-in-Chief (GOC-in-C) Eastern Command. The Indian Army was responsible for training, equipping, and providing logistical support to Mukti Bahini. Selection of personnel, discipline, motivation, planning and execution of operations were an exclusive prerogative of the Commander-in-Chief (C-in-C) Bangladesh. An elaborate procedure was adopted for the selection of recruits for Mukti Bahini. Youth from all over Bangladesh were recruited to cover the entire territory. They were trained in the Indian Army's Operation Jackpot sectors' training camps located close to their native places. The Indian Government's Ministry of Rehabilitation, along with the Bangladesh Government, established special two-tier camps for young Bangladeshis. Later, these youth camps served as recruiting centres for Operation Jackpot training camps. In the first tier, youth reception camps were established along various routes of entry about six to eight kilometres from the Indo-Bangladesh border for (i) providing rest and shelter for the youth after a long and arduous journey, (ii) verifying their identity, (iii) checking against infiltration by Pakistani agents, and (iv) holding them for a few days pending to admission into regular Youth Relief Camps which were established in centralised locations. The objectives of the second tier youth camps were to (i) channelise and train the youths into organised and purposeful activities in service of Bangladesh on their return, (ii) serve as holding camps from which the trainees for Bangladesh Armed Forces, regulars and guerrillas would be recruited, (iii) train others as base-workers to supplement regulars and guerrillas. Expenditure for each camp of 500 trainees calculated at 1,55,000 rupees was catered by India. A total of 25 such youth camps were established.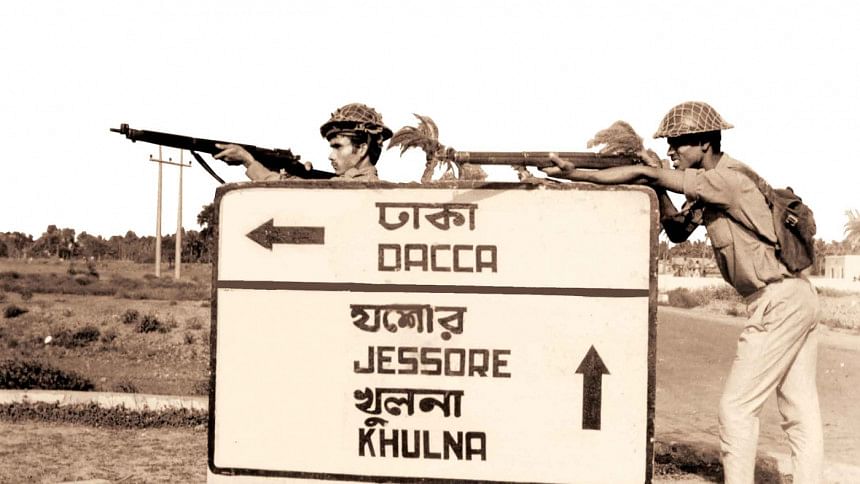 Mukti Bahini guerrillas were trained for four to six weeks at the Indian Army's Operation Jackpot training camps. After basic training in handling small arms, light automatic weapons, mortars, and explosives, they were sent for advanced leadership, or other training as per suitability to various Mukti Bahini sectors run under the command of the C-in-C Bangladesh. The Indian Army initially organised six training and logistical sectors under Operation Jackpot. An Indian Army Brigadier commanded each sector with officers, junior commissioned officers and other ranks under his command. The Alpha Sector was located at Murti Camp in the Jalpaiguri district of West Bengal and was commanded by Brig B C Joshi. Mukti Bahini Officers Training Wing (OTW) was also part of the Alpha Sector. In OTW, the officers for the First and Second War Courses of the Bangladesh Army were trained. Sheikh Kamal, son of Sheikh Mujibur Rahman and younger brother of Prime Minister Sheikh Hasina, was trained in the First War Course. The Bravo Sector was located in Raiganj district in West Bengal and was commanded by Brig Prem Singh. The Charlie Sector was located at Chakulia in Bihar and was commanded by Brig N A Salik. The Delta Sector was located at Devta Mura in Tripura. It was commanded by Brig Shabeg Singh. The Echo Sector's headquarters were located at Masimpur in Assam and was commanded by Brig M B Wadhwa. The Foxtrots Sector's headquarters were located in Meghalaya at Tura. It was commanded by Brig Sant Singh. Between August to September 1971, six more training sectors were organised.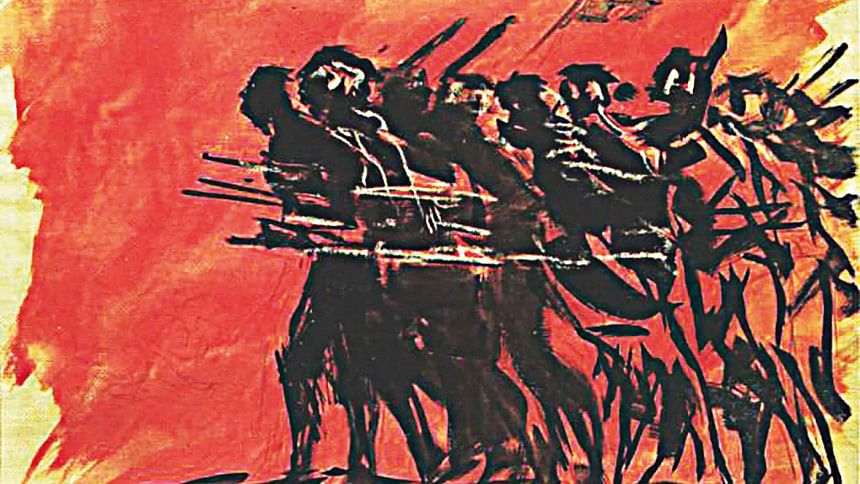 Lieutenant General Jagjit Singh Aurora himself oversaw the affairs of the Bahini. He was assisted initially by Major General B N Sarkar, who was a Bengali. No other staff member of the Eastern Command was involved in the Mukti Bahini affairs. The Mukti Bahini had two wings - regular forces (Niyomito Bahini) and guerrilla forces (Gano Bahini). The Niyomito Bahini units were part of the Swadhin Bangla Regiment, organised in battalions and Mukti Bahini sector troops. Colonel Osmani had divided Bangladesh territory into 11 sectors for military operations. A commander and troops for each sector were earmarked. Initially, it was decided to induct trained guerrillas in groups of five to ten in Bangladesh with specific tasks. Guerrilla bases were created inside Bangladesh, consisting of houses where they could be provided shelter, food, information about the objectives, and medical facilities. Each base was under a Bengali politician responsible for conducting psychological warfare to break the morale of Pakistani forces and strengthen the Bangladeshis psychologically.
A conference of sector commanders and other senior military officers of Mukti Bahini was held at Mujibnagar (Eight Theatre Road Kolkata) from July 12 to 17, 1971. It was presided over by Bangladesh Prime Minister Tajuddin Ahmed. Major decisions on strategy and organisation were taken, which were vital for the Liberation War. These included establishment and organisation of Mukti Bahini sectors, formation of regular brigades, structuring of Bangladesh armed forces from the forces' headquarters down to guerrilla groups, recruitment and logistics policy, mode of payment to all ranks, rations, and medical facilities; rations and accommodation for martyrs' families, sector boundaries, arms, equipment, dress for regular forces and Gono Bahini, phased induction of Gono Bahini in Bangladesh, etc. Directives for motivation and psychological warfare of regular soldiers and guerrillas, government functionaries, Bangladeshi refugees in India, people living in Bangladesh, and the Bangladeshi diasporas were issued. It was decided that (i) a large number of guerrillas must be inducted inside Bangladesh to strike at every conceivable place through raids and ambushes, (ii) industries would not be allowed to run; their electricity supply would be cut off by blowing electric sub-stations, poles etc., (iii) Pakistanis would not be allowed to export any raw material or finished product from Bangladesh, (iv) vehicles, railways, river crafts and ferries which enemy used for supplies to their troops were to be systematically destroyed, and (v) after isolating the enemy, guerrillas would strike deadly blows on the isolated groups.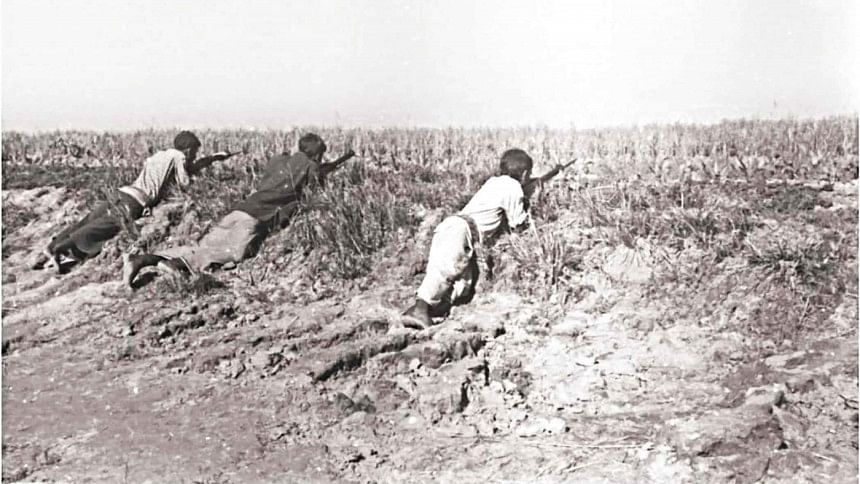 By the end of June 1971, battalions one, two and eight of the East Bengal Regiment (EBR) were moved to Tura in Meghalaya, reorganised and re-equipped. Similarly, EBR three and four, located in Tripura, were also reorganised and re-equipped. In September, three more infantry battalions of EBR were raised and by the end of November 1971, eleven infantry battalions were fully equipped and ready for operations. In August, 80 Bengali soldiers from Pakistan's artillery regiments crossed over into Tripura and were organised into Number One (Mujib) Field Battery. They were equipped with 3.7-inch guns transferred from Indian regiments. This battery was attached to the 'K' force which fought in the Feni and Chittagong Sectors. On January 10 1972, this battery gave a gun salute to Sheikh Mujibur Rahman when he returned to Dhaka as President of Sovereign Independent Bangladesh. In October 1971, the Number Two Battery, and in November 1971, the Number Three Battery were raised. Both were equipped with 105mm Italian field guns with help from India. By November 1971, battalions of EBR were grouped into three infantry brigades named after their commanders. 'Z' Force was commanded by Major Ziaur Rahman, 'K' Force was commanded by Major Khaled Mosharraf and 'S' Force was commanded by Major Shafiullah. Each was allotted one battery of artillery. Detachments of Swadhin Bangladesh Air Force and Navy were also ready by November 30, 1971. Besides the 11 infantry battalions of the Bangladesh Army, 45 companies of sector troops (Swadhin Bangla Regiment) were deployed in the Mukti Bahini sectors. The strength of each company was 200 of all ranks, and the troops were organised, equipped, and trained under the supervision of the Indian Army. They were popularly called Mukti Fauj by the Indian Army, and their headquarters were established at Kalyani in West Bengal.
The guerrillas' syllabus included weapons training, fieldcraft, raids/ambushes, commando training including simple demolitions, operation of pocket-size wireless sets and passing Morse coded messages at a minimum of six words per minute. By the end of November 1971, 83,000 freedom fighters had completed their training, out of which 51,000 were operating inside Bangladesh. In addition, 10,000 strong Mujib Bahini cadres were trained under the Research and Analysis Wing (RAW) in India. The salaries to Bangladesh regular forces and guerrillas were paid through Operation Jackpot sector commanders. Regular force commanding officers were paid a monthly salary of 500 Indian rupees (INR), while other officers were paid 400 INR. Officer cadet salary was 100 INR, JCO salary was 150 INR, and it was 75 INR for other ranks. Non-Combatants' salary was 70 Pakistan rupees (PKR), which was on par with the Indian army. Other freedom fighters were paid 30 PKR during training and 50 PKR on completion of training. All ranks of regular forces were issued two sets of khaki uniform, other items of soldier's kit and light bedding. Mukti Bahini freedom fighters were issued civilian dress of lungi-kurta, canvas shoes, and other items of soldier's kit. Rations at the Indian Army's scales were issued to all Bangladeshi regular forces and freedom fighters. Tented accommodation was provided to all Bangladeshi forces. On induction inside Bangladesh, they were given two PKR per day as ration allowance. Bangladeshi forces used the transport brought by them when crossing into Indian territory. Local formations also helped them through additional transport on a required basis. Bangladeshi forces were provided rail and road transport facilities like the Indian Army troops whenever they travelled to perform their duties within India.
By the end of November 1971, the Pakistan army's morale had gone down to their boots due to Mukti Bahini operations. It took just 13 days of fighting to roll up their defences by joint forces. 
Brig R P Singh, VSM, is a retired Brigadier of the Indian Army. He is a veteran of the 1971 Bangladesh Liberation War, in which he was involved in different capacities from day one till the surrender of the Pakistan Army on December 16, 1971.