Dhaka Art Summit 2020: Seismic Movements
A luscious dive into the richness of modern and contemporary art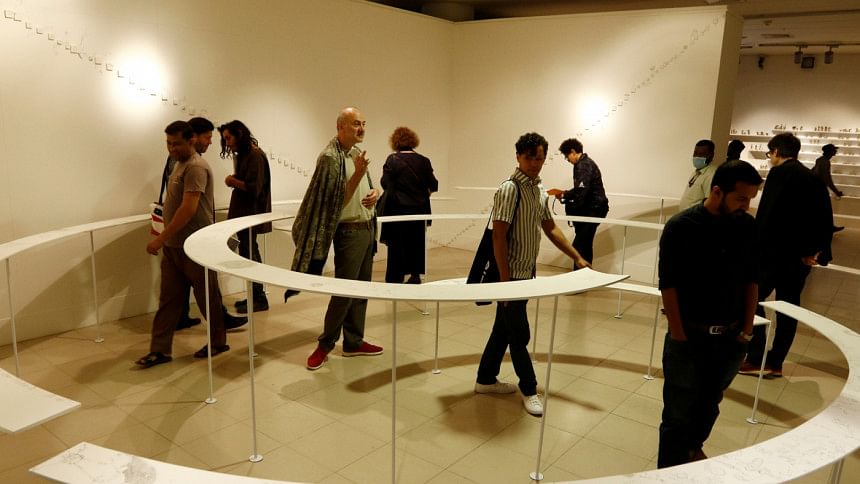 Visionary duo Rajeeb and Nadia Samdani, the cofounders of the Samdani Art Foundation (SAF), has been organising Dhaka Art Summit biennially since 2012. In association with the Ministry of Cultural Affairs, ICT Division, Bangladesh Shilpakala Academy and other government bodies, the art collectors organised the 5th edition of "Dhaka Art Summit: Seismic Movements" (DAS 2020). The open-for-all event is underway at the National Art Gallery, Bangladesh Shilpakala Academy (BSA).
Convening a critical mass of artists, thinkers and participants, the summit invokes its audience to reconsider histories, movement, borders and other fault lines through the lenses of art.
Forged through alliances across Africa, Australia, South and Southeast Asia (and also extending into Europe and the US), this platform features the contribution of 500 artists, scholars, curators and thinkers, in the form of panel discussions, performances and symposia as well as opportunities for participation from the 300,000 visitors, with their theme, "What is a movement and how do we ignite one beyond the confines of an art exhibition?"
Shedding light on geology through millennia, an immersive installation by Adrián Villar Rojas, made of 400-million-year-old ammonite and orthoceras fossils, welcomes art lovers at the event. Featuring 300-million-year-old fossils of extinct species from the undersea the super-ocean Panthalassa, this exquisite installation narrates a tale that goes beyond all timelines. "Inspired by the geological reading of the word 'summit' as the top of a mountain, DAS 2020 considers the various ruptures that have realigned and continue to shift the face of our moving planet. Seismic movements do not adhere to statist or nationalist frameworks. They join and split apart tectonics of multiple scales and layers," shares Diana Campbell Betancourt, Chief Curator of DAS 2020. "We are interested in what will happen through the movement of ideas from inside the BSA to outside in real life, and this is why the exhibition design of DAS 2020 keeps a porous barrier between the inside and the outside of the venue."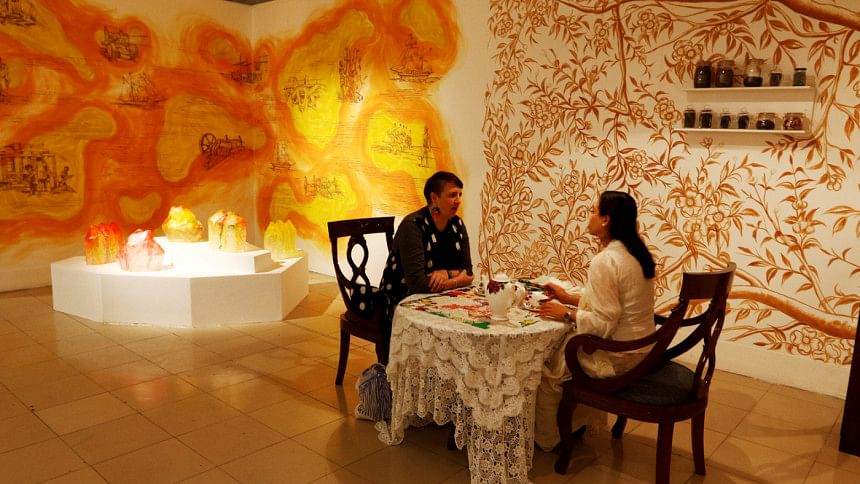 "Lighting the Fire of Freedom", an initiative of Centre for Research and Information (CRI), ICT Division, in collaboration with BSA and the Ministry of Cultural Affairs, pays the richest tribute to Bangabandhu Sheikh Mujibur Rahman on his birth centenary. Organised simultaneously with DAS 2020, the exhibition, curated by Ruxmini Reckvana Q Choudhury, Assistant Curator of SAF, narrates the journey of the Father of the Nation (1920 – 1975), chronologically, through a rich variety of archival and contemporary materials, including personal photographs, newspapers, videos and artworks. The exhibition treasures historic moments, dating back to the Bengal Presidency under British Raj, the East Pakistan regime, and finally Bangladesh, a democratic independent nation.
Supporting local artist-led organisations through its platform, Samdani Artist Led Initiatives Forum and Grant Programme, the foundation aims at developing the art scene of Bangladesh. Working collaboratively with Kathryn Weir (Cosmopolis, Centre Pompidou Paris), Artspace (Sydney), Gudskul (Jakarta), a public learning space established by Ruangrupa, Serrum and Grafis Huru Hara (Jakarta), Para Site (Hong Kong), RAW Material Company (Dakar) and Alserkal (Dubai), the Samdani Art Foundation expands this platform at DAS 2020.
"The Collective Body", an exhibition co-curated by Diana Campbell Betancourt and Kathryn Weir, crystallises concerns pertinent to collaborative practice in Bangladesh, drawing parallels and creating unprecedented exchange with other collective movements emerging across Asia, Africa, Central and South America, and Oceania. Ranging from puppet shows to concerts, debates, installations and performances, the 30 collectives and initiatives on display will collaborate around issues ranging from land rights and resource extraction, strategies of visibility and contestation, and analyses of the intersection between gender, caste and ethnicity.
Historic exhibition "Nobody Told Me There'd Be Days Like These", curated by Bangladeshi writer Mustafa Zaman, explores vibrant work of art, architecture, film, literature, and theatre collectives during the military regime in the 1980s in Bangladesh.
"Stepping Out of Line; Art Collectives and Translocal Parallelism", a symposium curated by RAW Material Company, Dakar, Senegal, address practices and forms of production that take the cooperating, non-hierarchical group as a guiding principle.
Over forty collectives and collaborative platforms active in Asia, Africa, Oceania, and Central and South America will be present at DAS 2020. The talks, screenings, and workshops at the event will address other collective practices and initiatives including Somankidi Coura agricultural cooperative (Mali), Karrabing Collective (Australia) and the militant cinematographic movement that formed around independence leader Amilcar Cabral in Guinea Bissau.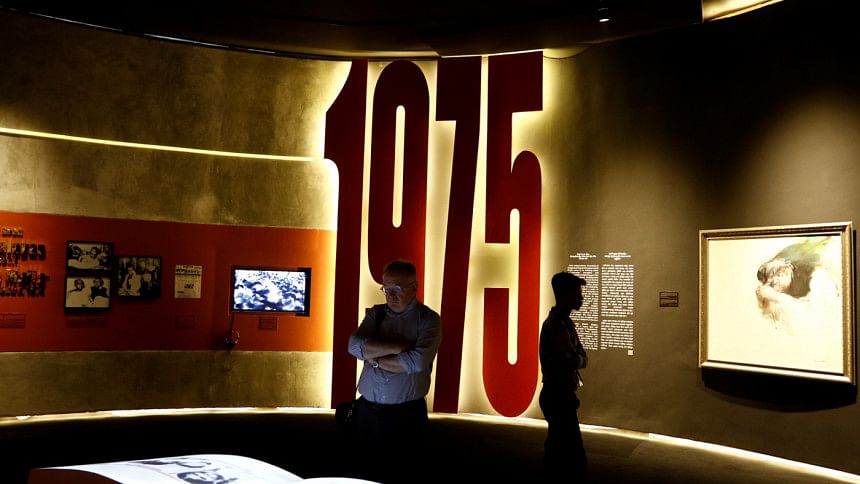 Visitors will enter DAS 2020 through a newly commissioned performative installation by Kamruzzaman Shadhin in collaboration with the artist-led initiative Gidree Bawlee. The work considers the role of the British-era railways in changing Bengal's lands from growing food (rice) to producing cash-crops (jute) through migration stories found in traditional folk songs from Bangladesh.
Thao Nguyen Phan explores a similar history in Vietnam in her three-channel film "Mute Grain" (2018), which is based on the little known 1945 famine that killed nearly two million people, consulting texts about Bengal famine of 1943 in its creation.
Sawangwongse Yawnghwe's new painting places visitors within the entangled political web of control and addiction created through the production and trade of opium – from Ancient Egypt to today's opioid crisis. Nilima Sheikh is creating one of her largest murals to date for DAS 2020, chronicling women's ongoing struggles in Kashmir – the epicentre of the destruction left in the wake of the Partition of India and rising Indian nationalism.
The video and photographs of Liu Chuang and Samsul Alam Helal portray displacement of indigenous communities and cultures as a result of harvesting massive amounts of energy by building hydroelectric dams, connecting historical narratives across China and South and Southeast Asia via the mountainous region of Zomia.
Otobong Nkanga extends her ongoing project "Landversation" (2014 onwards) to Bangladesh after iterations in Brazil, Lebanon, and China. Developed through a month-long residency in Dhaka, the project sets out to explore and compare the complex relationship between the human subject and land.
Clarissa Tossin explores the 21st-century desire for space travel in the wake of unprecedented environmental destruction in the Amazon, weaving together satellite images of deforestation in Brazil with amazon.com boxes.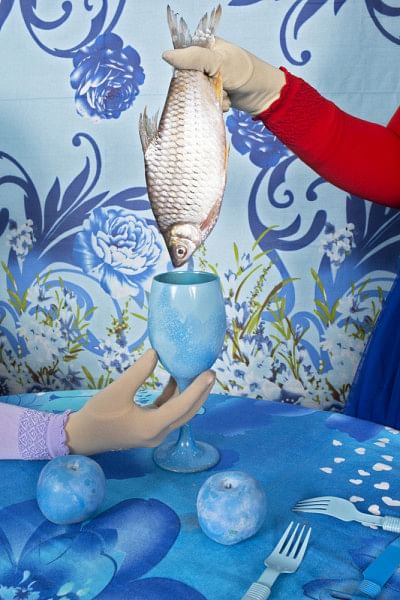 Artists played a major role in spreading the will for independence in what is now Bangladesh, from the Swadeshi movement from 1905, trailing along the language movement of 1952, finally culminating into the country's independence in 1971. Works evoking this energy by master artists such as Murtaja Baseer, Quamrul Hassan, Rashid Choudhury and Zainul Abedin, are being presented across DAS 2020, grounding the show in Bangladesh's history of protest, and the artistic movements that were part of its struggle for freedom.
The political history of Bangladesh is no different than that of the independence movements in Africa, South and Southeast Asia. Maryam Jafri's "Independence Day 1934-1975", an ongoing work, started in 2009. It features over 60 archival photos culled from over 30 archives of the first Independence Day ceremonies of various Asian, Middle Eastern, and African nations and zooms into the 24-hour twilight period as these places transform from territories to nation-states. Kapwani Kiwanga's ongoing project, "Flowers for Africa", is also on exhibit at the summit. Chitra Ganesh expands upon her exploration of gender and power in a futurist imagination that takes the 1905 utopian sci-fi feminist novella "Sultana's Dream" by Bengali author and social reformer Begum Rokeya as a point of departure to consider a world where men stay home, and women innovate new ways of being by harnessing the power of the sun.
Ellen Gallagher imagines a parallel universe underwater in her "Watery Ecstatic" series, inspired by the legend of Drexciya. It has been developed by the electronic music duo of the same name which imagines a birth through death, where children of pregnant slave women thrown overboard are born with gills and do not have to come up to the oppressive world above for air.
In an ongoing collaboration with Artspace Sydney, Taloi Havini collaborates with her community in Bougainville, transforming traditional weaving techniques to create a monumental meeting place at the centre of DAS 2020. This new commission is a space to consider personal and political narratives around themes of place, protection and resilience, at a time when communities across the globe find themselves at the tipping point of environmental and social change.
"On Muzharul Islam: Surfacing Intention" is a group exhibition of primarily commissioned works by 17 artists responding to the built and unbuilt legacy of the groundbreaking Bangladeshi architect Muzharul Islam (1923-2012). Co-curated by Diana Campbell Betancourt with Sean Anderson, Associate Curator, Department of Architecture and Design, The Museum of Modern Art, and Nurur Khan, Director, Muzharul Islam Archive, the exhibition shows the interplay and occasional confrontation inherent among architectural spaces within an emergent nation-state.
"Rituals for Temporal Deprogramming", curated by the Otolith Group, features works by Ayo Akingbade, Hadel Assali, Taysir Batniji, Tony Cokes, Esi Eshun, Black Quantum Futurism, Mohammed Harb, Louis Henderson, Onyeka Igwe, Salman Nawati, Ana Pi, Morgan Quaintance, Alfred Santana, Rania Stephan, Sharif Waked and Rehana Zaman, incorporating images, sounds, voices, gestures, expressions, noises, colours, spaces and silences to deprogramme the inherited orders of temporality, chronology and history that seek to manage and encourage the form of the present and the fate of the future.
With support from the Getty Foundation's "Connecting Art Histories" initiative, DAS has launched "Connecting Modern Art Histories in and across Africa, South and Southeast Asia (MAHASSA)" in collaboration with the Institute for Comparative Modernities (ICM) at Cornell University, and the Asia Art Archive. MAHASSA is a project shaped by shared institutional and intellectual developments that are closely related based on the fact that Africa, South and Southeast Asia are marked by similar experiences during the 20th century.
The fifth edition of the Samdani Art Award, curated by Philippe Pirotte and which came into fruition in partnership with the Goethe-Institut of Dhaka, gives artists the opportunity to create new work for DAS 2020 and to be supported in a residency at Srihatta. The international jury is chaired by Aaron Cezar (Director, Delfina Foundation) with Adrián Villar Rojas (artist), Carolyn Christov-Bakargiev (Director, Castello di Rivoli), Julie Mehretu (artist) and Eungie Joo (curator, SF MoMA). Soma Surovi Jannat received the Samdani Art Award this year, for her work "Into the Yarn, Out in the One" (pen on plywood, wood and wall, 2019-2020). The other shortlisted artists were: Ariful Kabir, Ashfika Rahman, Faiham Ebna Sharif, Habiba Nowrose, Najmun Nahar Keya, Palash Bhattacharjee, Sounak Das, Sumana Akter, Tahia Farhin Haque, and Zihan Karim. Breaking the convention, Promiti Hossain was respected with a special mention award for her work "Personal and Social" (2019-2020), facilitated by the Jury Board from their honourariums of the summit.
In her work titled "Life of a Venus" Habiba Nowrose tries to reimagine the life cycle of Venus, Roman goddess of beauty and love, in the present context. Her masterful use of kitschy fabric with pattern and colour speaks volumes about the monotony, absurdity and sentimental irony in the quotidian life of modern-day women.
"Roots", curated by Dhaka based artist and educator Bishwajit Goswami, examines the transfer of knowledge by art educators who have been critical in the building of Bangladesh's art history. The interesting educative programme focuses on the role of Bangladeshi artists in building the institutions that support artistic production in the country, from founding formal institutions like art schools (such as Zainul Abedin with the Faculty of Fine Arts, University of Dhaka and Rashid Choudhury with the Institute of Fine Arts, University of Chittagong) to informal art education outside of the capital (SM Sultan's Shishu Swarga and Charupith Jashore).
"Srijan-Abartan", an international, cross-cultural and inter-disciplinary research project, aims at developing new tools and methodologies for creating culturally rooted, ecologically sustainable, and socially responsible exhibition displays. The project is funded by Pro Helvetia – Swiss Arts Council, and led by the Swiss design research practice common-interest, in collaboration with SAF for DAS 2020. All of DAS's exhibitions are supported by an ambitious commissions' programme, which invites internationally acclaimed contemporary artists related to South Asia to create new work.
Celebrated for its critically acclaimed exhibitions by local and international arts professionals, DAS has many past projects which have toured internationally to venues and festivals, including Para Site in Hong Kong, TS1 in Yangon, Modern Art Museum in Warsaw, Berlin Biennale, Gwangju Biennale, Singapore Biennale, Queens Museum in New York, Kunsthalle Basel in Switzerland, Artspace in Sydney, Office for Contemporary Art Norway, San Jose Museum of Art in USA, Liverpool Biennial, Museum of Modern and Contemporary Art in Sri Lanka, Kunsthall Trondheim in Norway and MAIIAM Contemporary Art Museum in Thailand.
DAS 2020 extends this further, making connections across the Global South based on shared struggles rather than current geopolitical definitions. The summit is open to all until February 15. 
Photo Courtesy: Sheikh Mehedi Morshed 
Zahangir Alom is a Staff Reporter, Arts & Entertainment, The Daily Star. He can be reached at [email protected].