Australianama: The South Asian Odyssey in Australia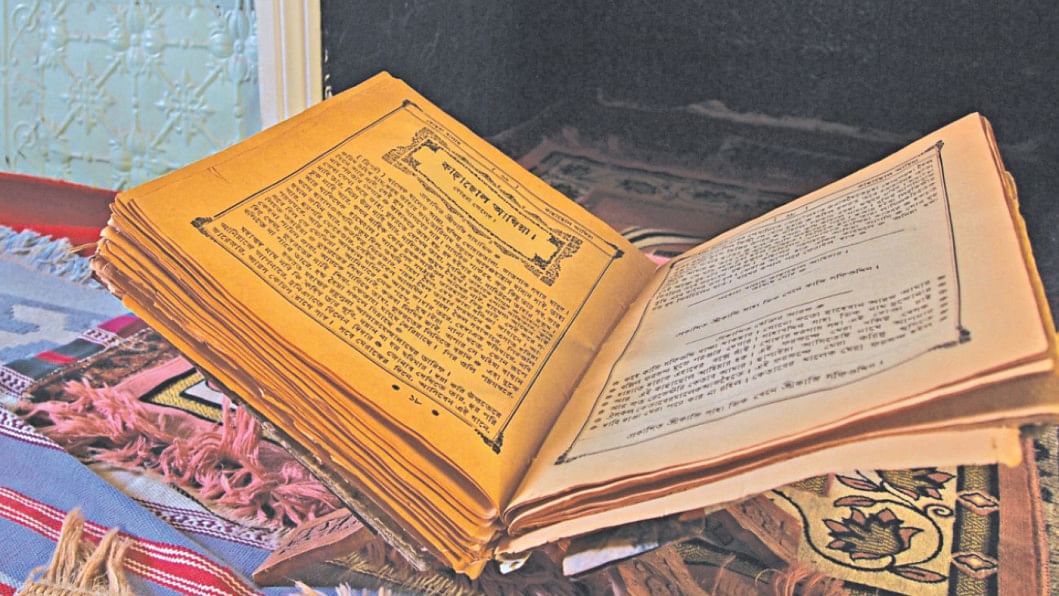 When you begin searching for traces of past South Asians in Australia, it becomes visible that their histories remain inscribed on the land itself. Throughout the Australian outback, beneath the network of dusty roads that criss-cross Aboriginal lands, lies the camel tracks that South Asian drivers once used to travel. From the 1860s, the South Asian merchants and labourers who worked in the camel transportation industry in Australia became known to white colonists by the umbrella term of the "Afghans". These so-called "Afghans" were so central to inland transportation in Australia that when the two ends of the north-south transcontinental railway met in the town of Alice Springs in 1929, settler newspapers rejoiced in the arrival of the "Afghan Express". To this day the transcontinental railway is known as "the Ghan" and throughout Australian deserts there remain the ruins of old 19th century mosques that South Asians built.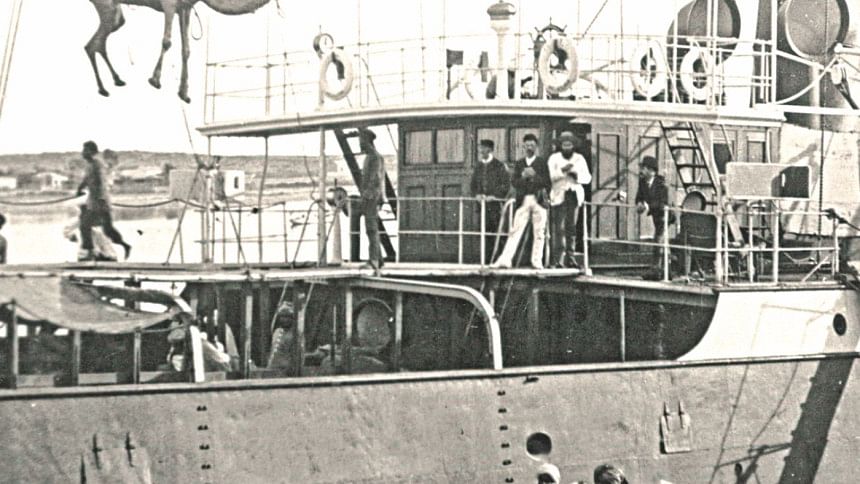 One such mosque stands in Broken Hill, over 1,000 kilometres to the west of Sydney, and some 500 kilometres inland from Adelaide. This town built on the lands of Wilyakali people looms large in the history of both Australian capitalism and labour movements alike. For it was the birthplace of one the largest mining conglomerates in the world today—Broken Hill Proprietary Ltd. (BHP). By about 1887, South Asians had built not one, but two mosques in Broken Hill.
In July 2009, the afternoon that I first stepped into the little red corrugated iron mosque that still stands, a gritty winter dust storm was raging outside. Leaning against the faded green walls of the mosque was a wooden stringed instrument, and on a shelf, between a bottle of attar and a tarnished ring set with a bright orange stone, there was a large book. A hand-written English label claimed that the book was "The Holy Koran". However, turning the first brittle pages revealed that it was not a Quran. Rather, it was a 500-page book of Sufi poetry in Bengali.
Printed in Kolkata in 1301 BS, or 1895 in the Common Era calendar, the book was titled Kasasol Ambia (Stories of the Prophets). Sitting on the floor, I began the difficult task of deciphering Bengali, Persian and Hindi words woven into a tapestry of an older form of Bengali grammar. My family having departed Dhaka for Sydney when I was aged seven, even contemporary Bengali was a language I had not read for a long time. Beginning with an account of creation, the Kasasol Ambia opens with the image of a pen writing the world into existence by inscribing words into a tablet. Over the pages that follow Adam meets Purusha, Alexander the Great searches for immortal Khidr, Zulekha falls hopelessly in love with Yusuf, all while Azazel travels the world with a lantern of black light that cloaks all truths. With its verses set to the payar and tripadi metres that have long structured the Bengali puthi, these were stories that were once performed out loud to audiences. Cocooned from the storm shrieking outside, as I read tales spanning thousands of years and ending in the sixth year of the Hijri calendar, I realised I was reading a book of popular history.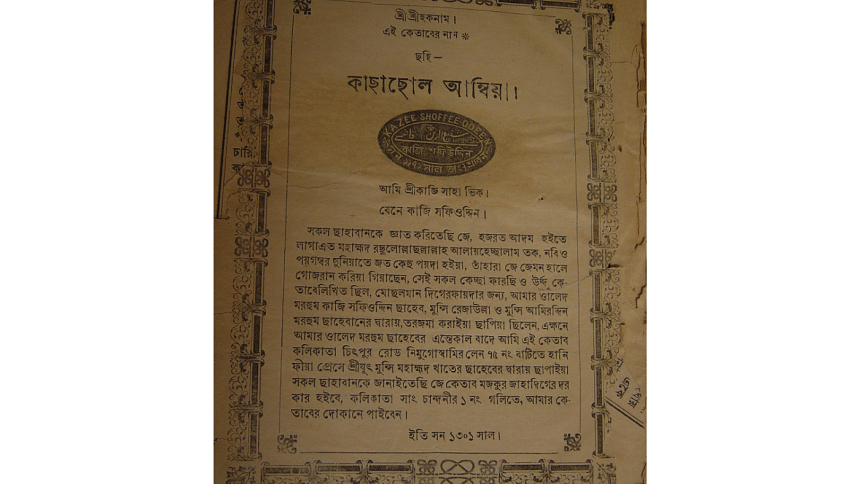 The first of its three poets, Munshi Rezaulla of Hugli, wrote that the poetry is a translation from Persian and Hindi into Bengali. While his pir Sheik Chand Dada had long urged Rezaulla to write poetry, he was asked to translate the stories of the prophets by Kazi Sofiuddin—one of the most prolific publishers in the Bengali-language book industry in Kolkata.
At first Rezaulla despaired: "I'm so ignorant, in what form (rupa) will I write poetry?" However, realising that "whatever, whomever you search, the protector grants," Rezaulla wrote "I leapt into the sea. Searching for pearls, I began threading a chain." With the imagery of his immersed body evoking a pen dipped in ink, stringing together line after line of poetry, Rezaulla wrote "Stories of the Prophets (Kasasol Ambia) I name this chain."
Since the local historical society in Broken Hill carefully restored the mosque in the 1960s, four different historians have mislabelled the Kasasol Ambia that remains there as a Quran. Surprisingly, most recently in 2007, it was a Bangladesh-born writer who mislabelled this book. As this suggests, the problem isn't as simple as the monolingualism of Australian historians. The deeper problem is that researchers systematically approach books like the Kasasol Ambia as dead objects—artefacts whose stories belong in the past and have no place in an imagined future. This is a method of seeing that arrived to both South Asia and Australia with British colonisers. English language historians played a key role in instilling this quintessentially modern attitude in not just in Britons, but in South Asians, by relegating colonised peoples' history books to the realm of myth, fairytales and dreaming.
Long before I understood the intricate metaphors contained in the Kasasol Ambia, what captured my attention about the book were the many questions raised by its presence in Broken Hill. If it was the "Afghans" who built the mosques in Australian interiors, then why was a Bengali book in the Broken Hill mosque? Why don't the history books that travellers carried across vast distances ever feature in the histories of South Asian diaspora written today? And as I started to grasp that the shimmering, mesmerising imagery of the Kasasol Ambia not only sketches an entire system of knowledge and historical story telling but also has the capacity to rewire human subjectivity, I wondered with increasing urgency: Who on earth brought this 19th century Sufi text from Bengal to Broken Hill?
***
The year that the 1895 edition of the Kasasol Ambia priced at four rupees began circulating through the lanes, bazaars and shrines of Kolkata, 38-year-old Anno Khan contracted with a Melbourne based shipping company to work his passage to Sydney. He joined the ranks of the lascar—the African and Asian seafarers who were paid from one-fifth to one-third the wages of white sailors. With workers from various parts of Bengal converging on dockside neighbourhoods of Kolkata where shipping companies recruited lascars, Anno Khan could have been from Noakhali or Narayanganj, Hugli, Kolkata or Dhaka.
With a crew of eighty lascars, the SS. Darius departed Kolkata on March 31, 1895 loaded with 2,300 bags of rice, 1,123 bales of jute bags and twenty-one cases of nutmeg. Anno Khan was working as a fireman shovelling coal into the engine and the vessel stopped in Penang and Singapore before continuing towards Australia. With the Kasasol Ambia detailing stories of boatmen, seafarers, travellers and also stories of immortal Khidr whose only known address was where the river meet the sea, could its stories have been performed on board a vessel such as the Darius? Performance was a central part of lascars' voyages. As one British naval officer wrote "when several Asian manned ships are in port together ... a crowd of Moslems will foregather in a mess room or [deck] to make that weird, though rather intriguing cacophony of sound, Eastern music. They will sit cross-legged on the deck and chant their songs to a musical accompaniment."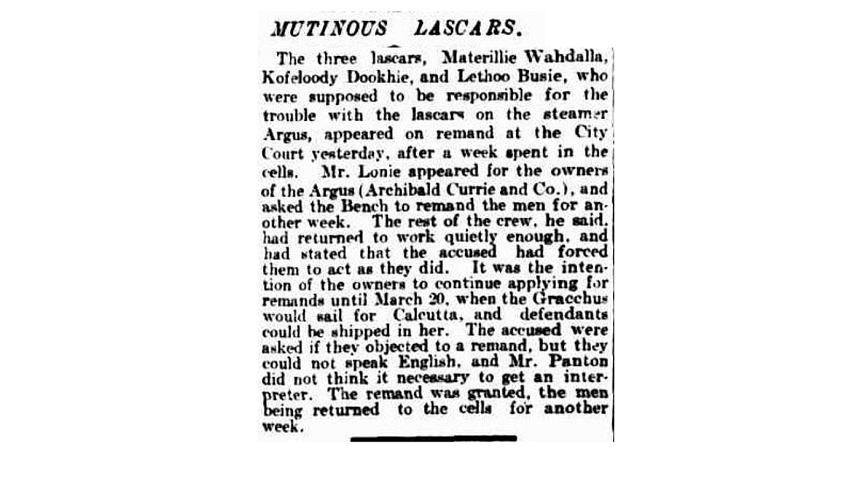 It was as the Darius approached Australian ports that tensions mounted between the lascar crew and the British captain. The captain's log reveals that the ship was assaulted by "strong gales from west to W.N.W." during this final, difficult leg of the journey. As the Darius approached Adelaide, Anno Khan was amongst those who began planning a strike. When the ship docked at Port Adelaide on April 30, fourteen lascars left the ship refusing to continue working. In response to their protest to the marine superintendent that they had received an insufficient amount of food that was extremely poor quality, settler police forced the sailors back to the Darius.
Anno Khan, along with another lascar, escaped during this scuffle. He made a run for Jervois Bridge, spanning across the mouth of the Murray River emptying into the sea. The port authorities made the two men pay ten shillings and six dime each for a medical examination—a steep price at a time when monthly wages of a lascar were around 18 rupees, or roughly just over one shilling. However, as an Adelaide newspaper reported "having passed muster and paid the money" the two South Asian sailors "triumphantly left the vessel and the Port, carrying their personal effects." On that autumn day in 1895, did a copy of Kasasol Ambia cross Jervois bridge in Anno Khan's bundle of belongings?
The archival search for who brought the book to Broken Hill revealed story after story of not only striking sailors like Anno Khan, but also traders, cloth sellers, book-repairers, countless nameless ayahs and many married South Asian women who departed for Australian ports in the 1890s. As racist legislation increasingly persecuted non-white people from the 1890s, Bengali speakers were amongst the many South Asians who sought work and refuge in interior Australia, where the camel industry remained the backbone of inland transportation until the close of the 1920s.
Significantly, as I searched for Bengali characters through a constellation of desert towns and Australian ports once linked by camels, what became visible was a vast wealth of non-English-language sources that Australian historians systematically sidestep. A seafarer's travelogue narrated in Urdu in Lahore continues to circulate between South Asia and Australia, while accounts of dreams in Urdu, Persian and Arabic left ample traces in Australian newspapers. One of the most surprising discoveries was that the most extraordinary accounts of South Asians were in Australian Aboriginal languages. In histories that Aboriginal people told in Wangkangurru, Kuyani, Arabunna and Dhirari about the upheaval of British colonisation, there appear startlingly detailed accounts of South Asians. Not only did many South Asian men marry Aboriginal women, the labour of Aboriginal camel drivers was key along certain routes. As histories of South Asians narrated in Aboriginal languages reveal, camel tracks appropriated—even colonised—the long distance Aboriginal trade routes that had long criss-crossed the Australian mainland. Just like books such as the Kasasol Ambia, Aboriginal-language histories of South Asians thread together past, present and future according to knowledge systems distinctly different to colonial thought.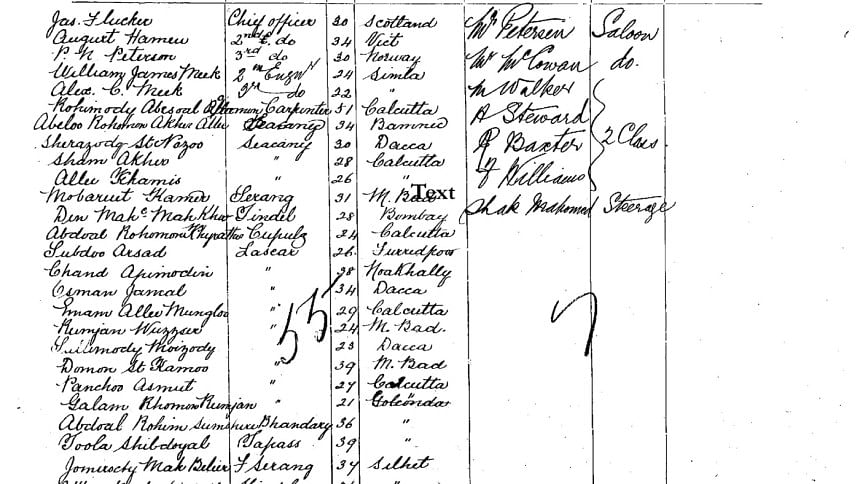 In Australianama: The South Asian Odyssey in Australia, I piece together a history of South Asians by foregrounding the South Asian and Aboriginal language stories generated during my search for the performer of the Kasasol Ambia at Broken Hill. Entry points into rich imaginative landscapes, these are stories that ask us to take seriously the thought-systems of people colonised by the British Empire.
***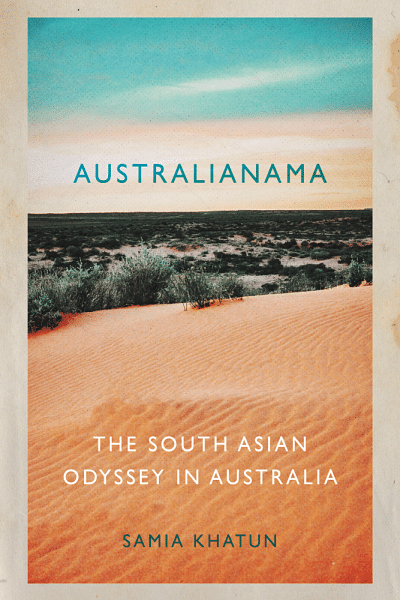 Years after I first began deciphering the Kasasol Ambia, it was only when my Bengali literacy had improved enough to read contemporary Bengali prose that I came across a detailed account of this puthi being performed. It is an account that appears in the memoirs of Kazi Motahar Hossain (d. 1981). He was my great grandfather. As he writes in Sritikatha, when he was four or five years old in around 1902, on some afternoons his father Kazi Gouharuddin would recite stories from a printed copy of Kasasol Ambia on a verandah in what is today the Faridpur district of Bangladesh. Occasions that gathered a crowd, "many people from surrounding areas would travel great distances to hear the stories." Having memorised them, his father would "freely recite old (puranic) stories and historical episodes (itihasa) stretching from Adam to Prophet Muhammad without even looking at the book." Listening to these performances on the verandah, stirred in Kazi Motahar Hossain a desire to read, a hunger for "books about Adam-Nuh-Ibrahim-Musa-Isa-Muhammad." These stories spurred him to "quickly learn a, aa, ka, kha and alif, ba, ta, sa"—the letters of the Bengali alphabet and Arabic-Persian-Urdu scripts respectively. As I show in Australianama, the stories of the prophets remained part of the repertoire of storytelling technique he used throughout his life to negotiate the most critical moments.
I will never know whether the copy of the Kasasol Ambia that sparked Kazi Motahar Hossain's lifelong dialogue with South Asian knowledge traditions was the exact same edition as the puthi that I encountered over a century later in Broken Hill. For many publishers across Bengal issued different books under the title of Kasasol Ambia. As confirmed by an 1898 edition of the Kasasol Ambia that remains in the Dhaka University library, even across the different editions issued with Kazi Sofiuddin's seal, there were ample variations.
What is certain is that just as a Kasasol Ambia had once captivated my great grandfather, from the very first moment I encountered this title in Broken Hill, the book also scripted me into a mode of historical storytelling that is different to Enlightenment methods of narrating true accounts of the past. In harnessing the metaphors, imagery and storytelling techniques outlined in the Kasasol Ambia to actually research and write history today, Australianama seeks to challenge one of the fundamentally racist assumptions that suffocates historical imaginations: the colonial myth that European Enlightenment thought is superior to the knowledge systems of colonised peoples.
---
Australianama: The South Asian Odyssey in Australia will be published in the UK on December 19, 2018 by Hurst & Co. (London) and in the US, it will be published by Oxford University Press (New York) in February 2019. South Asian and Australian editions are coming soon.
Dr Samia Khatun is a historian because she once lost her way to a mathematics lecture. Since mistakenly attending a history class that day, she has chased truths about the past in Sydney, Antigua, Kolkata, Istanbul, Berlin, New York, Dunedin, Melbourne, London and Dhaka. Her documentaries have screened on ABC and SBS-TV in Australia. She is currently developing a history programme at the University of Liberal Arts, Bangladesh.
---
Follow

The Daily Star Opinion

on Facebook for the latest opinions, commentaries and analyses by experts and professionals.
To contribute your article or letter to The Daily Star Opinion, see our

guidelines for submission

.
---