No dialogue but trial: PM
Hands Tk 10 lakh bonds to arson victims at DMCH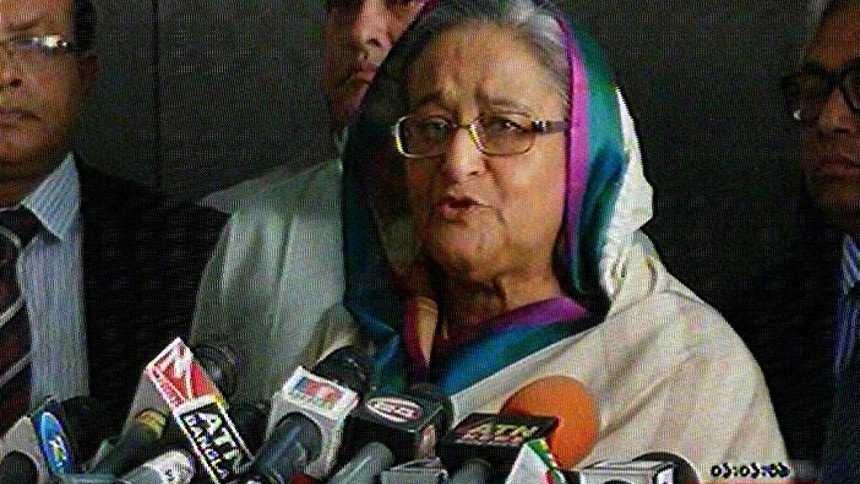 Reiterating that there will be no dialogue with terrorists and militants like BNP-Jamaat alliance, Prime Minister Sheikh Hasina today warned that they would be put on trial for their militant acts.
The premier came up with the remark while she visiting the arson victims at Dhaka Medical College and Hospital around 9:30am. She stayed there for an hour and talked to the victims at the hospital's burn unit, Mozammel Haque, in-charge of the hospital's police outpost, said.
"Dialogue? With whom? With killers? What talks with the killers?" she told reporters emerging from the unit of DMCH where most of the petrol bomb victims of the ongoing violence attending treatment, Unb reports.
The prime minister handed Tk 10 lakh bonds to 53 arson victims of the political violence during the agitation of the BNP-led 20-party alliance, Partha Sankar Pal, resident surgeon of the wing, told The Daily Star.
The victims will be able to yield the interest of the bonds (Sanchaypatra) at a regular basis and draw the full amount after 10 years, Partha Pal said. "This will be a great help for the victims as most of them have an uncertain future."
The prime minister said all those who are committing such militant activities, giving orders, financing and implementing those will be brought to justice.
"We'll take steps to put these people on trial and punish them the way it is done at the international level," UNB quotes Hasina as saying.
Asserting that there is no place for militancy in Bangladesh, she said, "We'll contain terrorism at any cost, we'll go to any length for this."
Hasina also criticised those who are describing these killings and arsons as politics. "This is not politics, those who are saying that this is politics, they are wrong, this is militancy and terrorism. We will do whatever needed to eliminate these menace," she added.
BNP and its allies have been enforcing a nonstop blockade since January 6 which took a deadly path, a year after the January 5 parliamentary election violence, with 69 people killed.