Hilsa flooding Barishal markets; traders demand storage facilities, export opportunities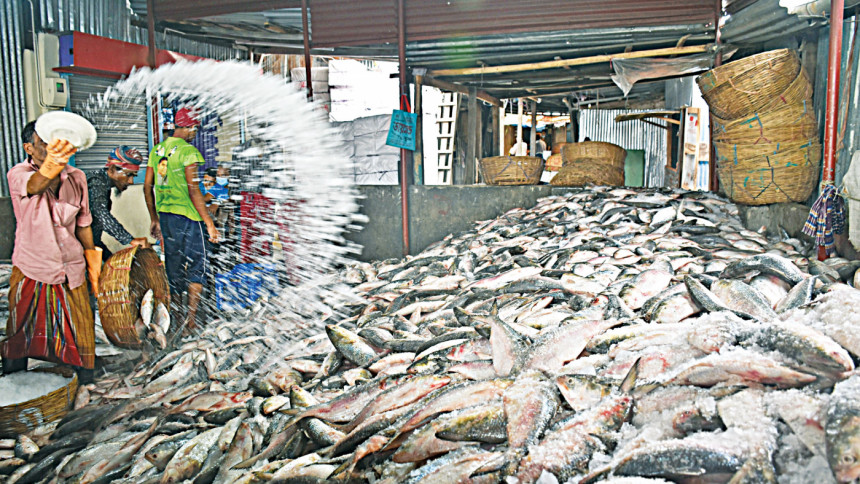 This was supposed to be a good year for hilsa traders and anglers of Barishal. Ever since the beginning of the season, a record number of the fish are being netted. Now that it's time for the peak season, much to everyone's delight, large sized hilsas are also flooding the local markets. 
There is, however, one downside -- the price is much lower compared to previous years. While this is good news for buyers, who have never had the opportunity to buy such large hilsas at such a low price, but it's slowly becoming a cause for concern for traders.
To get themselves out of this pickle, they're now demanding they be allowed to export the fish.
Nirab Hossain Tutul, president of Barishal Aratdar Samitee, said around 3,000 maunds of hilsa are coming to the market every day. This is greater than the demand in the domestic market, which is causing prices to fall, resulting in traders not getting to sell at fair margins.
What adds to their woes is that there is no system or facilities, such as cold storage, to preserve the fish. In such circumstances, Tutul thinks exporting, even if on a limited scale, could be the way to go.
Last year, around 350 tonnes of hilsa was exported from here, he told this correspondent.
After visiting the Port Road hilsa wholesale market yesterday -- one of the biggest hilsa hubs in the division -- this correspondent found an average hilsa weighing around 900 to 1500 grammes.
This is a stark increase from previous years. Anglers said most of the bigger hilsa are being caught from the south side of the Bay of Bengal.
At the Port Road market, the fish are priced according to size. For a hilsa over one kilogramme, the price is set at Tk 1,000 per kg. For a 600-900 gramme fish, it's Tk 800 per kg, while the price is Tk 300 per kg for hilsa below 500 grammes.
"This is at least a 30 percent decline on previous years' prices," said Ujjal, a trader at the market.
Hilsa trader Ajit Kumar Das said the supply of fish has suddenly increased three to four times.
Earlier at the beginning of the season, 800-1,000 maunds of hilsa were coming into the market, but now it's around the 2,500 to 3,000 maund-mark.
Officials and experts attribute this increase to favourable weather conditions and tight monitoring and supervision of hilsa catching.
Hilsha researcher Dr Md Anisur Rahman, principal scientific officer of Bangladesh Fisheries Research Institute, said, "This year will see more hilsa than previous years. The programme to protect hilsa has been successfully going on since 2017, which focuses on protecting the mother fish."
''There has been a lot of rainfall at the beginning of the monsoon this year, which is favourable for hilsa breeding and growth."
Azizul Haque, divisional director of Directorate of Fisheries, said hilsa production is increasing every year due to implementation of government's hilsa protection programme. Last year, the Barishal division saw a total of 3.29 lakh tonnes of hilsa out of 5.17 lakh tonnes produced in the country, he added.
Bimol Chandra Das, district fisheries officer (hilsa), Barishal, said the average weight of hilsa increased from previous years by almost 10 to 20 percent.
However, the exuberant mood of the officials are not transmitting to anglers and traders as much.
Angler Hasem mia, of Nurabad village under Bhola's Charfassion upazila, told The Daily Star he started netting at the Bay of Bengal around 10 days ago and managed to catch 130 maunds of hilsa. Most of the fish are above one kg, with some even above the 1,500 to 2,000 gramme mark.
"But with the rate at which the fish is selling, we're unable to get fair returns," he lamented.
On hilsa exporting, the divisional director of Directorate of Fisheries said the decision lies with the commerce ministry.
He hoped a decision in this regard will be taken soon.
About cold storage facilities, the district fisheries officer said they will look into the matter and try to come up with a solution to help traders.