Sleepwalking: Fact or fiction?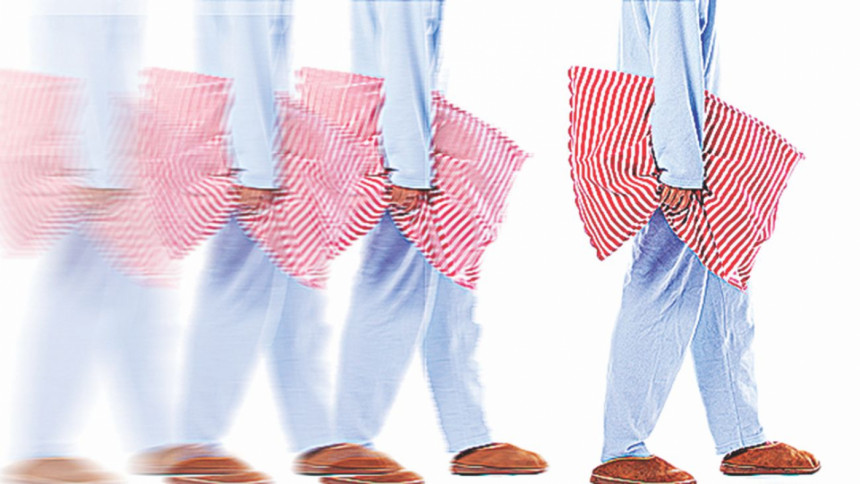 Somnambulism, noctambulism or sleepwalking is a combination of sleepiness and sleeplessness. It constitutes a sleep disorder of parasomnia. It takes place during slow wave sleep in a state of low consciousness while repeating the activities which were performed during full consciousness.
These activities can be simple and harmless or could be serious and dangerous as opening a gas line, driving, wielding bludgeon and blunderbuss even committing a homicide.
Slow wave sleep of non-rapid eye movement sleep cycles typically occurs during the first third of night with eyes open but the expression of sleepiness is always portrayed on the facade. They have little memory about the events and they can never recall the episodes, lasting between 30 seconds to 30 minutes.
The truth is Somnambulism is neither a myth nor a fiction. William Shakespeare chronicled in his play Macbeth one of the most pervasive scenes on somnambulism.
In 1907 Sigmund Freud delivered a lecture on sleepwalking to the Vienna Psychoanalytic Society. He believed that somnambulism was commensurate with fulfilling sexual desire and was flabbergasted at how an incumbent could move without interrupting his dream.
I was confined to bed once when my family was away and asked my driver to stay put overnight with me. He readily agreed but same time apprised me that he was a sleep walker whether that would be a concern to me. Instead of being concerned I found a goldmine to explore. Indeed throughout my nearly fifty years of medical practice I never came across a somnambulist and now in my bedroom my own driver gave me an opportunity unfolding the mystery of sleep walking.
As I delve into history, he furnished me with his story that he was twenty years old and he started espousing with sleepwalking since very early age as told by the family members. His father, mother, sibling, uncle, aunt nobody displayed any trait but his grandfather (paternal) whom he never saw, was a harbinger of somnambulism. That was how genetics divulged its long-held secrets on some occasions. He was a non-smoker, non-alcoholic with no insomnia or stress, riding an easy life. He had been going to bed between ten to eleven and falling to sleep in ten to fifteen minutes.
He had the attacks once or twice a month which he realised when he stumbled on something. He then fell back to sleep, waking up in the morning fighting fit without any hangover or exhaustion from the previous night. His bowel habit, appetite and other systems were normal. One connection he related that he had experienced the episode when his site or place of sleep was changed.
Sleep walking happens in the deepest stage of sleep and the incumbent remains in sleep state while walking. More often than not somnambulism is encountered in children.
Other than genetics, delay in maturity of central nervous system, increase in slow wave sleep, sleep deprivation, tiredness, Parkinsonism, some medications like are considered as culprits.
The diagnosis is largely confirmed on the history retrieved from the person concerned or from the family members. However, polysomnography remains the cornerstone of diagnosis which is seldom accessible or hardly required.
The treatment spectrum encompasses two kinds of modalities. First can be psychological intervention including psychoanalysis, hypnosis, anticipatory walking, assertion training, managing aggressive behaviour, classical conditioning (electric shock), play therapy. Second and the commonly practice done is the pharmacological therapy. Your doctor can prescribe appropriate medicine for you.
E-mail: samara1985@hotmail.com