Occupational therapy for scarf injury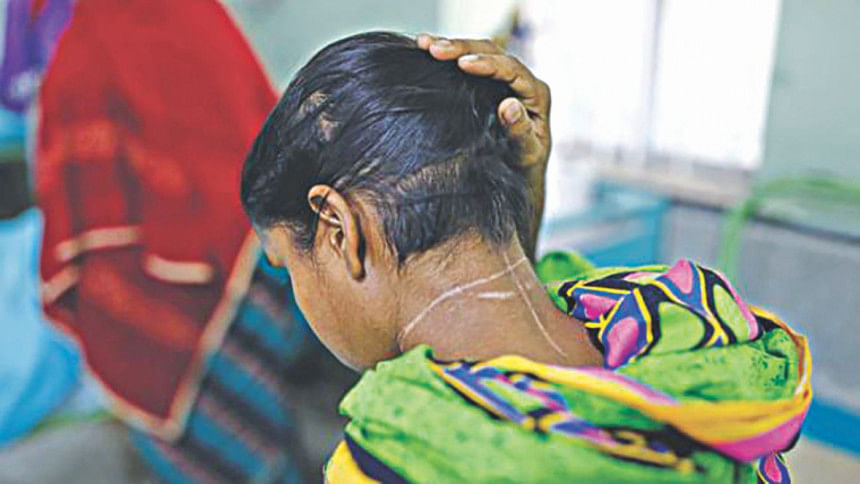 Scarf is a part of the traditional dress of women in Bangladesh. Women wear it in different styles. But it can cause harm, sometimes even death may also occur. Scarf injury is a common cause of spinal cord injury (SCI) in our country. This may cause SCI in cervical region.
Spinal cord is the most important part of human body. It can get injured for various reasons. It can cause paralysis of the body.
Symptoms of spinal cord injury include both hands and legs or both legs (lower half of the body) can be paralysed; difficulty to control body movement; difficulty to understand sensation; and person may have problem to perform daily activities like eating, dressing, bathing, combing hair, brushing teeth and so on.
Why occupational therapy is required
The occupational therapy services in the spinal cord injury start from admission to discharge into the community. The main areas of occupational therapy intervention are:
Bed mobility and functional transfers: Training and practice in bed mobility and in getting to and from the bed, wheelchair, shower chair, toilet, bath, stair lift, sofa, car and other transfers for daily living etc.
Daily living skills: Training and practice in self-care and domestic tasks such as washing, dressing, feeding, drinking, grooming and housekeeping.
Wheelchair, posture and cushion requirements: Trial and assessment for a wheelchair that allows for maximum independence, identification of appropriate pressure relieving cushions, posture assessment and identification of correction/support systems required, liaison then takes place with each patient's local wheelchair service for provision of equipment.
Hand therapy: Maintaining range of movement, oedema management, assessment and training of functional potential, splint provision to prevent deformity, maintain aesthetics and replace function etc.
Communication aids: Trial of equipment to aid communication such as telephone adaptations, writing splints, computer keyboard hand splints, mouth sticks, and environmental control units etc.
Community living skills: Advice on returning to work, returning to driving, training and practice in advanced wheelchair skills, arranging driving lessons, assistance with establishing routines and problem solving.
Leisure and vocational training: Involve the patient in different leisure activities as well as select vocational training area according to preference.
Home modification: Occupational therapist modifies the patients' home according to needs.
In Bangladesh, The Centre for Rehabilitation of the Paralysed (CRP) is working with this type of patients from acute phase to community reintegration phase. So if you know any patient with spinal cord injury then please refer them to CRP for proper occupational therapy.
The writer is an occupational therapist at the department of Physical Medicine and Rehabilitation, National Institute of Neurosciences and Hospital (NINS&H).
Email: [email protected]