How much lead in blood is too much?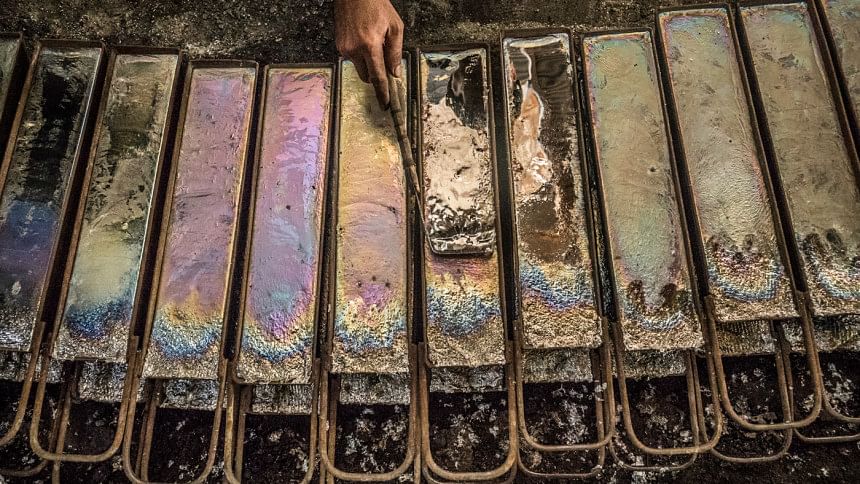 Bangladesh is in the midst of mass poisoning. According to the Institute of Health Metrics Evaluation (IHME), currently, around 60 percent of all children in Bangladesh have blood lead poisoning. Their average blood lead label is more than 5 micrograms per decilitre. According to the Centers for Disease Control (CDC), lead is a toxin even at very low concentrations and there is no "safe" level of lead exposure, particularly for children. Blood lead levels above 5 micrograms per decilitre are considered alarming, and a cause of urgent action. More than 10 million children in Bangladesh are severely poisoned by lead.
Young children are most at risk from lead exposure. Children absorb 4-5 times more lead from any ingested source compared to adults. Children also touch their mouths more often and are therefore more likely to ingest lead from the contaminated environment. Children also suffer profound and lifelong health impacts, particularly in their developing brains and nervous systems. Children with severe lead poisoning can be left with lifelong intellectual disabilities. Even at low levels, lead is a multi-pronged attack on children. Lead exposure can be associated with reduced intelligence quotient (IQ) and behavioural difficulties such as lower attention span and antisocial behaviour. In 2019, IHME estimated that lead exposure is responsible for 62.5 percent of the global burden of developmental intellectual disabilities which did not have any genetic cause. Data also shows that lead-poisoned children complete less formal education and earn less over their lifetimes. Distressingly, the neurological and behavioural effects of lead are believed to be irreversible and permanent.
Lead also causes long-term harm in adults, increasing the risk of high blood pressure, hardening of arteries, and kidney damage. High lead exposure in pregnant women causes miscarriage, stillbirth, premature birth, and low birth weight. According to research published in the Lancet, lead causes as many as 412,000 premature deaths each year in the United States. If a fetus is exposed to lead in the womb, it adversely affects the child's growth, sight, hearing, and learning abilities. That estimate of premature deaths is 10 times larger than in previous studies and could put deaths from exposure to heavy metal on a par with smoking.
Similar to other toxic heavy metals like mercury and arsenic, lead is a global issue. IHME estimates that around 800 million children globally have high blood lead levels, and approximately 900,000 adults die as a result of lead poisoning every year. One in every three children around the world has concentrations of lead in their blood at levels that cause significant and long-term health damage. Nearly half of these children live in South Asia. This discrepancy in the global burden of lead is alarming and is starting to attract global attention.
Given the toxicity of lead, the United States CDC recently announced more stringent lead regulations, updating almost decade-old standards. This standard, applicable worldwide, sets the blood lead reference value (BLRV) from 5 micrograms per decilitre to 3.5 micrograms per decilitre in response to the Lead Exposure Prevention and Advisory Committee (LEPAC). The CDC has also pledged to consider a lead regulation update every four years. Based on the CDC's updated standards, every country is encouraged to change its reference values. Given the continued prevalence of lead exposure, more comprehensive actions are needed to reduce existing lead levels, mitigate adverse health effects resulting from lead exposure, and eliminate sources of lead exposure.
Due to its nature, lead builds up both in the body and in the environment. In the human body lead accumulates in the bones and teeth. Since lead does not biodegrade, it remains in the soil and as dust for hundreds and hundreds of years if not remediated. Therefore, it is important to recycle lead safely without exposing workers and the surrounding neighbourhoods. To remediate the lead-contaminated sites, a concrete plan need to be developed to fix them and return them to as a safe place. Effective monitoring by relevant agencies is needed to identify lead exposure sources, develop interventions, and ensure long-term success. This is needed for both industrial sources (e.g., the closure of informal ULAB sites), as well as in products (e.g., lead chromate adulteration in spices).
People should be educated about the dangers of lead and be empowered to protect themselves and their children. The return on the investment would be enormous -- improved health, increased productivity, higher IQs, less violence, and brighter futures for millions of children across the planet. Therefore, a comprehensive and coordinated approach in affected countries can address lead pollution and make a safe environment for all children.
Dr Mahfuzar Rahman is Country Director, Pure Earth, Bangladesh.