How helpful is shojne for you?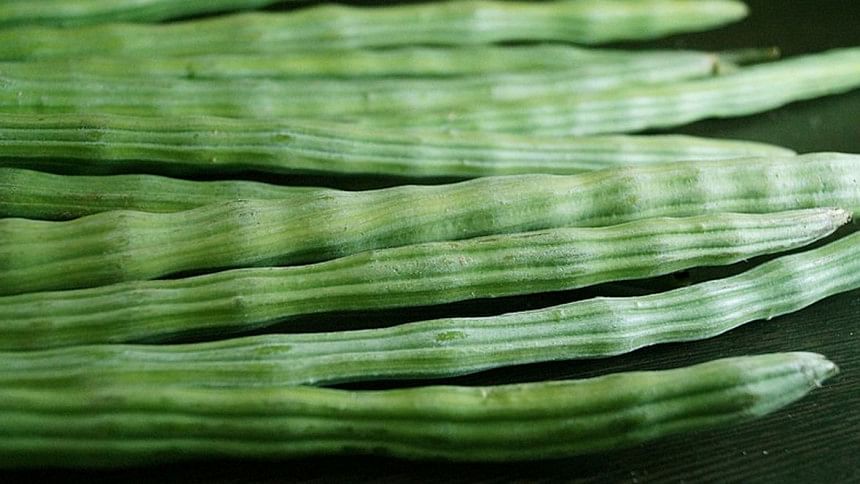 Shojne or moringa drumsticks are a seasonal treat and is found in bazars during early spring. All local markets and vegetable vans, roaming the lanes and by lanes of any residential area, are vending these light green drumsticks, a rare delicacy fancied by many, because of its phytomedicinal values.
Used mostly in lentil soups or daal, a plate of these long, slender, triangular seed-pods drumsticks fried in mustard oil and mustard paste along with slit potatoes and tomatoes is a palate winner; and a preferred item in a Bengali family menu, the leaves and flowers of the plant all are eaten lightly fried.
It is colloquially said to be the herbal remedy for chicken pox and there are many health myths associated with this drought resistant plant, native only to the Indian sub-continent. Its bitter, zesty taste resembles that of horseradish, and is said to do wonders for diabetic patients.
Moringa is rich in vitamin A, C, and E and as a result it has a good number of antioxidants, essential amino acids and minerals in it. "Abundant in our country, there are recent research about it that says it helps in anti-ageing process and has anti-inflammatory and anti-carcinogenic properties," says Chowdhury Tasneem Hasin, Chief Clinical Dietician, United Hospitals Ltd.
"If it is eaten raw, the bitter taste may help regulate insulin level but when cooked it becomes a fibre or complex carbohydrate, which helps menopause related edema, or inflammatory disease like gout. Its nutritional qualification is mostly rich in antioxidants," Hasin adds. 
Almost every part of the plant has useful nutritional value, so grab a bunch of this green goodness and enjoy the season's bounty.