Put more emphasis on research
PM tells physicians while inaugurating BSMMU Super Specialized Hospital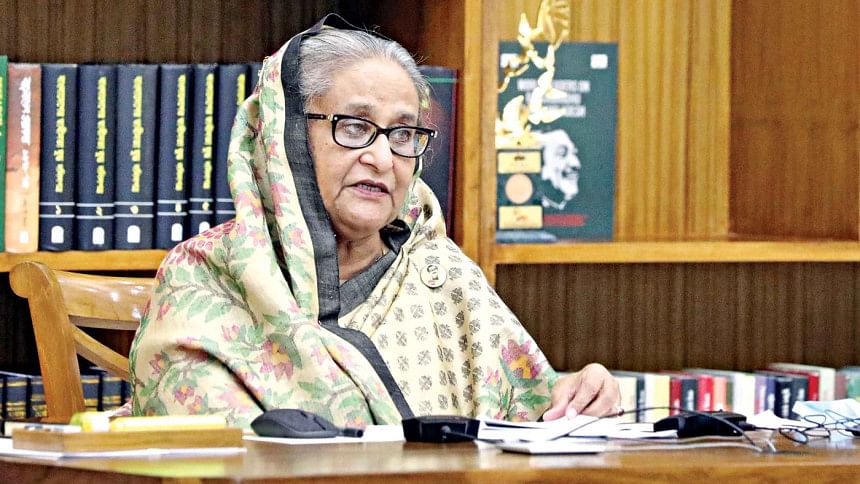 Prime Minister Sheikh Hasina yesterday asked physicians to dedicate themselves to serve people and take care of patients properly.
"You'll have to go to villages and take care of the rural people. You'll have to behave well with them," she said.
The premier said this while inaugurating the newly-constructed Super Specialized Hospital in Bangabandhu Sheikh Mujib Medical University (BSMMU) through a virtual platform from her official residence Gono Bhaban.
The country's first super specialised hospital will be an alternative option for many Bangladeshis opting to go abroad for treatment.
A patient will get comprehensive treatments at the five centres of the 750-bed hospital as each centre will have different departments and disciplines. Some 5,000-8,000 patients will also receive outdoor services at the hospital.
Hasina said poor people largely receive treatment from government hospitals. "If you perform your duty properly, people will keep trust and confidence on you and they will get the services easily," she said. 
Noting that research in the field of health is still insufficient, Hasina asked the specialised doctors to conduct research alongside providing healthcare services.
She said BSMMU will have to continue its relentless endeavours for the quality improvement of its education, healthcare services and research activities.
The PM also hoped that the country's physicians would be able to open a new era of healthcare services through their research.
She asked BSMMU to strengthen the online system to provide its expert services to the rural people through web cameras so that they would not need to come to the capital.
She said Bangladesh will be able to save some Tk 350 crore annually due to this hospital.
The premier said the hospital equipped with the latest hospital information system will open a new era of medical research as all information regarding the operation of this hospital and treatment will be stored automatically.
The 13-storey super specialised hospital (with two basements) has been built at a cost of Tk 1,561 crore on 3.4 acres of land on the north side of BSMMU.
Of the cost, Tk 1,047 crore came as a loan from the South Korean government.