India's export duty hike: Domestic rice market unlikely to be affected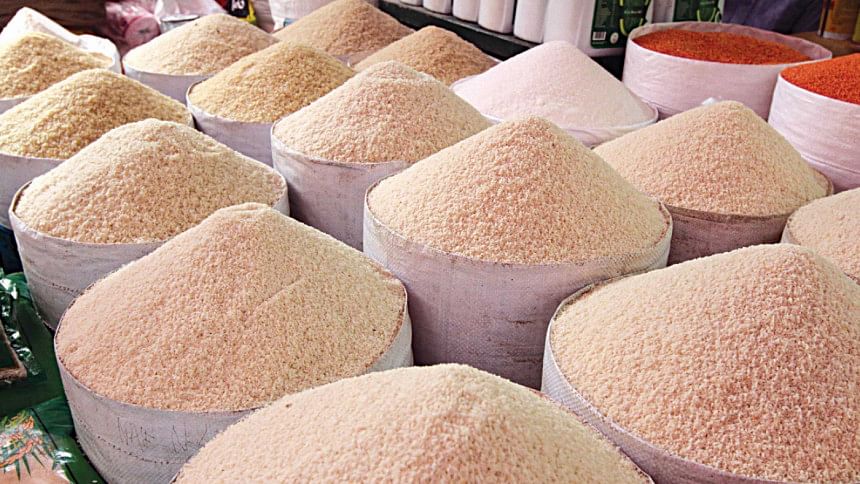 India's imposition of 20 percent duty on rice export is unlikely to affect prices of the staple in Bangladesh, according to local traders.
They said the duty was imposed only on sunned rice,popularly known as atop chal, which is not widely consumed here.
Bangladeshi traders mainly import parboiled rice from the neighbouring country, they added.
In the capital yesterday, the price of fine rice was Tk 62-70 a kg, down 5 percent from a week ago, while the cheapest coarse rice sold for Tk 47-52 a kg, down 8 percent from a week ago, according to the Trading Corporation of Bangladesh.
Prices began to fall after the government on August 28 reduced duty on rice import to around 15 percent from over 25 percent to encourage imports and increase supply to the domestic market.
But India on Thursday imposed a 20 percent export duty on rice to tame prices in its domestic market.
Chitta Majumder, managing director of Majumder Group of Industries, which imports rice from India, said traders mainly import parboiled rice. Since India has not slapped any duty on its export, Bangladeshi market will not be affected.
KM Layek Ali, general secretary of Bangladesh Auto Major and Husking Mill Owners Association, expressed the same opinion.
However, Nirod Boron Saha, president of Naogaon Dhanno-Chal Aratdar O Babosayee Samity, an association of rice and paddy wholesalers, said, "Border trade will resume on Monday after the weekend. We will have to wait until then to know whether the [Indian] move will affect us ."
Import will no longer be profitable if 20 percent export tax is imposed on the varieties of rice that Bangladeshi traders import, he added.
Bangladesh, the world's third-largest producer of rice, earlier gave permission to private firms to import over 10 lakh tonnes of rice, mostly from India.
The government also took an initiative to import wheat and rice under state-to-state contracts. The food ministry is in the process of buying 500,000 tonnes of wheat from Russia.
It also signed a contract with Vietnam to buy 230,000 tonnes of rice and is expected to ink a deal with Myanmar to import another 200,000 tonnes. The food directorate signed a contract with its Indian counterpart to buy 100,000 tonnes of rice, officials said.