Hoarding of rice, paddy: Case filed against ACI, Shinu Agro officials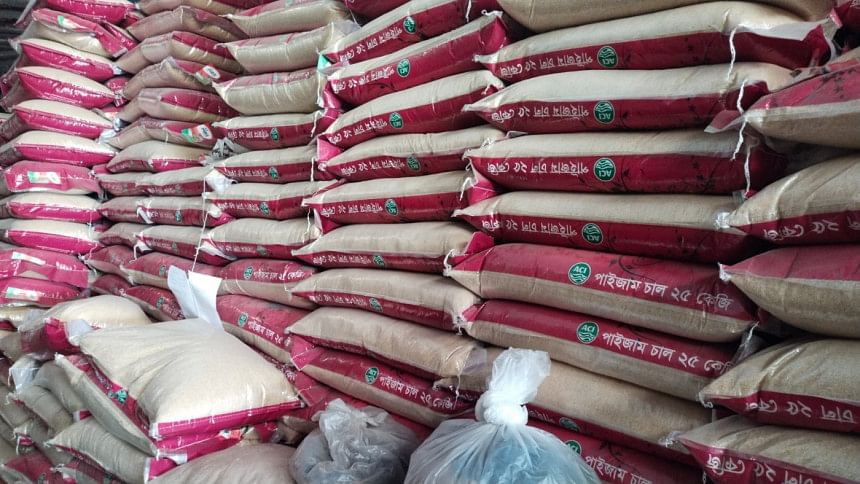 The Bogura food controller office filed a case against officials of ACI Limited and Shinu Agro Food Limited for hoarding 4,510 tonnes of rice and paddy in local warehouses.
Mamun-E-Kaiyum, Sherpur upazila food controller, filed the case with the Sherpur Police Station on Thursday night, reports our Bogura correspondent.
Earlier on Wednesday, the district food controller office first conducted a raid at the warehouse of the Shinu Agro Food Limited, located in Juanpur area under the upazila.
The food officials found that ACI was hoarding 1,929 tonnes of rice in polythene bags, and 2,581 tonnes of paddy. Shinu Agro stored the paddy and rice without checking any legal papers .
The accused are Managing Director of ACI Foods Limited and Functional Head of ACI Group Arif Dowla, 45; Abdullah Al Mamun, 30, senior officer of ACI Foods Limited (rice unit); Shamima Islam, 50, proprietor of Shinu Agro, and Md Anamul Haque, 52, manager of Shinu Agro.
According to the case statement, the food officials found 65,978 bags of rice (over 1,929 tonnes) and 35,809 sacks of paddy (around 2,581 tonnes) belonging to ACI in five warehouses of Shinu Agro.
The raid was conducted in presence of the ACI Senior Manager Abdullah Al-Mamun, who acknowledged that the rice and paddy belong to the company.
The case statement also stated, "According to the Essential Commodities Act, 1956, no trader can store more than one tonne of food grain without having storing licence from the government or government agencies. The ACI Foods Limited (rice unit) stored this sum of rice and paddy without such a licence.
"They also stored rice in banned polythene bags, and their representative was not able to show legal papers for storing them during the raid."
The amount of rice and paddy stored illegally is worth around Tk 15.40 crore (as per the government-set price). ACI The and Shinu Agro stored these intending to sell them in the black market, read the case statement.
Contacted, Shamima Islam's husband, Shafikul Islam Shiru, who is also the spokesperson for Shinu Agro Food Limited, told The Daily Star, "Most of the time my rice mill remains closed. I have many loans to repay. Therefore, I have rented five of my warehouses to ACI.
Asked whether he checked any food grain licence of ACI before renting them the warehouses, Shariful Islam said, "I know the ACI has a trade licence but I didn't check their food grain licence [for storing]."
This correspondent tried to contact Abdullah Al Mamun, senior officer of ACI Foods Limited (rice unit), over the phone but his mobile was switched off for hours.
Shariful Islam said, "ACI company's Abdullah Al- Mamun fled after the case was filed against him and I couldn't contact him as his number was switched off for the last two days."
Contacted, Faria Yasmin, business director of ACI Foods Limited, over the phone said, "We still don't know the matter properly. Therefore, we don't want to comment on this matter right now. Our media manager will contact you."
However, the media manager of ACI Limited did not contact this correspondent.
Ataur Rahman, officer-in-charge of Sherpur Police Station, said, "The case was filed on Thursday night and we will recover the 4,510-tonne rice and paddy and keep it in our custody very soon."
Kazi Saifuddin district food controller of Bogura said, "The ACI company stored this amount of paddy and rice in the Shinu Agro Food Limited's warehouses without having any food grain licence which is illegal. And Shinu Agro Food Limited helped them to do it."
Police will take the rice and paddy in their custody and the court will decide what to do about it, said the Bogura food controller.