After Ryan Reynolds calls it "best Indian food in Europe", UK restaurant flooded with bookings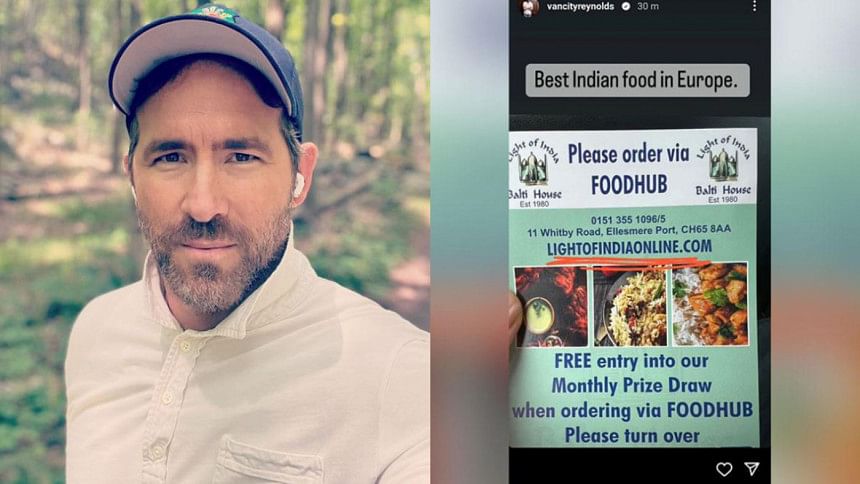 "Deadpool" actor Ryan Reynolds recently praised a restaurant in UK while posting a flyer on his Instagram, and since then the restaurant's bookings have been "off the scale".
Reynolds also said the Light of India restaurant at Ellesmere Port in UK's Cheshire serves the "best Indian food in Europe", its owners told BBC.
The Hollywood star was visiting the UK after having taken over the ownership of Wrexham AFC, a football club in Wales, alongside fellow actor Rob McElhenney, Guardian reported.
It was not clear whether Reynolds had dined at the restaurant. Shaa Rahaman (28), son of owners Rajia Rahaman (49) and Rahaman Batan (51), first came to know about Reynold's endorsement through his Instagram post at the weekend.
Shaa said he was awestruck when he spotted the post, and asked his parents, who were on duty at the restaurant, if Reynolds had come to dine there. His parents, however, were unaware about who Ryan Reynolds was.
As he showed them Reynolds' photographs and suggested that he might have been wearing a Wrexham AFC cap, Shaa Rahaman said his parents "just stared at me with blank faces", BBC reported.
The family have been running the restaurant since 1980.
"My parents don't watch Hollywood films. They are South Asian and are more into Bollywood," Shaa told BBC.
"They don't know who he is, which is quite funny," he also said, "but we are all very thankful for Ryan to do it. It has certainly increased business."
Rahaman Batan, the owner, said he would love to invite Ryan Reynolds for a meal on the house next time he visits the UK.
"It would be great to sit down and have a chat," he told BBC.
Ryan Reynolds has 44.8 million followers in Instagram. His post in the social media platform most likely played a big role in the restaurant's sudden rise in popularity as the bookings have gone off the charts.
"It's been completely crazy since Sunday," Rahaman Batan also said.
"We were just starting to recover as a business after Covid-19 and this has been like a godsend, it's been insane," he added.