Waterborne diseases on the rise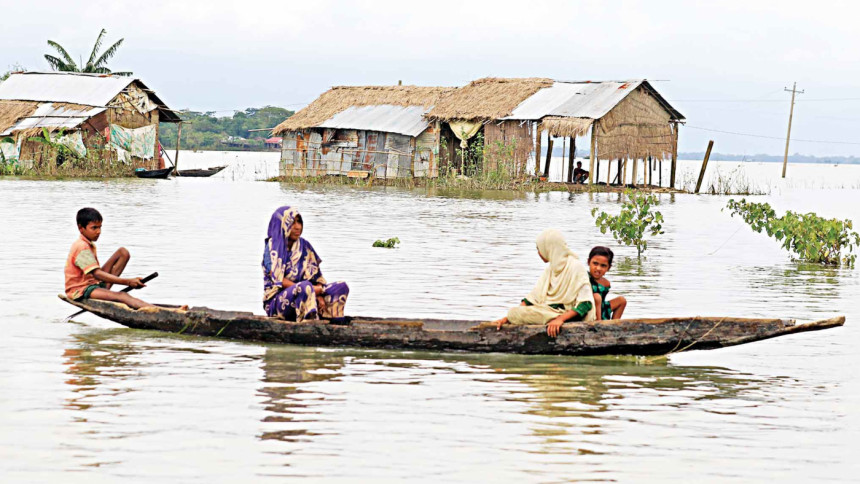 The yard and kitchen of Aparna Rani Das's house in Gagra village, on the edge of Hakaluki haor in Moulvibazar's Barlekha upazila, is submerged in knee-deep water since June 17.
Not considering the floodwater a threat, she continued her daily chores while wading through it without covering her legs.
Soon, she developed skin disease between her toes due to prolonged exposure to filthy floodwater.
Her neighbour Ananta Das also developed rashes on his legs for the same reason.
"Floodwater is everywhere and it's filthy, with a bad odour. I develop a rash whenever I walk through it," Ananta said.
Both Aparna and Ananta said no doctor or medical team has visited the village during the flood, and they have not taken any medication for the skin disease.
There has also been outbreaks of diarrhoea in all flood-affected areas in Sylhet division, and children are worst affected by the waterborne disease.
Dr Rajib Chakraborty, upazila health and family planning officer of Chhatak in Sunamganj, said, "As the flood prolongs, people are coming to hospitals with many waterborne diseases like diarrhoea and skin diseases, mostly fungal infections. Among diarrhoea patients, around 40 percent are children."
According to the civil surgeon offices, a total of 2,488 people contracted several waterborne diseases in Sylhet district till yesterday afternoon since the floods began over two weeks ago. The number is 1,411 in Moulvibazar and 1,780 in Habiganj.
In Sunamganj, 6,632 people were infected with diarrhoea over the same period. Data on other diseases were not available.
According to the office of the divisional health director in Sylhet, 2,090 people were infected with diarrhoea in the seven days till Thursday. The count is 6,471 in the last 30 days. In the last seven days, 560 people contracted skin disease.
These data are mainly collected from hospitals and 429 medical teams working in flood-affected areas, but the actual scenario is likely to be worse as a majority of the affected people are not receiving treatment yet.
Dr Ahmad Shahrier, medical officer (disease control) of the Sylhet civil surgeon's office, said, "People are aware these days and mostly treating diarrhoea at home. That's why the data does not reflect the actual scenario."
Contacted, Dr Himangshu Lal Roy, director of health in Sylhet, said, "We predicted an epidemic of waterborne diseases caused by the flood, but fortunately, nothing like that is happening anywhere. Considering the possibility of an epidemic, we were prepared with sufficient medicine from the government and the generous support of UN agencies and NGOs.
"In 41 affected upazilas, we have deployed dedicated medical teams and in areas where flooding is particularly bad, mobile medical teams moving door to door. So far, we are happy that people's awareness about diarrhoea is helping to fight the outbreak. The coordination of all government offices is also helpful in sharing information of any possible outbreak."
A total of 45 people died in the floods in the division. Drowning, snake bites, waterborne diseases, etc. are considered among the reasons for the deaths.
There were 18 deaths in Sylhet, 17 in Sunamganj and five each in Moulvibazar and Habiganj districts, according to respective civil surgeon offices.