67% of all deaths in Bangladesh due to non-communicable diseases
Health Minister says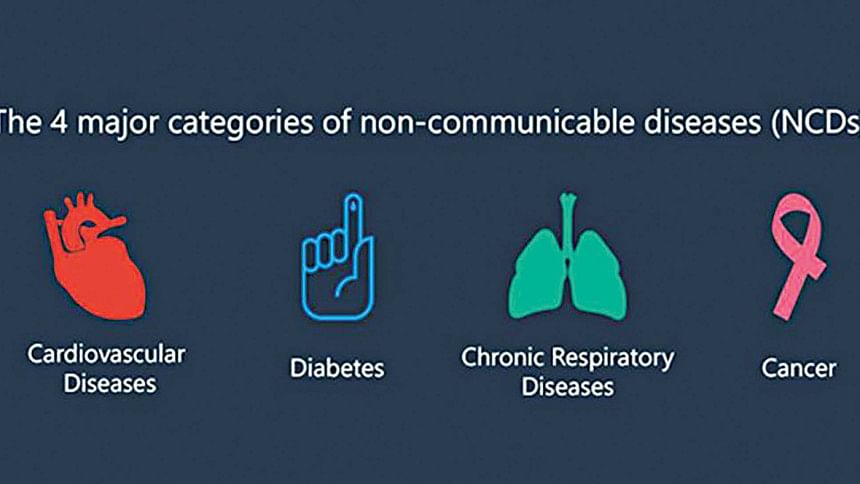 Non-communicable diseases (NCD) are a growing health risk and matter of concern for Bangladesh, Health Minister Zahid Maleque said yesterday.
Such diseases, which include heart disease, stroke, cancer, diabetes and chronic lung disease, are collectively responsible for almost 70 percent of all deaths worldwide, according to the World Health Organization.
"Some 67 percent of all deaths in the country are due to non-communicable diseases," Maleque said, referring to different statistics, while addressing the first National NCD Conference 2022 virtually.
Besides, around 20 percent of the population suffer from hypertension, 10 percent from diabetes, and as much as 20 lakh people suffer from cancer each year in the country, the minister said, adding that around 50,000 new patients join the list annually.
Directorate General of Health Services, Bangladesh Health Reporters Forum, Clinical Research Platform and several other organisations arranged the conference.
Researchers and physicians from around 30 organisations in home and abroad participated in the event.
The conference will conclude tomorrow.
Maleque said, "NCDs are increasing due to the change in lifestyle and diet, obesity, tobacco consumption, environmental pollution, and misuse of medicines. To control NCDs, awareness among people, alongside early detection and treatment facilities everywhere, must be increased."
Joining virtually, WHO Director General Tedros Adhanom Ghebreyesus said, "Attaining the SDG has become challenging due to non-communicable diseases. NCDs are increasing due to the use of tobacco and unhealthy lifestyle. The WHO will help Bangladesh in the prevention and control of NCDs."
He stressed on ensuring equitable healthcare services at primary level for those who are suffering from such diseases.
On the first day of the conference, researchers from different organisations presented their keynote on non-communicable diseases.
Dr Aliya Naheed, scientific officer at icddr,b and secretary of the conference organising committee, said, "As much as half of the rural population do not know they have hypertension. They start medication as per the advice of local medicine sellers but do not go to doctors."
She said there is a lack of knowledge among both literate and illiterate people about these diseases.
"Everyone has to go for screening at least once a year after the age of 30," she added.
Unicef, UNFP, Orbis International, Trauma Center and different local and international organisations have sponsored the conference.
Tomorrow, on the concluding day, six physicians will be given posthumous awards and six will be given special awards.