Rise in diarrhoea cases in Barishal 'not alarming'
Say Barishal health officials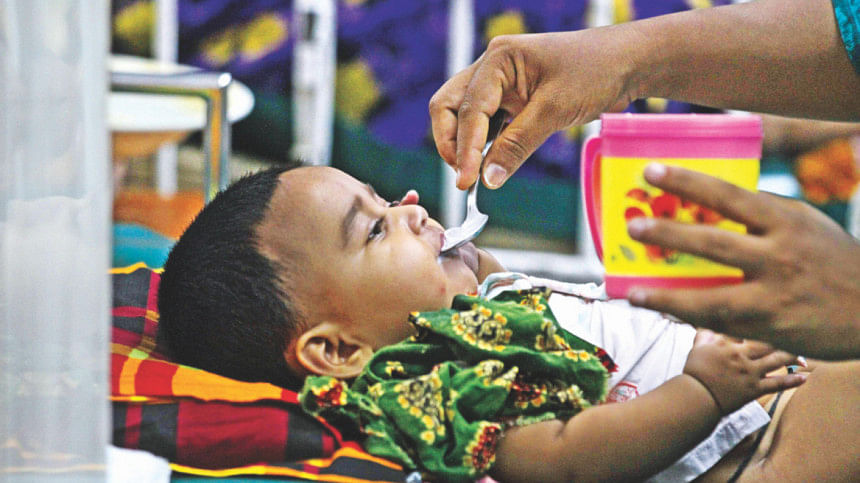 The diarrhoea situation has rapidly worsened in Barishal division recently. However, the health department said this is quite common for summer every year, and "the situation is not alarming".
According to the Barisal Divisional Health Office, about 10,000 diarrhoea patients have been treated in hospitals and medical centres in the last two months, with more than 150 patients every day.
But there was enough stock of IV saline to keep the situation under control.
Over 5,000 patients were admitted with diarrhoea in February alone.
Bhola was the most affected district, where 3,129 people were hospitalised in the last two months. Every day, 36 people are affected with diarrhoea in the district.
After Bhola, about 2,000 people have been affected by diarrhoea in Barishal district in the last two months. Other than these, 1,912 people have been affected in Patuakhali ,1,455 in Pirojpur, 773 in Barguna, and 394 in Jhalkathi.
The Barisal Divisional Health Office said that in 2022, the number of patients suffering from diarrhoea was 70,000, which was 72,000 in the previous year.
Dr Malay Krishna Baral, residential medical officer of Barisal General Hospital, which is dedicated to treating diarrhoeal disease, said all the 12 beds in the hospital have been filled. "Even though the number of diarrhoea patients is higher than before, the situation is still not out of our control."
Divisional Health Officer Dr Humayun Shaheen Khan said that usually there is an outbreak of diarrhoea in this region during summer. "Due to low water in canals and rivers, it becomes polluted and people suffer from diarrhoea after drinking the polluted water. This is a common situation in this region. Diarrhoea is more frequent than before but is not alarming as of yet."
To control the situation, the Divisional Health Office has formed 410 medical teams in 42 upazilas.
There were no reports of deaths due to diarrhoea in the last two months, Dr Humayun Shaheen Khan said, adding, "We have 41,516 bags IV saline of 1,000cc and 23,626 bags of 500cc in our hand, which I think is sufficient."
The health officer said, "Drinking polluted water due to lack of awareness is worsening the situation."