5 die from dengue in a day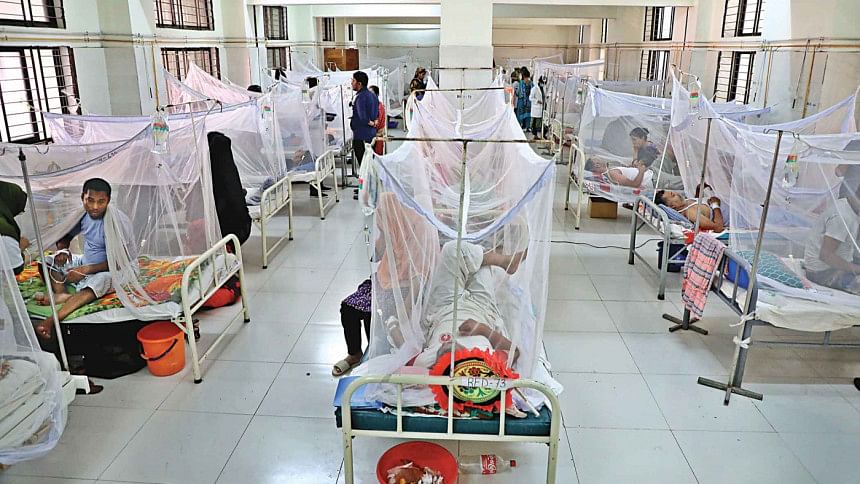 At least five dengue patients died and 440 were admitted to hospitals across the country in the last 24 hours till yesterday morning.
The total number of deaths from dengue now stands at 218 and cases at 35,262 this year, as per the Directorate General of Health Services.
Of the dead, 73 were from Dhaka, 23 from Cox's Bazar, 14 from Chattogram, five each from Barishal and Khulna, three from Mymanshingh, two from Rajshahi and one each from Narsingdi, Narail, Bogura, Kishoreganj and Feni.
Of those admitted to hospitals, 10,890 were outside Dhaka.
A total of 31,595 patients -- 9,576 outside Dhaka -- have already been released.
Some 3,539 patients are still undergoing treatment. Of them, 2,280 are from outside Dhaka.
Experts urged the authorities to conduct extensive drives identifying clusters of Aedes mosquitoes immediately.
They also suggested the authorities to take effective measures after the rain stops to destroy all breeding sources so that Aedes could not breed and spread further.
A monsoon survey of the DGHS, conducted between August 11 and 23, found the presence of Aedes mosquitoes in 13.4 percent of houses in Dhaka North City Corporation and 11.75 percent of homes in Dhaka South City Corporation.
For the survey, a total of 1,319 households of 40 DNCC wards and 1,830 households of 58 DSCC wards were surveyed.
The survey also found 13 wards in DNCC and 14 wards in DSCC to be highly risk-prone as the density of Aedes mosquitoes was found to be higher in those wards.