Dhaka streets largely empty
Hundreds of holidaymakers entered capital despite lockdown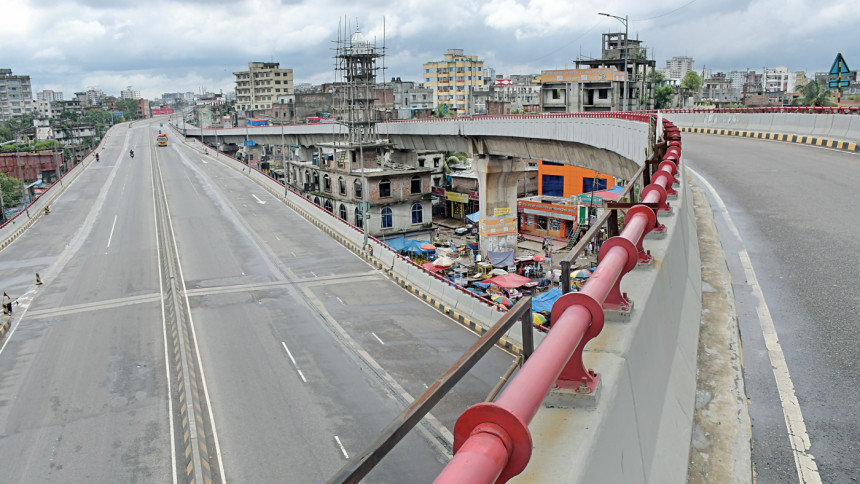 Intermittent rain and the strict lockdown kept the streets of Dhaka and elsewhere largely empty yesterday.
As the second day of the lockdown progressed, very few rickshaws, cars, and pedestrians were out.
But hundreds of holidaymakers returning to the capital after the Eid formed crowds at different entry points to the capital. Finding no transport, many had to walk long distances to reach their destinations.
Law enforcers expect that the public and vehicular movement may increase today which would be the first weekday day after the holidays.
Banks, stock exchanges and several emergency services reopen today.
Banks will remain open from 10:00am to 1:30pm. Stock trading at the bourses in Dhaka and Chattogram will be operational from 10:00am-1:00pm.
Amid rising cases of Covid-19, the government announced the "strict lockdown" from Friday after an eight-day break for the Eid. The lockdown bans operations of trains, domestic flights, river traffic, and personal vehicles. There is no restriction on freight services. The stricter lockdown will end at midnight on August 5.
In the capital, police, Rab, Border Guard Bangladesh and army personnel were deployed to enforce the lockdown at different checkpoints, but the rain interrupted checking at some points.
Plying of rickshaws was mostly allowed yesterday, but police strictly checked other vehicles. Police in Dhaka detained 383 individuals for being outdoors without valid reasons.
Mobile courts fined 137 individuals and shops Tk 95,230 while DMP's traffic division fined 441 motorists Tk 10.83 lakh.
Rab conducted 180 patrols and set up 186 checkpoints across the country. Twenty-seven mobile courts accompanied by Rab fined 212 people Tk 1.91 lakh, said a press release.
Post and Telecommunication Minister Mustafa Jabbar yesterday in a Facebook post said users of nearly 1.11 crore mobile phones went out of Dhaka between July 15-23. Of them, over 17 lakh SIM subscribers had returned as of Friday.
Meanwhile, hundreds of people, including women, children and the elderly, were seen walking long distances with their bags on the streets of the capital yesterday.
In Gabtoli, police stopped ambulances, pickup trucks and cars carrying travellers.
Sanwar Hossain, a pharmaceutical company employee, returned to Dhaka from Sirajganj as a paying pillion rider. It cost him Tk 2,000. He was stopped by police in Amin Bazar and had to walk the rest of the way.
Officers in the Amin Bazar area said some people were trying to enter the city claiming that they needed to go to medical facilities, but most of them had old and invalid documents.
Meanwhile, hundreds of people, on motorcycles, cars and microbuses travelled across the Padma on ferries between Daulatdia and Paturia and Bangla Bazar and Shimulia terminals.
Officials said the travelers were allowed to board the ferries on humanitarian grounds.
Out of 19 ferries, only six were operating on Bangla Bazar-Shimulia route, reports our Munshiganj correspondent.
Physical distancing could not be maintained on the crowded ferries. After crossing the river, many people were forced to walk long distances as there were no vehicles.
"I have to return to the capital to save my job. The management wants us at the workplace," said Arif Hossain, who works for a company. He was travelling via the Bangla Bazar-Shimulia route.
At Paturia ferry terminal between 8:30am and 10:30am, our Manikganj correspondent found that most vehicles, except buses, were being allowed to board the ferries.
Md Zillur Rahman, deputy managing director at BIWTC's regional office in Aricha, said only the vehicles providing emergency services were allowed to cross the Padma. But some people on foot and cars were also allowed on humanitarian grounds, he added.
In Gazipur, those travelling towards Dhaka without a proper reason were stopped and sent back. But people were seen hanging around in the neighbourhoods, reports our Gazipur correspondent.
A mobile court in the city fined Anwar Group's "A1 Polymer Limited" Tk 70,000 in the morning for keeping a factory open.