10 new cases raise Omicron spectre
Cabinet discusses Covid spike; experts urge immediate curbs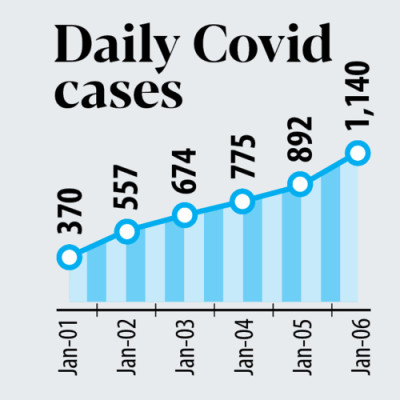 The government considers stepping up vaccine campaign, lowering the age limit for booster doses and preventing gathering of unvaccinated people at public places to contain the spike of Covid cases.
It also considers not allowing anyone to enter restaurants and shopping malls and board buses and trains without vaccine certificates.
Besides, it will make receiving at least one dose of a Covid vaccine mandatory for school children above 12 to attend classes in person.
The steps were discussed at the cabinet meeting, chaired by Prime Minister Sheikh Hasina, yesterday when the country witnessed a 27.8 percent increase in daily coronavirus cases.
The Directorate General of Health Services (DGHS) has logged 1,140 fresh cases, saying the positivity rate rose to 4.86 percent.
Besides, 10 new Omicron cases were reported yesterday, taking the confirmed total number to 20, according to Germany-based global database GISAID.
In such a situation, an expert has warned that the Omicron variant would spread at the community level if health rules are not followed immediately and strictly.
Talking to The Daily Star, Prof Tahmina Shirin, director of the Institute of Epidemiology, Disease Control and Research (IEDCR), said, "We are detecting new Omicron cases every day [through genome sequencing]. Contact tracing does not suggest that the variant has started community transmission, but it will soon."
Prof Dr Mohammad Shahidullah, president of the National Technical Advisory Committee (NTAC) on Covid-19, added, "We are not saying right now that the Omicron has spread to the community level. But the number of Covid cases, including those infected with Omicron, is higher than those detected."
Another expert, however, claimed Omicron has already spread at the community level.
"Laboratory data is too inadequate to reach such a conclusion, but clinical data suggests it has already spread at the community level across the country," said Prof Ridwanur Rahman, an infectious disease specialist.
Experts have meanwhile said the government mulling actions to curb Covid cases is a positive sign.
"It will create pressure on people for being jabbed. But implementing the actions will be challenging since a huge number of the population is still unvaccinated," Prof Ridwanur Rahman said.
As of yesterday, only 31 percent of the targeted population have received both doses of the vaccine.
CABINET MEETING
Apart from discussing its other agendas, the cabinet meeting yesterday discussed ways to fight Omicron, said Cabinet Secretary Khandker Anwarul Islam.
Sources said the prime minister asked the health ministry to lower the age limit for booster doses to 50 from 60.
She directed them to strengthen vaccination and vaccination awareness campaigns to contain the virus, the sources said.
At a press briefing after the meeting, Anwarul said no students above 12 would be allowed to attend in-person classes without having received at least one dose of the vaccine.
"The education ministry has already given instruction in this regard. The issue was raised at an inter-ministerial meeting on January 3 and it was approved today," he said.
He said people would need to carry vaccine certificates to eat meals in restaurants, travel by trains, buses and visit shopping malls.
These would be implemented soon upon getting opinion from the national committee on Covid, he said.
Talking about ways to fight Omicron, he said wearing masks in public is a must.
If the Covid-19 situation deteriorates, the number of passengers in public transport will be halved, he said.
Replying to a query, he said they have not yet taken any decision to impose a Covid lockdown in the country.