Texas scientists developing 'patent-free, cheaper' Covid vaccine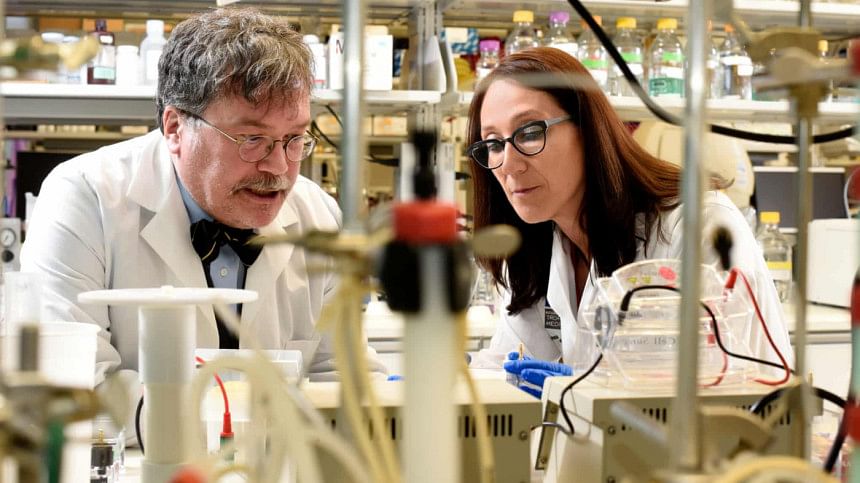 Scientists at Texas Children's Hospital Center for Vaccine Development at Baylor College of Medicine in the US, led by Dr Peter Hotez and Dr Maria Bottazzi, are working to develop a new Covid-19 vaccine that they say will be patent-free and cheaper to produce, reports The Guardian.
The new vaccine, named "Corbevax", is being developed using a conventional method by reconstructing vaccine prototypes for Sars and Mers, in a process that involves the use of yeast in the same method by which hepatitis B vaccines are produced, according to the report.
The scientists have dubbed Corbevax as the "the world's Covid-19 vaccine", saying that its production and distribution will be cheaper and more accessible for countries that are most affected by the pandemic with new variants likely to originate due to low inoculation rates.
Dr Botazzi told The Guardian that they do not intend to patent the vaccine, which will allow anyone to reproduce it if they have the capacity to do so.
"Pretty much anybody that can make hepatitis B vaccines or has the capacity to produce microbial-based protein like bacteria or yeast, can replicate what we do," Bottazzi said.
While more than 60 other vaccines are also in development using the same technology, Corbevax is to become available patent-free, at a time when patent wars over mRNA vaccines have come to the fore, The Guardian report read. 
It must be noted that low-income countries have few vaccine research and production facilities and have so far inoculated just one in nine people, according to the World Health Organization.
Due to resource constraints, clinical trial data for this new Covid-19 vaccine is yet to be released. However, according to the Texas Children's Hospital, the vaccine has been found to be over 90 percent effective against the original Covid-19 strain and has over 80 percent efficacy against the Delta variant. The vaccine's effectiveness against the Omicron variant is being tested at present.
The vaccine is developed by placing a piece of spike protein from Covid-19 in yeast cell using recombinant protein sub-unit technology. The protein is then replicated by yeast cells and then it is introduced to the immune system.
The Corbevax vaccine can be stored using only standard refrigeration, a crucial fact that will greatly minimise the cost of storage and transport of the vaccine.
Biological E, an Indian pharmaceutical company, has already produced 150 million doses of the new Corbevax vaccine and is expected to be able to produce 100 million doses every month.
Bottazzi mentioned her team's shared philosophy of humanitarianism and aspiration to collaborate with the global scientific community as reasons for not to patent the vaccine.
"We want to do good in the world. This was the right thing to do and this is what we morally had to do."
Mentioning that they did not want to take advantage of the discovery, Botazzi told The Guardian, "If more like us would have been more attuned to how the world is so inequitable and how we could have helped from the beginning … we could have basically not even seen these variants arise."
Bottazzi hopes it will inspire others to follow suit and make affordable and accessible vaccines for other diseases and viruses.
"We need to break these paradigms that it's only driven by economic impact factors or return of economic investment. We have to look at the return in public health."