PM on Covid Jabs: Govt to arrange 1 crore doses every month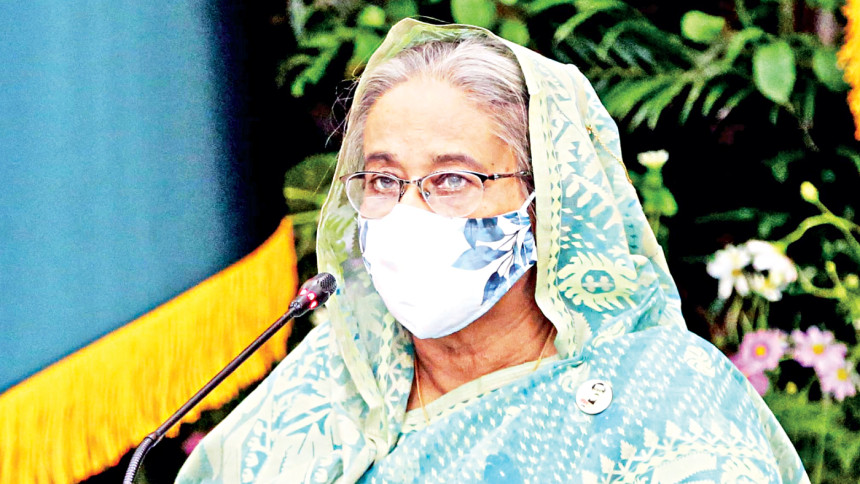 Prime Minister Sheikh Hasina yesterday told parliament that the government has made arrangements to get more than one crore doses of Covid-19 vaccines every month.
The prime minister said this in response to a query from Awami League lawmaker Shahiduzzaman Sarker.
It was the 14th session of the eleventh Jatiya Sangsad which began around 5:00pm, presided over by Speaker Shirin Sharmin Chaudhury.
In the scripted answer, PM said: "Steps have been taken to ensure more than one crore vaccine doses every month."
According to the schedule received from Sinopharm, two crore shots will be available every month from October onwards and six crore shots by December, she added.
So far, 1,82,89,018 people have got the first Covid dose and 78,40,169 people have been vaccinated with the second dose. In total, 2,61,29,187 doses of Covid-19 vaccine have been administered, the PM told parliament.
Hasina said the country has a stock of 1,18,96,343 doses of Covid vaccine right now.
She said the government has established communications with all vaccine producing organisations. "Of them, we [first] got response from Indian Serum Institute and booked three crore doses of vaccines with advance payment."
There was no response from any other vaccine producing companies then, she said.
"Afterwards, Sinopharm from China and Sputnik-V also responded and we took initiatives immediately; we have inked an agreement with Sinopharm and also signed a memorandum of understanding for local production."
Till August 30, the prime minister said, her government has already taken measures to collect 24,54,52,700 doses of Covid-19 vaccine as part of the initiative to inoculate all the people. 
She said the process to purchase three crore doses Sinopharm vaccine and 7.50 crore dose Sinovac vaccine through Covax is at the final stage.
The PM said the government has sent formal proposal to purchase 70 million doses of Johnson and Johnson vaccine, 30 million dose Sinopharm vaccine, and 73 million Sinovac vaccine from Covax with the finance of Asian Development Bank.
DELTA PLAN 2100
Responding to a question from Shameem Haider Patwari from Jatiya Party, Hasina informed the House that every year, about 6,000 hectares of coastal land is lost to erosion. As a result, about 50,000 people became homeless, she said.
She said the government has taken a move for a permanent solution to the river erosion problem.
The project Delta Plan 2100 has been undertaken for overall river management, water supply in urban and rural areas, waste management, flood control, river erosion control, river training, and to maintain navigability.
She mentioned that in this plan the whole country has been divided in to seven river basins and survey is going on. The surveys on Karnaphuli, Sangu and Matamuhiri rivers have been completed.
OBITUARY MOTION FOR PROF ALI ASHRAF
The House yesterday unanimously adopted an obituary motion expressing profound condolence on the demise of Prof Ali Ashraf, a veteran lawmaker of ruling Awami League from Cumilla-7.
A freedom fight and former deputy speaker of parliament, Ali Ashraf died on July 30 at the age of 74.
"We have lost an experienced parliamentarian," the prime minister said while participating on the obituary reference.
She noted that Ali Ashraf had written 15 books on contemporary politics and economics.
Among others, Jatiya Party Chairman and Deputy Leader of the Opposition GM Quader, Law Minister Anisul Haq, Agriculture Minister Abdur Razzaque, LGRD Minister Tajul Islam, and AL lawmakers Matia Chowdhury, Sheikh Fazlul Karim Selim participated in the discussion.