Vaccination Drive: Are transgender people left out?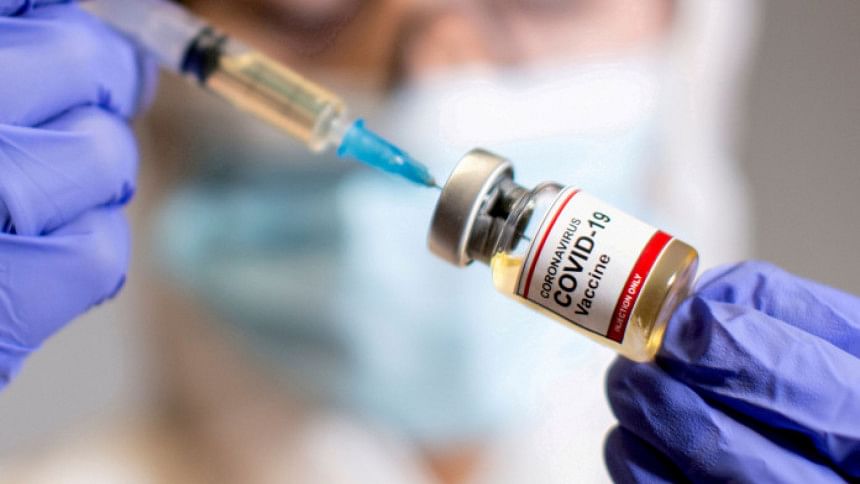 No special arrangements for transgender people
They face harassment when they go for jabs as gender identity does not match the sex denoted in birth certificates, NIDs
Many do not have NIDs
Many lack access to education, mobile devices
Turned away from centres during mass vaccination drive
Getting tested and vaccinated for Covid-19 was no less than a trauma for Tanisha Yasmin Chaity, a young transwoman and a development worker based in Cox's Bazar.
Chaity's biological sex is male, and she was registered with the birth name Mamun Mollah in her national identity card, long before the government recognised the third gender in 2013. She now identifies herself as a woman, which creates problems everywhere.
"Other people in the queue were taunting me, as if I was not a human being and did not have the right to get vaccinated."
For example, last month, after registering for the Covid-19 vaccine at Teknaf Upazila Complex, she went to get her first dose and stood in the female queue after submitting her card. She felt anxious that something untoward was going to happen, as other women in the queue looked uncomfortable in her presence.
"At one point, I heard the staff calling 'Mamun Mollah', and I went to him to receive my card. But the staffer was very astonished with my female appearance and made me wait for a long time, considering it a special case," said Chaity.
Chaity, an educated transgender youth, who works with more than 500 gender diverse populations of Cox's Bazar, as a mental health and psycho-social counsellor, tried to convince the staff that she is a transwoman, who identifies herself as female.
"But I found the staffer was unaware of the word transgender and asked me what it was. Later, I told him that I belong to the hijra community, and a high-risk group for Covid-19, as I mingle with a large number of gender diverse people regularly," said Chaity.
"After that, he asked me whether I have the permission to get vaccinated. Other people in the queue were taunting me as if I was not a human being and did not have the right to get vaccinated," she recalled.
"After yelling at him, when I finally went to the women to take the vaccine, the scene was repeated. Once again, I felt like an alien. At one point, I had to bring the first person, who explained the whole thing to her and only then was I finally able to get my first dose," she said.
But according to Chaity, if an educated transwoman like her had to go through such a humiliating situation, the ordinary hijras -- who are mostly uneducated and unaware of their rights, and make a living by extorting money from commuters or shopkeepers, performing Badhaai (a custom of conferring blessings on a newborn by singing and dancing) or engaging in sex work or other casual jobs -- will not opt for the vaccine, considering the humiliation and hassle.
Chaity's fear was real, because of the 100 transgender people of Teknaf upazila she works with, only one of them was vaccinated so far, while another just registered for the jab.
It is difficult to know exactly how many trans people have been vaccinated so far in Bangladesh, as the
daily vaccination update, prepared by the Health Emergency Operation Center and Control Room of the Directorate General of Health Services (DGHS) only provide an update of the number of men and women who took the vaccine, with no room for counting the transgender population.
The Daily Star spoke to several transgender people of the capital about the vaccination process, and an overwhelming majority of them stated that they were reluctant to take vaccines considering the horrible experiences their fellows went through.
For example, Samiul Alam Shammi, a transwoman entrepreneur and trans rights activist, said that she didn't go to take the vaccine, as she saw how badly her "guru" had been treated when she went to take the vaccine.
A few of them also claimed that many in their community were not tested and vaccinated since they are not accustomed to the registration process, are uneducated and lack access to smart phones and internet connections.
Another major challenge, faced by the hijra community, is that since they live under their "gurus" (mentors) from their teenage years, many do not possess a NID, which is mandatory for registering online.
Some transgender people also claimed that they were not allowed to take the vaccine during the mass vaccination drive.
Megh, another transgender person, said when she and her friends went to take the vaccine at a school in Badda in the capital, the people who maintain the queues asked them to step aside and let the others waiting in line to go first.
"When we asked why, they told us to show up the next day, but we did not go later, considering the humiliation and denial," she said.
Most of the transgender population also faced similar experiences in terms of getting tested for coronavirus.
For example, Chaity said she was not welcomed when, last September, she went to get a Covid test at Rajbari Sadar Hospital.
"I knew some people, who helped me get tested eventually," she said.
"But I know many who went through all the symptoms of Covid-19 but didn't get tested fearing the hassle. They took medicines from the traditional healers and dispensaries," she added.
"Some trans people also died of Covid-like symptoms in Dhaka, but the 'gurus' didn't disclose the information to anyone, fearing the consequences," she further added.
Dr Mashiur Rahman, advocacy manager of Bandhu Social Welfare Society, an organisation that works for the rights of gender diverse populations, said they too have received many such allegations of harassment and humiliation during the testing and vaccination process.
"We are trying through our community volunteers in districts to sensitise both the transgender people and the staffers, and have been noticing some progress. However, most members of gender diverse communities are still left out of the vaccination drive," he added.
Contacted, DGHS spokesperson Dr Robed Amin said DGHS didn't receive any such complaint so far.
"The government already recognised them as the third gender, but we are yet to overcome the social challenges in accepting them. They will take the vaccine as per their preferred gender (ie male or female), and if they are denied the vaccine, we will look into it," he said.
On the other hand, Dr Ainoon Naher, a professor of anthropology at Jahangirnagar University, said although the government recognised them, they first need to be accepted socially.
"They must be given the vaccine as per their gender mentioned in the NID and there must be a complaint box in every centre so that if someone goes through any untoward situation can make a complaint," she said.
At the same time, the government must give them an opportunity to convert their NIDs into their preferred gender, since they are now officially recognised as the third gender, she added.