10 lakh jabs a day: Govt plans to ramp up vaccination next month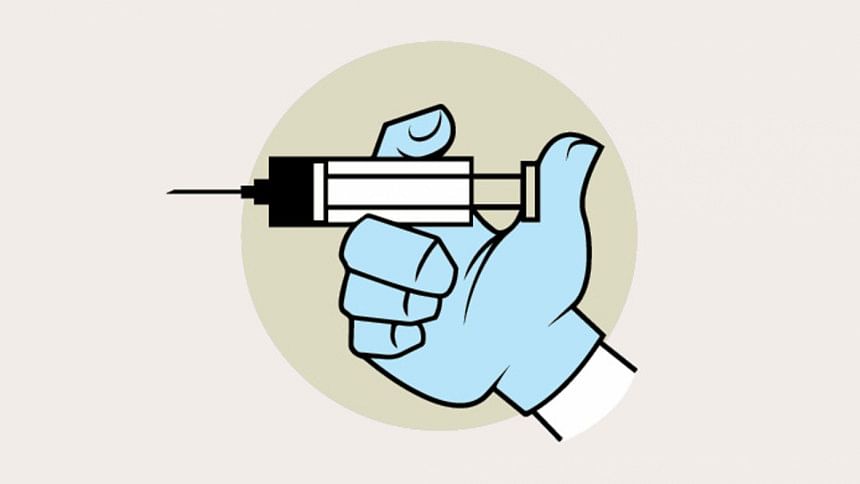 "We hope to vaccinate another six crore people with double doses by April."
The government plans to jab 10 lakh doses daily from next month to ramp up the Covid-19 vaccination campaign which has gathered some pace in recent months following smooth supply of vaccines.
Currently, around five lakh people are being administered vaccines every day on average.
If the plan is implemented, the government will be able to vaccinate 3 to 3.5 crore people every month. It will help the government achieve its goal: inoculation of 80 percent of the targeted population by the end of April next year.
"Our vaccine supply has been smooth so far and if it continues to be so, we will be able to jab 10 lakh doses every day. We hope to vaccinate another six crore people with double doses by April," Health Minister Zahid Maleque told The Daily Star yesterday.
To strengthen the vaccination campaign, the government has purchased nine crore syringes, which will start arriving next month, he said.
The country has so far received around 8.82 crore vaccine doses of different brands from various sources, shows data from the Directorate General of Health Services (DGHS).
Around 4.02 crore people have got their first dose while around 2.05 crore people got both doses, shows DGHS data.
It is around 15 percent of the targeted population, aged 18 and above.
"If we administer 18 crore doses in the next six months, then another nine crore people will be fully vaccinated. So, our goal of vaccinating 80 percent of the [targeted] population is likely to be achieved by April next year," said the health minister.
Bangladesh has so far purchased around 10 crore doses of vaccine -- 7.5 crore from Sinopharm and 3 crore AstraZeneca doses from Serum Institute of India.
Besides, the country has got a commitment of 10.50 crore doses of Sinopharm and Sinovac vaccines from Covax.
Officials said Covax, a global facility for ensuring equitable access to Covid vaccines for low- and middle-income countries, has also committed to giving Bangladesh 1.60 crore Pfizer vaccines as part of its commitment to provide 6.8 crore doses of vaccine this year.
"We have got enough commitment from Covax. If we get the vaccines on time, we will be able to scale up the vaccination campaign," said a top official of the DGHS.
He said two recent special vaccination drives gave them the confidence that it is very much possible to administer 10 lakh doses daily.
Around one crore doses were administered in the two special drives held in August and September.
"Now we are working on scaling up the vaccination campaign. We are giving around four to five lakh vaccine doses in a single day and are hopeful about administering 10 lakh doses per day. Apart from this, we are also planning to hold special campaigns every month," said Shamsul Haque, member secretary of the Covid-19 Vaccine Management Taskforce Committee of the DGHS.
The country has suffered frequent hiccups in its regular mass inoculation since it began in February due to a dearth of doses caused by a yawning gap between commitments and compliance in vaccine supply.
The regular vaccine campaign remained postponed for around a month due to a sudden suspension of vaccine supply from Serum Institute of India.
The campaign got momentum after the government purchased 1.5 crore doses of Sinopharm vaccine from China in June.
To bring more people under the vaccination drive, the government has already lowered the age bar to 18 years. Besides, the government has decided to administer the Pfizer vaccine to the 12-17 age group.
"The education ministry will send a list of the students and then the students will be able to register on the Surokkha app for vaccination," said the health minister.
Bangladesh has been witnessing a gradual decline in the number of Covid deaths and infections over the last one month after the Delta variant of the coronavirus, detected in May, ravaged the country in June and July.