5th Day of 'Lockdown': Not so 'strict' anymore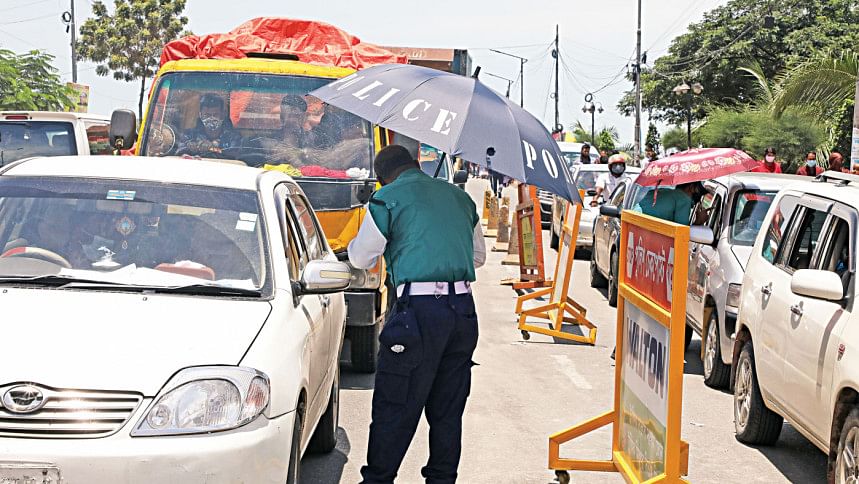 With each passing day, the countrywide 14-day "strict lockdown" seems to be easing up.
On the fifth day yesterday, public and vehicular movement increased significantly on the roads in Dhaka and elsewhere. 
Despite restrictions, hundreds of Eid holidaymakers continued to enter the capital through different entry points from their village homes, by changing different modes of transports.
Rickshaws were seen dominating the city's main thoroughfares, while a large number of vehicles plied the roads.
Even though police check-posts were set up at different points to enforce the lockdown, law enforcers at some points were seen a bit relaxed with the checking.
However, many had to face police interrogation on their way to work.
"I work at a medicine shop in Kalabagan area. I was going to my work place around 9am when police intercepted me at Panthapath intersection and interrogated me," said Sohel Rana, a resident of Shantinagar.
Besides, long queues of cars were seen at some streets while Airport Road witnessed a huge rush of traffic around 10am.
Kamrul Hasan, a private job-holder, who started from his Kalyanpur home around 10am to go to his office at Motijheel, said, "I got stuck in traffic gridlock at Shyamoli intersection for a few minutes."
Like the other days, Dhaka alleys and by-lanes remained crowded while some shops and tea stalls were found open. Many were seen walking on footpaths without wearing masks.  
Visiting several police check-posts in Mohakhali, Bijoy Sarani, Manik Mia Avenue, Mohammadpur and Tejgaon areas yesterday noon, it was noticed that there was lax monitoring at the check-posts.
Meanwhile, police detained 555 people for defying Covid-19 restrictions and health guidelines in the capital yesterday, according to a statement of Dhaka Metropolitan Police.
Besides, some 236 people were fined Tk 4.83 lakh and 497 vehicles were fined Tk 11.73 lakh for violating lockdown rules.
Outside Dhaka, two major ferry routes -- Shimulia to Banglabazar and Paturia to Daulatdia -- witnessed huge rush of people and vehicles.
Shimulia point is located in Munshiganj, Banglabazar in Madaripur while Paturia in Manikganj and Daulatdia in Rajbari.
Commuters and vehicles including motorcycles, private cars and microbuses were seen crossing the river via Paturia-Daulatdia route.
Those heading towards Dhaka were travelling on motorcycles, CNG-run auto-rickshaws and private vehicles as all public transport services were suspended.
Those vehicles were seen plying the highway dodging police check-posts and using alternate by-lanes.
Contacted, Md Zillur Rahman, deputy general manager of BIWTC Aricha office, said eight ferries have been kept operational for transporting vehicles involved in emergency services.
Taking the opportunity, some commuters are also crossing the river using those vehicles, he said.
Almost similar situation was noticed at Shimulia-Banglabazar route. A large number of Dhaka-bound passengers, motorbikes and private cars were seen crossing the river on ferries while social distancing remained a far cry .
After getting off the ferries, Dhaka-bound passengers were seen desperately looking for vehicles. Some were seen travelling on motorbikes, rickshaws and auto-rickshaws. Many had to resort to walking.
A total of nine ferries plied the route yesterday, said BIWTC officials.
The government enforced the "strict lockdown" from July 23 to August 5 to check the spread of coronavirus. Earlier, similar lockdown was enforced from July 1 to 14. But the government withdrew it for eight days due to Eid. 
 [Our correspondents from Manikganj and Munshiganj contributed to this report]