'As if it's already been lifted'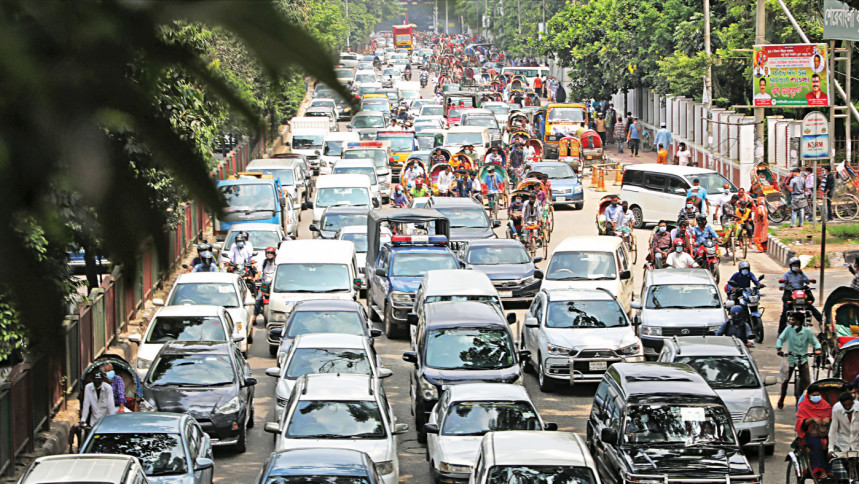 The "strict lockdown" is set to end tomorrow. However, judging by the significant rise in public and vehicular movement in the capital yesterday, one could say it has already been lifted.
Huge number of vehicles, except public transport, occupied the city streets. There were traffic congestions in many major intersections. Many shops remained open, and people were seen roaming around in droves.
Long queues of vehicles were seen at different roads and areas including Mirpur Road, Airport Road, Farmgate, Karwan Bazar, Kakrail and Malibagh.
Private cars and rickshaws dominated the roads. Many pedestrians were seen without masks, while many wore theirs on their chin.
In the morning, office-goers were seen rushing to work. Those who did not have cars had to rely on rickshaws and rickshaw-vans. They complained that they were being charged extra, and finding no other option, many had to resort to walking.
City dwellers were seen coming out of residences without much reservation yesterday. Some were going to get vaccine jabs, as a mass inoculation programme started in the country on Saturday.
"There are more cars on the road now, and you have to wait at the traffic signal for a long time," said Abul Hasan, a rickshaw-puller, at Shahbagh.
Visiting different parts of the capital, including Shahbagh, Uttara, Mohakhali, Mirpur, Kalabagan, Bijoy Sarani, Badda, Farmgate, Shyamoli, Karwan Bazar, Bangla Motor, and Malibagh, correspondents of the newspaper saw Dhaka almost returning to normal, with increased number of vehicles and people.
Saniyat Hossain, an employee of a private organisation, who was going to his office at Banani from Mohammadpur, said he saw more traffic yesterday compared to previous days.
"But there is also lax monitoring today [yesterday]," he said. "It almost feels like a regular workday in the capital. The way people and vehicles are crowding the streets, it seems as if the lockdown has already been lifted."
Presence of law enforcers was smaller compared to previous days. No traffic police were seen at many check-posts.
A traffic sergeant on Airport Road said, "There are still check-posts. However, the pressure of vehicles increased a lot today [yesterday]."
Like previous days, many were seen returning to the capital through the entry points of the city, including Abdullahpur, Babu Bazar bridge, Postogola bridge and Gabtoli, on foot.