Back to bedlam
Traffic congestion, noise, crowding returns to Dhaka as lockdown is lifted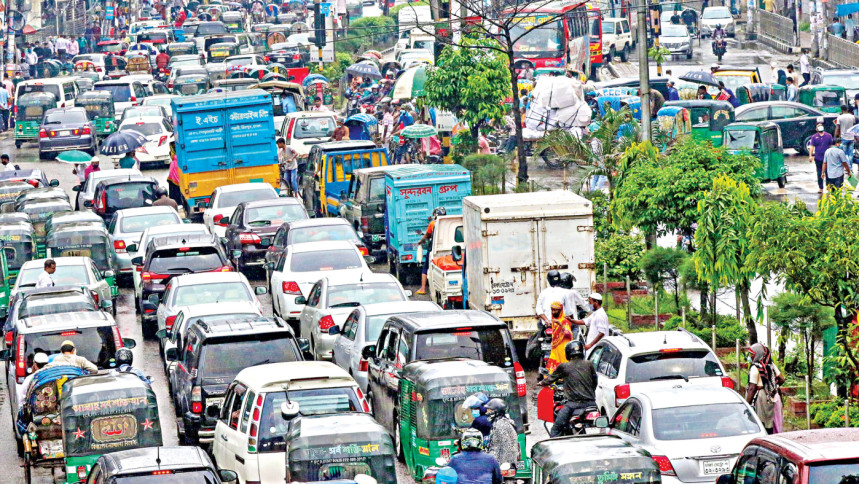 After a period of pandemic-induced calm, Dhaka is back to its usual chaotic self.
From commuters' desperate attempts to get on buses, traffic congestions at intersections in the morning rush hours, reckless driving, illegal parking, incessant honking, and seemingly never-ending screams of bus helpers -- the same old picture was found in most of the parts of the capital as public transports resumed operations.
Correspondents of this paper found traffic congestion in Mirpur, Farmgate, Tejgaon, Shahbagh, Kakrail and Gulistan. Though there was light pressure from vehicles in the morning, it increased as the day progressed.
Besides, almost all factories, offices, and shopping malls started operating after the end of the nationwide 19-day lockdown, imposed on July 23.
Meanwhile, launch and train services also resumed yesterday.
Many who had left Dhaka to celebrate Eid-ul-Azha at their village homes and could not return due to the "strict lockdown", started returning to the capital yesterday through bus, train, and launches.
However, amid the chaos, commuters hardly maintained health safety guidelines.
"It almost feels like people think the virus went away with the lifting of restrictions," said Arifur Rahman, a motor-parts trader at Banglamotor.
Hanging masks under chins was a common sight all around the city. Though some bus helpers used to spray hand-sanitisers before boarding passengers in the past, this was hardly seen yesterday.
Health experts fear the situation may worsen due to the mass movement and failure to comply with health guidelines this way.
Talking to The Daily Star, Mosharref Hossain, general manager of Hanif Paribahan, told The Daily Star, "We have resumed our services from the morning but the number of passengers is few as of now."
Asked about the government's directive to run a maximum of half of their total fleet of vehicles, he said, "The number of passengers is so few that we are only running one-fourth of our buses."
In the meantime, though the number of customers increased in the kitchen markets, there were few customers at shopping malls and standalone outlets.
Earlier, Prof Be-Nazir Ahmed, former director (disease control) of DGHS, said that restrictions should only be fully lifted once infections dropped below five percent. Currently, it is above 20 percent.
He suggested following a scientific approach in dealing with the novel coronavirus. Otherwise, the country may have to pay a high price, he warned.
A total of 237 people died and 10,420 people were infected with Covid-19 yesterday.
When the second wave of the Covid-19 pandemic gripped the country in March this year, the government started imposing different restrictions, under various names, from the first week of April.
On April 5, when the second set of restrictions was first imposed, the daily positivity rate stood at 23.4 percent, while 52 deaths were recorded in the previous 24 hours.
The Cabinet Division on August 8 had announced that all types of public transport could resume operation from yesterday.
Public transports were allowed to carry passengers at full capacity but half of the total number of vehicles would be allowed to operate, read the Cabinet Division circular.