Dengue cases keep rising
Mobile courts punish owners of Aedes breeding sites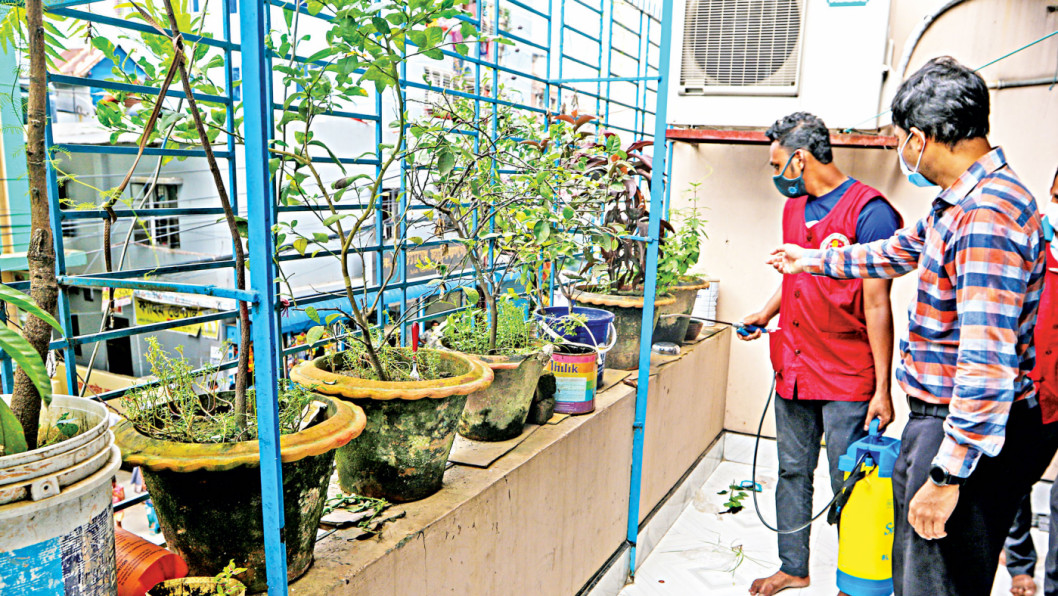 At least 143 dengue patients were admitted to different hospitals across the country in 24 hours till 8:00am yesterday, the highest in a single day this year.
Meanwhile, the two city corporations in the capital operated mobile courts and fined Tk 7.47 lakh as they found Aedes mosquito larvae at different properties.
Owners of multiple under-construction buildings and markets, including a ward councillor, were fined as the courts found Aedes mosquito larvae at their properties.
Mobile courts in Dhaka North City Corporation (DNCC) fined Tk 4.41 lakh and filed 15 cases against house owners for getting Aedes mosquito larvae on their first day of 10-day combing operation.
A mobile court of the DNCC fined Tk 1 lakh to an under-construction shopping centre at Rupnagar as they found Aedes mosquito larvae.
Ward-7 councilor Tofazzal Hossain is one of the shareholders of the shopping centre.
Tofazzal told The Daily Star that their workers cleared waters every three days but during the Eid vacation it remained unnoticed as workers were on leave.
Other mobile courts of the DNCC also fined Tk 3.41 lakh in different areas of the DNCC.
Eleven mobile courts of Dhaka South City Corporation (DSCC) also fined Tk 3.065 lakh to owners of 23 buildings including Bombay Sweets as they found Aedes mosquito larvae at their properties.
The courts also filed 23 cases against the building owners in this regard.
Executive magistrate Mamun Miah said they fined Tk 50,000 to Bombay Sweets.
The two city corporation authorities started operating raids as the number of dengue patients at the hospitals is on the rise.
With yesterday's 143, a total of 1,954 patients have been diagnosed with dengue this year and only 51 of them are from outside Dhaka, according to the Directorate General of Health Services (DGHS).
Among the total infected, 1,573 were diagnosed with dengue during the current month till this morning, which indicates the fast-rising trend of the Aedes-borne disease.
Two hundred and seventy-two were infected in June while 43 were infected in May.
Most of the patients, who were hospitalised, have so far been released.
A total of 509 patients are still undergoing treatment at hospitals in Dhaka, the DGHS data shows.