4 arson victims die at DMCH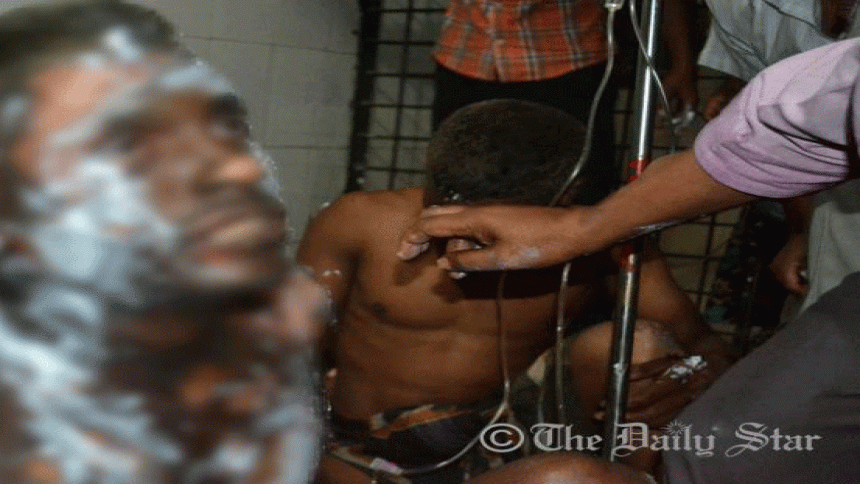 Four including three of the nine who suffered severe burns in the mindless petrol bomb attack on a truck in Magura succumbed to their injuries today.
Roushan Ali, 36, breathed his last around 2:30am as he was being taken to the Dhaka Medical College Hospital (DMCH) by an ambulance, said Nayek Mozammel Hossain of the hospital's police outpost.
Meanwhile, Shakil Ahmed, 32 met the same fate with 65 percent burn injuries at the DMCH around 12:00pm, Partha Shankar Pal, resident surgeon of the burn unit told The Daily Star.      
Matin Biswas, a third victim of the Magura arson attack, died at the hospital around 4:50pm, said the DMCH police offcer.
Seven other victims are undergoing treatment at the burn unit of the hospital, the police official said.
Miscreants hurled petrol bomb at the truck on Magura-Jessore highway last evening, hours after the BNP-led 20-party alliance announced a fresh spell of 72-hour countrywide hartal.
Later in the day, a trucker Sharif Khandar, 40, who sustained burns in a firebomb attack in Chandpur on March 19, died around 3:20pm at DMCH.
He succumbed from 88 percent burn injuries, Sentu Chandra Das, assistant sub-inspector at DMCH police camp told The Daily Star.
This raises the death toll to 92 killed and over a thousand injured in the ongoing political violence that started since January 6.