Women workforce growing fast
WB says it will grow from 34pc to 82pc over the next decade, adding 1.8pc to Bangladesh's GDP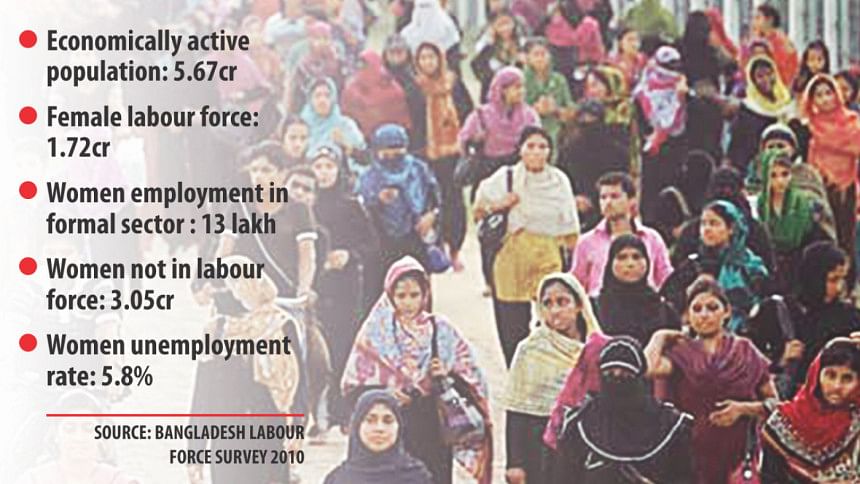 World Bank President Jim Yong Kim has hailed Bangladesh's efforts to integrate more women in the workforce and singled it out as an example to emphasise the need for investing more in women to spur growth. 
"Countries such as Bangladesh are encouraging female participation in the workforce. If they [Bangladesh] stay on track, their female workforce will grow from 34 to 82 percent over the next decade, adding 1.8 percentage points to their GDP," he said at the World Bank Group/IMF Annual Meetings at Lima, Peru, on Friday. 
Kim said closing the gender gap could raise incomes by 27 percent in the Middle East and North Africa, 19 percent in South Asia and 14 percent in Latin America and the Caribbean.
"And research confirms something we all know -- when women earn more money, they invest in their families' education and health."
According to Bangladesh Labour Force Survey 2010, labour force participation for women is 36 percent, compared to 82.5 percent for men.
Still, the rate is higher than the South Asian average of 35 percent.
Bangladesh is ahead of India, where women account for 27 percent of the total labour force, and Pakistan, whose female labour participation rate is 25 percent. Nepal has the highest female labour participation rate of 80 percent, according to the World Bank.
This growing women empowerment is also evident in the fact that Bangladesh has the third highest number of female lawmakers among the Saarc countries (see graph).   
Labour force participation rate is the proportion of the population aged 15 and older that is economically active.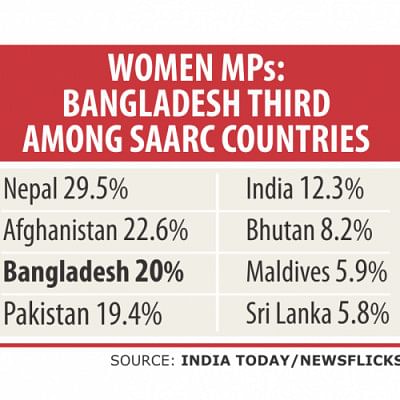 Bangladesh's high female labour force participation is fuelled by employment in rural agricultural areas and certain specific sectors such as garment industries.
Even so, Bangladesh has a long way to go.
Women make up a little over half the country's total population, but their contribution to measured economic activity, growth and wellbeing is far below its potential, the WB said in its Bangladesh Development Update in April this year.
Despite significant progress in recent decades, the labour market remains divided along gender lines and progress towards gender equality seems to have stalled, the WB said.
Increasing female labour force participation will certainly help the country break the decade-long 6 percent growth barrier, as higher female labour force participation can boost growth by mitigating the impact of a shrinking workforce, according to the US-based global lender. 
If the female labour participation rate rises by 2.5 million a year, the participation rate will equal the current rate of male participation in Bangladesh in a decade.
This will add 1.8 percentage points to potential GDP growth each year, taking it to 7.5 percent -- the minimum threshold needed to be in a comfortable middle income zone by 2021, the WB said.
In Bangladesh, women account for most unpaid work, and when women are employed in paid work, they are overrepresented in the informal sector and among the poor.
"While growth and stability are necessary to give women the opportunities they need, women's participation in the labour market is also a part of the growth and stability equation," said the WB report.
Restrictions on women's rights to inherit properties and social impediments to freely pursue a profession are strongly associated with large gender gaps in labour force participation, according to the development partner.
"Clearly, we will need to create lots and lots of jobs for female labour entrants in addition to creating jobs for new male labour entrants," said Zahid Hussain, lead economist of the WB office in Dhaka.
"This in turn will require large increases in investments in factories, farms and services. However, increase in investment is necessary but unlikely to be sufficient to increase female participation in the labour force."
Bangladesh will need to break the barriers that prevent women from participating in the labour market or entering the organised business sectors as entrepreneurs, he said.
"The barriers are both formal such as discriminatory inheritance laws, and informal such as unwritten social norms restricting female participation in activities traditionally considered to be the exclusive domain of men.
"Fundamentally, the mindset of both men and women will need to become much more gender-blind. Here the role of education and social policies will be most critical," he told The Daily Star.
Bangladesh Bank Governor Atiur Rahman, who was present at the meeting when Kim spoke in Lima, told this newspaper that Bangladesh's success was indeed due to the rise of its women power.
"Their participation in the labour force has been increasing significantly. They are emerging as great entrepreneurs and their emergence as successful leaders at various levels has made this possible," he said in an email.
Atiur said the central bank was giving special financing support to women entrepreneurs and promoting pro-women human resource policy for the entire financial sector.
"We take great pride in this global recognition of Bangladesh. Women empowerment will take Bangladesh to greater heights of balanced inclusive development," he said in his reaction to Kim's remarks.
Atiur is part of a 12-member team from Bangladesh that Finance Minister AMA Muhith is leading at the meeting.