Wife files case over Dipan murder
Tutul too sue unknown assailants over the attempt on his life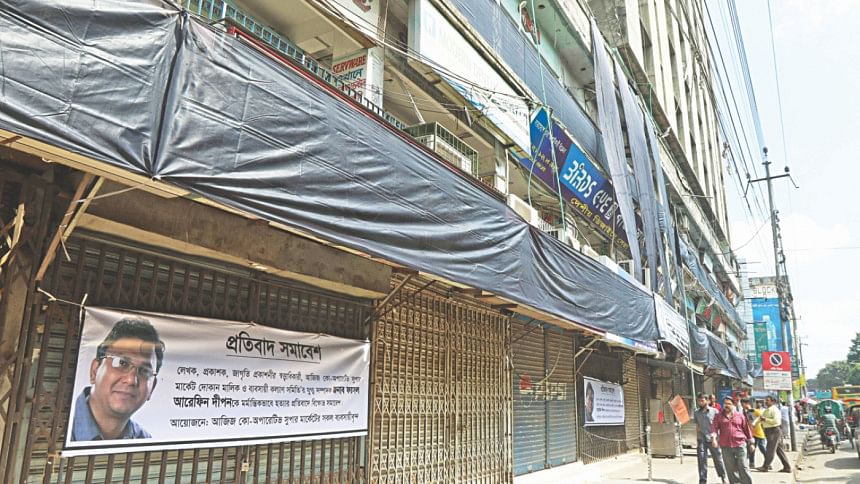 Faisal Arefin Dipan's wife Razia Rahman filed a case against unknown assailants yesterday, around 47 hours after the publisher was hacked to death inside his office at the city's Aziz Super Market.
Around the same time yesterday, Shuddhoshwar Prokashani owner Ahmedur Rashid Chowdhury Tutul sued unknown criminals over the attempt on his life and those of two others -- writers-bloggers Tareq Rahim and Ranadipam Basu -- at Shuddhoswar office at Lalmatia.  
Razia, a physician, filed the case with Shahbagh Police Station around 2:15pm.
Earlier, she along with Dipan's father Abul Quasem Fazlul Huq, a professor at Dhaka University, went to the office of DU acting proctor AM Amzad and drafted the complaint.
Although Prof Quasem had been saying that he wouldn't seek trial for the murder of his son, he changed his mind following requests from the DU authorities.
Amzad said he requested Quashem on Sunday night to file a case.
However, coming out of Amzad's office, the professor still insisted: "I do not want any trial; I want awakening of good sense in all."
Over the past four-five years, several murders have taken place in the country, but there is no charge sheet. Even after such a long time, there is no progress in the trial process. Police and detectives sometimes offer some updates, but those are inconsistent, he said.
"For these reasons … it's not that I have no confidence in the judicial process, it's that that in Bangladesh, in some special cases, I don't have enough faith that there will be a solution through a trial … Despite this, I say let the trial go on. That's why I said that if the police department requested me, I would help them in whatever way I can," he added.
The attack on Dipan happened between 3:30pm and 3:50pm on Saturday inside the Jagriti Prokashani office. The criminals fled the scene, locking the door from outside.
Tutul filed the case with Mohammadpur Police Station around 2:35pm.
In the case statement, he said an unknown man aged between 30 and 40 entered his office around 2:45pm on Saturday in the guise of a customer. Soon afterwards, two youths, aged between 20 and 30, came. One of them had a bag.
"The man carrying the bag held my office staff Russell hostage at gunpoint … They hacked indiscriminately in my head, forehead, hands and other parts of my body with machetes with a motive to kill me," the statement said.
They also hacked Tarek and Basu in a bid to kill them. Tarek was also shot.
Both Tutul and Basu were in a stable condition. The condition of Tarek was improving, but doctors said he was "not out of danger".
He still has a bullet in his body and doctors will operate on him to remove it after his condition improves further.
Lying on his Dhaka Medical College Hospital bed, Tutul told The Daily Star, "I want this to end so that no one faces what I faced. I want a non-communal, secular, progressive and superstition-free Bangladesh."
INVESTIGATION
There is no visible progress in probing any of the two attacks.
Investigators said they were working to identify the attackers. 
"Although there is no visible progress, we have been carrying out our investigation keeping all aspects in mind," said Biplob Kumar Sarker, deputy commissioner (Tejgaon) of Dhaka Metropolitan Police.
Meanwhile, detectives said the Facebook post on a page titled "Ansar al Islam" claiming credits for Saturday's attacks originated in Dhaka.
However, cops are still working to pinpoint the location and identify those who claimed the responsibility by sending emails to media outlets and through tweeting, said Mashrukure Rahman, deputy commissioner of detective branch (south) of DMP.
Talking to The Daily Star, Tanvir Hasan Joha, focal point officer of ICT division's cyber security project, said the Facebook post was uploaded between 6:00pm and 7:00pm on Saturday, but was deleted within two hours.