'We were in the dark'
Say editors, compilers about changes made in textbooks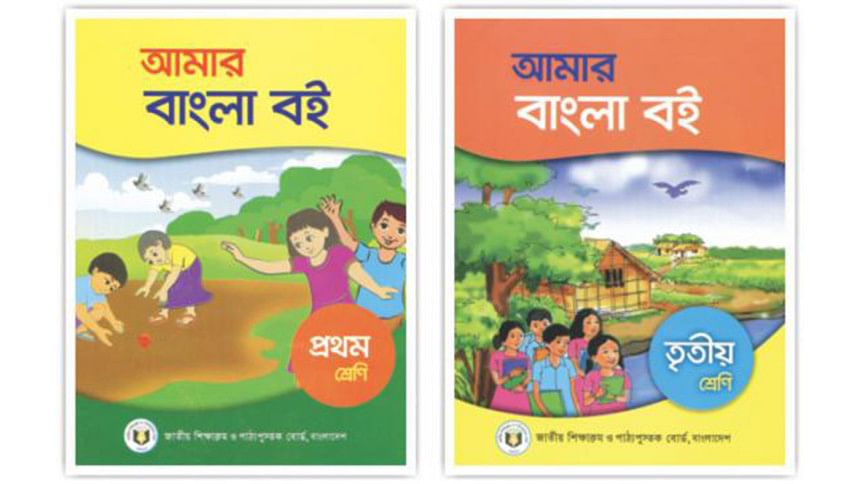 Thirteen editors and compilers of Bangla textbooks for classes I to X declared that they were kept in the dark about the changes and additions made in the books published by the National Curriculum and Textbook Board (NCTB).
A joint statement from them comes at a time when the government faces widespread criticism for some embarrassing blunders and dropping of some contents from textbooks.
"Wrong public perception may develop about the editors and compilers", they said in the statement, from the Bangla textbooks published by NCTB for class I to X for this academic year.
"Against such backdrop, we are stating for all, including students, teachers and guardians that we were kept in the dark about the changes made in the textbooks."  
The signatories of the statement include Prof Hayat Mahmud, Prof Niranjan Adhikari, Prof Mahbubul Haque, Prof Masuduzzaman, Prof Bishwajit Ghosh, Prof Syed Azizul Haque, Prof Shoaib Jibran, Prof Shafiul Alam, Prof Daniul Haque, Prof Shyamali Akbar, Prof Nurjahan Begum, Prof Rafiqullah Khan and Prof Soumitra Shekhar.
They were in different panels responsible for editing and compiling the textbooks. 
Hefajat and Bangladesh Awami Olema League have been demanding exclusion of some of the poems written by "Hindus and atheists".
Many alleged that some poems, including "Boi (book)" written by Humayun Azad, and prose have been dropped from Bangla textbooks for different classes to fulfill the demand of the two organisations.
NCTB member (primary curriculum) Dr Mohammad Abdul Mannan earlier told The Daily Star the textbook editors and writers are not usually informed when small corrections are made in those.
"But whenever we make major changes, we inform them."
Eminent citizens and different organisations strongly condemned the anomalies in textbooks and demanded immediate withdrawal of the "error-ridden textbooks".
Following criticism, the education ministry made NCTB Chief Editor Pritish Kumar Sarkar and its senior expert Lana Humayra Khan officer on special duty (OSD), a post regarded as a punishment.