WATER scarcity hits Rohingya camp areas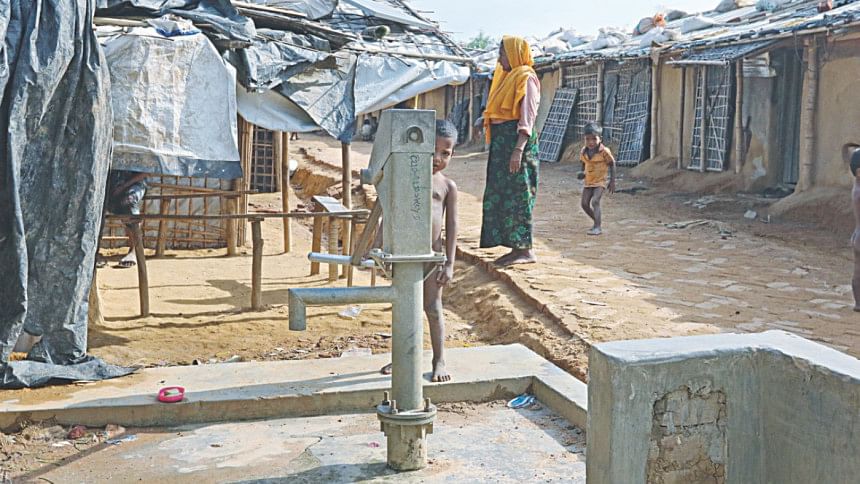 A long, winding queue of Rohingyas starts to form near the only working tubewell before daybreak. As the small hours go by and the sun begins to glare, the thirsty people leave their 5-10 litre water containers in the queue and wait nearby.
Sometimes it takes almost 10 hours for a family to get several containers of water. The families then decide whether to cook or take a shower with the water as an acute water shortage plagues the refugee camps in Cox's Bazar.
"What would I do this little water? It is not enough to cook properly," Nazmul Hakim, a Rohingya man living in Teknaf's Leda camp, told this correspondent.
A woman of the camp Sanjida Khatun said she took a shower only once a week given she managed a bucketful of water.
According to HumanitarianResponse.info, about 5,211 of a total of 6,449 tubewells are functional in the camps.
But in reality, many more tubewells remain out of order, refugees said.
Over 700,000 Rohingyas fled to Cox's Bazar since August 25 last year amid a Myanmar military crackdown that the United Nations, the United States and the UK have denounced as ethnic cleansing.
Khairul Islam, country representative of WaterAid Bangladesh, said the water crisis was especially bad in the Rohingya camps in Teknaf.
"There is no suitable groundwater table in Teknaf and Ukhia. The water crisis is expected," he said, "The area is not fit to be home for these many people."
There were a number of natural water resources like small waterfalls locally known as jhiri, but as the trees and hills were cut indiscriminately to make room for the refugee settlements, those water sources are gone, he said.
Cox's Bazar Deputy Commissioner Kamal Hossain said he requested the UNHCR to increase supply through water tankers to meet the needs.
He also hoped that the groundwater table would rise in the coming monsoon.
At Block F2 of Kutupalong camp in Ukhia, this correspondent recently saw 120 families depending on a single tubewell for all their needs.
"There were six tubewells in the camp when we came here in October last year. But only one is functional now," said Abdul Alim, a resident of the block.
Waiting in the long queues for hours, the refugees often fight each other over who gets the water first, he said. Women and children, beyond any doubt, suffer the most.
Visiting the unregistered Rohingya camps in Leda, Unchiprang, Kutupalong, Balu Khali, Moynarghona this correspondent saw similar shortage of water. Rainwater accumulated in depressed pieces of land are too muddy to be used for cooking and cleaning.
Healthcare officials in the district said contagious skin diseases, fungal infections and  scabies are common among the refugees.
Mufizur Rahman, another refugee living in I-2 of Kutupalong camp, said, "With all the tubewells going out of order, we have to wait for the aid water completely. There are around 480 families and not all of them get water every day."
Queues are also seen round the clock in front of the tanks of water provided by government and NGOs.
Nurul Amin of Putbunia of Unchiprang in Taknaf said around 500 families living there depended solely on tank water.
Officials of the Department of Public Health Engineering (DPHE) Cox's Bazar admitted that many of tubewells went out of order mainly due to overuse.
"There is water crisis in the Rohingya camps, especially in Teknaf. We are repairing the tubewells and planning to set up 500 new deep tubewells," Ritthick Chowdhury, executive engineer of the DPHE, told The Daily Star.