Execution of Mojaheed, SQ Chy
Waiting for mercy plea decisions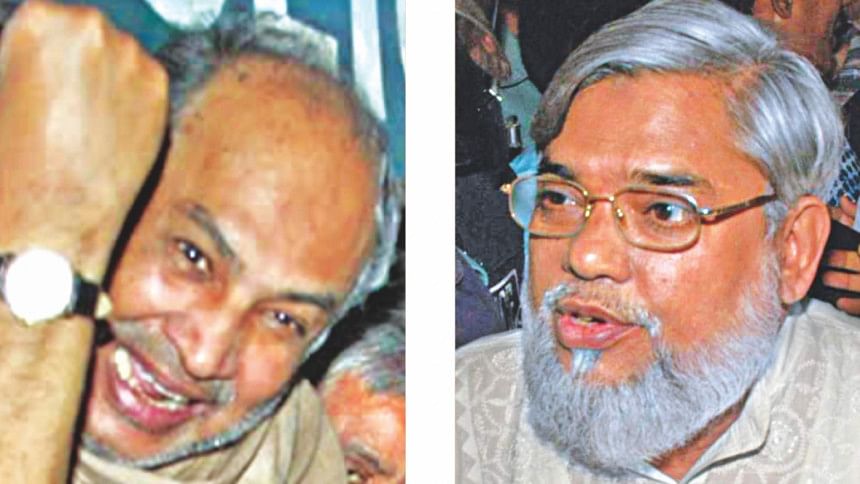 Condemned war criminals Ali Ahsan Mohammad Mojaheed and Salauddin Quader Chowdhury have yet to inform the authorities whether they would seek presidential clemency, sources in Dhaka Central Jail said yesterday.
The authorities asked Mojaheed and Salauddin around noon whether the two would seek the mercy, the last option for them to avoid gallows.
Both of them said they would inform the prison officials about their decision later, according to the sources.
On Thursday, the Supreme Court released its full verdicts that dismissed the petitions of Jamaat leader Mojaheed and BNP leader Salauddin to review their death sentences originally handed down by two war crimes tribunals in 2013.
Later in the day around 10:00pm, jail officials read out the SC verdicts to the war crimes convicts.
Around 7:30pm yesterday, Home Minister Asaduzzaman Khan Kamal told this newspaper that he was not informed whether the two would seek presidential mercy.
He added, "I am not informed when the convicts will be executed."
 However, another minister, wishing anonymity, told The Daily Star that the condemned war criminals were given a day. "We cannot wait for an eternity."
The home minister at a function at Bottomley Home Girls' High School in the capital said the convicts will be hanged following the legal procedures.
"We're taking measures according to the order given by the country's apex court," he said.
In another development, Jamaat-e-Islami last night called a countrywide "peaceful" protest for today, demanding the release of its Secretary General Mojaheed.
Announcing the programme, Jamaat acting ameer Moqbul Ahmad in a statement said Mojaheed was an "honest and competent" politician who has "an unforgettable contribution" to all democratic movements of the country.
Gazi MH Tamim, a counsel for Mojaheed, told The Daily Star that the Jamaat leader wanted to meet his lawyers before making the decision on presidential mercy.
For permission to meet him, the counsels filed an application around 5:30pm on Thursday. "We haven't got any response as of 8:30pm [last night]."
Family members of Mojaheed will hold a press conference at the Supreme Court Bar Association auditorium today at noon about the latest developments, said his son Ali Ahmed Mabrur.
Around 1:45pm yesterday, two lawyers for Salauddin Quader went to the jail with a list of seven
counsels wishing to meet the BNP leader.
But the jail authorities did not receive the application. The lawyers waited till 5:45pm, but to no avail.
"Neither they received our application nor cooperated with us," said Muhammad Hazzatul Islam Khan, a counsel for Salauddin.
The Daily Star, despite several attempts, could not get any comment from the jail authorities on the lawyers' claims.
Around 9:30pm yesterday, Salauddin's two sons went to the jail to request the authorities to allow the lawyers to meet their father. However, they could to meet any official, sources said.