The risky refuge
Seminar on Rohingyas finds alarm bell ringing in Ukhia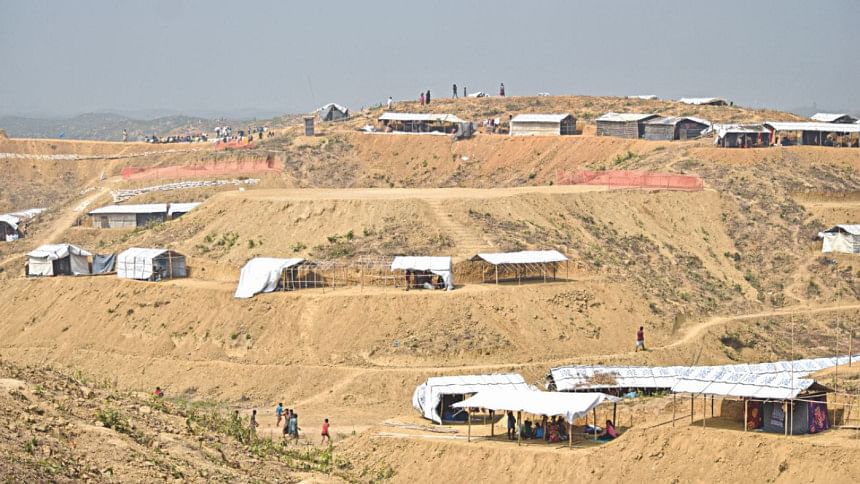 Nearly two lakh Rohingyas are facing a grave risk of landslide at their makeshift camps in Ukhia of Cox's Bazar. All those camps could also be ravaged if there is a nor'wester or cyclone. 
Initially when the Rohingyas crossed over into Bangladesh fleeing a brutal military operation in Rakhine State of Myanmar, the administration and the locals received them on humanitarian grounds.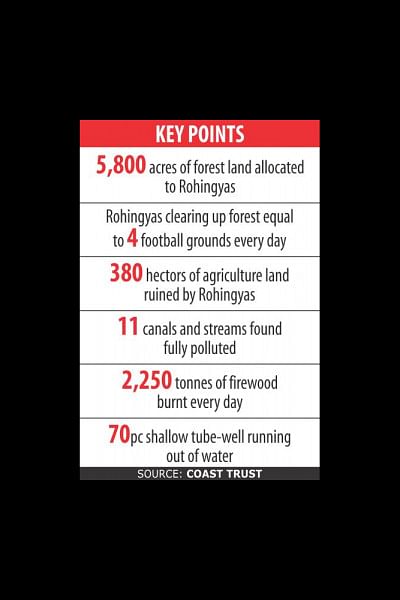 They have settled on forestland and hills. Now, a disaster is looming large as all the trees around their makeshift camps have been felled.
"The Rohingya people are clearing forestland equal to four football fields every day for collecting fuel wood," said Refugee Relief and Repatriation Commissioner (RRRC) Mohammad Abul Kalam.
Because of the indiscriminate tree felling, the hills have become barren, increasing the risk of landslide, he added. 
"So we are relocating them from the hill tops and slopes to safer places. We have to move about 1.5 to 2 lakh people within the next one to two months before the monsoon begins. So far, we have relocated 10,000 of them."
Since August 25 last year, Kalam said, nearly 6,92,000 Rohingyas arrived, raising the total number of refugees to over one million. The government officially allocated 5,800 acres of forestland for their settlement.  
The RRRC was speaking at a seminar titled "FDMN (forcibly displaced Myanmar nationals) influx impact among host community: approach for mitigation emphasising next monsoon crisis".
Public representatives, government officials and representatives of international non-government organisations were present at the seminar, organised by Coast Trust and held at a hotel in Cox's Bazar yesterday. 
The local community is also facing serious problems because of the unprecedented refugee crisis.
The water streams in the areas are getting polluted by waste from the refugee camps. A large number of refugees have also been settled in agricultural land, leaving many local farmers worried. 
As the public representatives are enraged by troubles resulting from the refugee influx, the commissioner said, the government has taken up a scheme to compensate 3,36,000 people out of half a million host community members.
"But you have to be patient as we were not ready for this problem. It was created by Myanmar and it just fell upon us."
Regarding the repatriation process, he said, Bangladesh has signed an agreement with Myanmar. So far a list of around 8,000 refugees has been handed over to Myanmar and the country has recognised 556 of them as their citizens so far.
"So the repatriation process is going on. But it will take time."
It took 13 years, from 1992 to 2005, to send back only 2,36,000 Rohingya refugees earlier. So it is easily understandable that it will take a while to repatriate over one million people.
The RRRC said it is the duty of the international community, including the UN bodies, to persuade Myanmar to take back their nationals as soon as possible, he said.
Maruf Barkat from Coast Trust presented a situation report while Rezaul Karim Chowdhury moderated the session.
Nayeem Gowhar Warah of Dhaka University and Disaster Forum; Sumbul Rizvi, senior coordinator of ISCG, Elisabeth Pelster of UNHCR and Manuel Moniz Pereira of IOM also spoke at the programme.
Dr Ainun Nishat, professor emeritus of Brac University, and Dr Atiq Rahman, executive director of Bangladesh Centre for Advanced Studies, presented their observations about the Rohingya camps.
They said several thousand camp dwellers will face environmental disasters during the monsoon and if cyclone hits. The camps, made mostly with polythene and bamboo, will be wiped out if nor'wester strikes.
KM Abdus Salam, director general of the NGO Bureau, who was present at the seminar as the chief guest, said international non-government organisations would have to involve locals in their work and inform them about the progress to earn their trust and respect.
Public representatives who attended the event, mostly union parishad chairmen and members from the areas in Ukhia and Teknaf where the Rohingya camps are located, expressed their grievances.
"All the streams in my areas are polluted now. People used to drink water from the natural streams in the forest. But Rohingya people have polluted those. They also cleared the forest, set up camps in the agricultural land," said M Gafuruddin Chowdhury, chairman of Palongkhali Union Parishad. 
NGOs have been razing the hills in his areas to make refugee camps, he said. "If they do not stop hill cutting, I'll go to court and file cases against them," said Gafur.
"They were our guests but now it seems that we have to leave the area as they have become the majority and are carrying out anti-social activities in the area," he said.
Noor Ahmed Anawari, chairman of Hoaikyang Union Parishad, said locals are facing problems in different sectors like communications, education, environment and agriculture.
"The government should compensate the local people immediately otherwise the situation would go beyond control."
Aziz Uddin, chairman of Baharchhara Union Parishad, said teachers of primary schools and madrasas are quitting and taking jobs at non-government organisations for higher salary.
"Students are facing severe teacher crisis in the schools. The government should immediately address the issue," said Aziz.