Uber taxis hit Dhaka streets
Mobile app-based worldwide service expected to improve city's transport system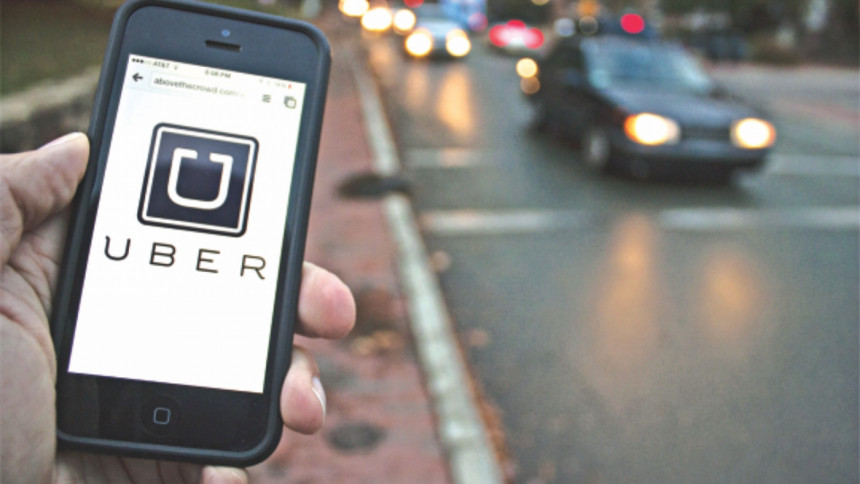 "Boss, my name is Arman. I am at Panthapath. Where should I come to pick you up?" a driver of Uber transport service said, seconds after Shafiul Islam sought the newly introduced taxi service in Dhaka.
When called using the mobile app, the phone screen shows the name of the driver, his photograph and approximate time of his arrival.
The driver was supposed to come in five minutes, as the screen showed. But he came after 20 minutes, thanks to bad traffic, with his Toyota Corolla. Shafiul, a private service holder, got on the car and started for Uttara.
"Amid the evening rush, I reached Uttar Sector-5 in one hour and 15 minutes. The fare was Tk 600," he told The Daily Star by phone. "I am happy with the service."
His experience is starkly different from that of thousands of Dhaka commuters, who face severe transport crisis every day. Capital cities across the world have smooth taxi services but in Bangladesh all attempts in this regard went in vain for a lack of proper planning.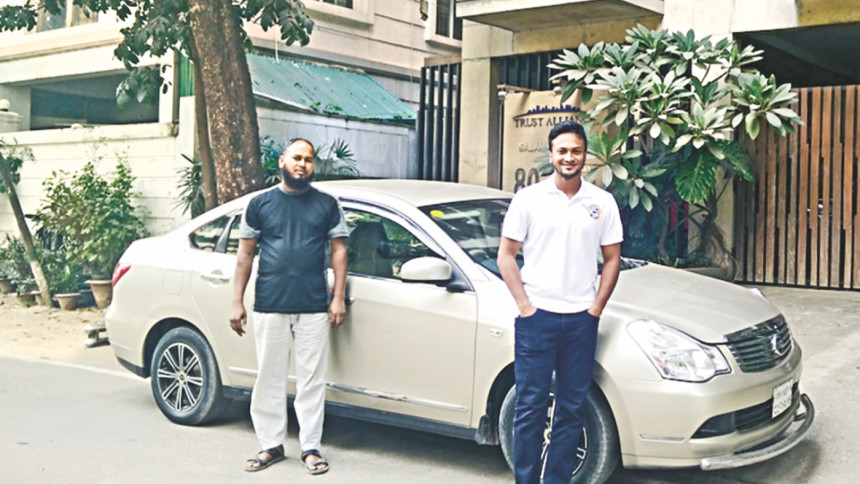 Taxi service has brought revolutionary changes in Kolkata, once a city crowded and chaotic like Dhaka, following the introduction of Uber and Ola. The services are already very popular there as they resolved years of transport problem.
A US multinational online transport network company headquartered in San Francisco, California, Uber offers app-based taxi service allowing customers with smartphones to place a trip request in about 450 cities in 74 countries.
The taxi service, which has been available in Dhaka for the past several weeks, was formally launched yesterday in partnership with the country's largest telecom company, Grameenphone.
Once a person signs up for Uber's free app, he or she can call a car by opening the app and giving information about their location and pay the fare in cash or credit card.
Uber does not own any cars. It acts like a middleman between customers and cab drivers. It has made the task of booking a cab easier. Any car owner can become drivers after getting registered with valid documents, national identity card and a photograph.
Like Shafiul, an increasing number of city dwellers have started using the world's largest on-demand taxi service.
One of the first users yesterday was Hasan. He took an Uber taxi to come to Karwan Bazar from Apollo Hospitals in Bashundhara.
"The fare was only Tk 300," he said, adding that the amount is much lower than that charged by other taxis operating in the city. "Earlier I counted Tk 500 to Tk 550 for the same ride in other taxis."
Sources in the Uber claimed they were charging about 40 percent less than the existing market price.
The service offers safe, reliable and affordable rides at the push of a button while opening up flexible economic opportunities for driver-partners, according to a press release by Uber.
In the absence of a smooth taxi service, many people opted for buying cars while others depend on small vehicles like CNG-run auto-rickshaws and other human hauliers, which are unsafe, chaotic and poorly managed.
HISTORY OF TAXI SERVICE
Taxis were first introduced in Bangladesh in 1997. Initially, 11,260 cabs -- 4,513 AC and 6, 747 non-AC -- hit the streets in Dhaka and Chittagong. But most of those went bust within a couple of years.
Since 2010, the government repeatedly tried to introduce more taxicabs. But it could not be done due to some legal complications and bureaucratic tangles.
In April 2014, Prime Minister Sheikh Hasina inaugurated 46 air-conditioned, yellow taxicabs -- 27 of Trust Transport Services of Army Welfare Trust, and 19 of Toma Group, a private operator.
At present, some 500 taxicabs ply the Dhaka streets, according to transport and passenger welfare associations. 
CHALLENGES AHEAD
Kalam, a Uber driver, said he started making trips since registering his car with the service two weeks ago.
"Call from commuters is not yet satisfactory but it's rising," he told The Daily Star.
Despite positive response from commuters, Uber will face challenges in a city like Dhaka which witnesses frequent traffic chaos for not having an effective traffic management system. Plying of both slow and fast-moving vehicles on the same road and violation of traffic rules will also compromise the quality of its service. 
Urban transport expert Prof Shamsul Hoque of Buet's civil engineering department said Uber service would be better than the existing ones in terms of fare. However, commuters would not get full advantage of the service due to inadequate road space and indiscipline on the streets.
"Traffic operation in Dhaka is not as favourable as in other cities in the world. So, even if the Uber service turns out to be good, it will face difficulty as trips will be time-consuming due to chaos," he told The Daily Star.