Turning a swamp into fish farm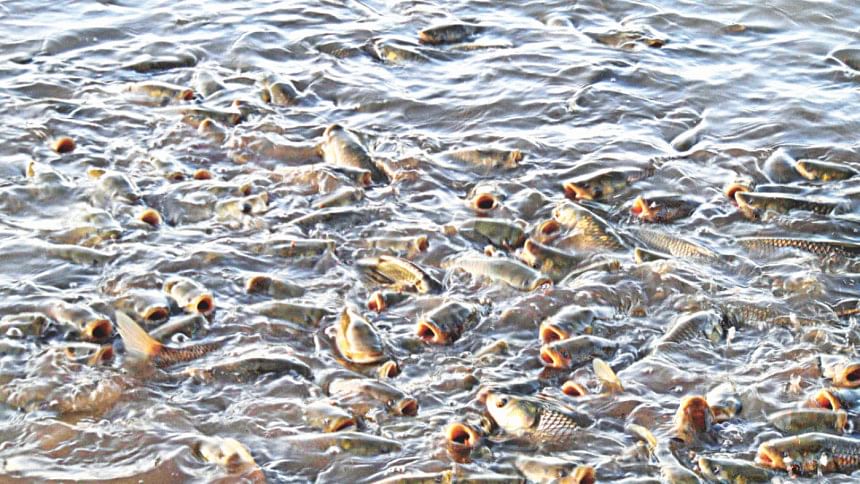 "It's a great pleasure to feed the fish each day," says an enthusiastic Kajol Rani Howlader of Choupala Bazar in Jhalakathi sadar upazila, standing beside an unlikely fish enclosure built on swampy, disused land. "We have thousands of fish and after throwing feed, there are so many that anybody can touch them," she says.
Kajol Rani is participating in a new style of pisciculture and vegetable growing project that aims to utilise waterlogged non-agricultural land to improve people's lives.
To ask the ten women in the group of thirty locals involved in the project, is to hear how their husbands used to pass days in idle gossip in teashops while wives were busy with household chores. It all changed last July, thanks to the BRAC-organised project, championed in particular by the women.
"We have the chance to earn some money," says a thrilled Kajol Rani.
Md Shahalam Mia, the team's group leader, says, "At first we managed fifteen acres. It was covered in weeds and water hyacinth. We made the enclosure there, in preparation for fish production."
The weeds and hyacinth were meanwhile used in creating floating beds for simultaneous vegetable farming.
"Our project cost was about four lakh takas, including the purchase of fish fry," Mia explains. BRAC helped with finance but each group member has invested 5,000 taka.
The aim is for each family to achieve up to twenty thousand taka profit when the first fish are sold later this month. Choosing indigenous fish species and carp has proved wise, with most fish already reaching one kilogram in weight.
"We never imagined such success in such a short time," several women participants say. "It's like a dream to us!"
The group hopes the first fish harvest can earn eight to ten lakh takas, with plans afoot to expand the project in coming years to double or triple the earning.
As well as finance, BRAC has offered technical support to the new entrepreneurs. "We believe in the potential of fish and vegetable farming on disused waterlogged land to fulfil the locality's protein demands," says Farukuzzaman, BRAC manager in Jhalakathi.
Such has been the project's rapid success that much curiosity has been aroused, with visitors regularly arriving to inspect the fish multitude. "I'm from Jhalakathi town," says one sightseer, Badsha Bhuiyan. "I heard about this project but without seeing it I couldn't believe it. I've taken some photos of the fish. It's really nice to see the project firsthand."
Kajol Rani is excited by visitor interest. "People come from far and near everyday to see what we have done," she says, "I'm really happy to be a part of it."