The politico–economic equation
Towards a healthy democracy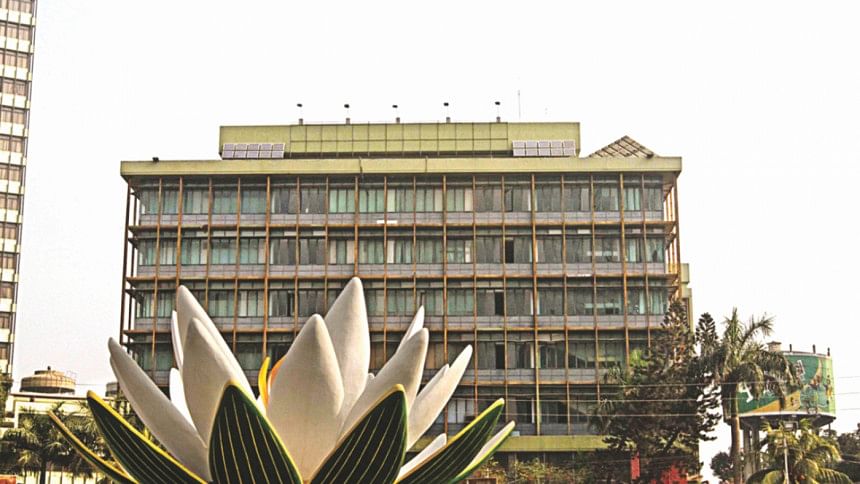 Politics and economy seem to be uncomfortably matched in present day Bangladesh. On one hand, the macroeconomic indicators  such as the growth of GDP per annum, the ascent of the per capita income to the level of the low middle income countries the growth of export earning over time and impressive foreign currency reserve of USD 27 billion dollars. Bangladesh Bank all appear to draw a positive and optimistic picture of the country's economy.
On the other hand, the sluggish trend in domestic investment and unsatisfactory situation in Foreign Direct Investment and simultaneous build-up of a huge amount of idle money in banks and financial institutions tend to sketch a dismal scenario of development in the private sector.
According to some estimates the amount of such idle money at present, stands at taka 116 thousand crore. This tends to indicate that despite rosy macro-economic indicators private sector entrepreneurs and industrialist in the domestic spheres are not coming forth to utilise the surplus funds in banks and financial institutions. The situation in Foreign Direct Investment, although registering some improvement in the current year is not robust enough to raise strong hopes. Prime Minister Sheikh Hasina while inaugurating the Bangladesh Investment and Policy Summit–2016 in Dhaka on 25th January noted that Foreign Investment increased by 24% over the last year and stood at 1.34 billion USD. She reassured the local and foreign investors of her government's commitment to facilitating the implementation of their pragmatic proposals and simplification of investment procedure for the best use of their money. She added that her government was going to establish the Bangladesh Development Authority to help their business flourish. Highlighting the favourable climate of investment in Bangladesh the Prime Minister pointed out that the country achieved 6.51% GDP growth in the last fiscal year, and an average of of 6.2% during the last five years. She also said that the nation was working to achieve 7% GDP growth this year. She added that government planned to establish 100 economic zones across the country to facilitate investment. She underscored the government's serious efforts to attract and facilitate both foreign and domestic investment. One such measure is the setting up of the "Private Sector Development Policy Coordination Committee" in the PMO. These declarations and assurances from the highest level of the nation are timely and reflect the awareness of the government of the discouraging state of affairs of private sector investment in Bangladesh.
As the Prime Minister rightly pointed out, and other leaders of the government are not tired of stressing, the growth potential of Bangladesh economy is great. According to seasoned analysts the economy needs Foreign Direct Investment to the tune of at least 10 billion US dollar a year. That Foreign Direct Investment is at stagnant stage is borne out by the fact that it now hovers between USD 1.4 to 2 billion per annum. Industrial productivity and enchantment of export earnings have not been encouraging. Technical and administrative steps, well meaning as these are, do not as of yet have positive impact on encouraging entrepreneurs to use bank loans for business and industries or succeed in getting the commercial banks to lower the interest rates to attract enterprising borrowers. As a commentator observes, "Bangladesh Bank officials are regularly appraising the situation with senior management of all commercial banks, but things remained unchanged. Why? Because there is no demand for loans in the current uncertain political situation for fear of risks, and as banks are failing to make enough profit to lower interest rates, it is also failing to encourage new investment even overlooking some fear of risk".
Realistic economic analysts point out that apparently positive and impressive macroeconomic indicators are not enough to attract meaningful private sector investments in a situation where long-term political conditions are not favourable to businesses with a long gestation period. If national politics is not underpinned by national consensus on basic issues and co-operation, then harmony among major political forces' operational politics becomes uncertain and undependable. Elections that lack credibility and wide acceptability make matters worse. The political governments become more dependent on the politicised and pliant coercive machinery of the state. The ruling elite tends to become delinked and distant from the people and even the political party of which it is the leader. Repressive measures and weakness and fragmentation of the opposition political forces may create a semblance of politico-social peace and frangibility. Nevertheless, in substance it tends to be fragile and temporary. In this situation wide spread and high levels of corruption thrives. Law and order systems tend to show fundamental weakness and may breakdown in the face of major challenge from determined ideological armed groups or fanatic militants. The flawed parliamentary elections of January 5, 2014 in the context of abolition of the pole time Caretaker government and holding elections under the party in power created grave political uncertainty. The major opposition parties built up a resistance to the elections and the accompanying violence took a heavy toll on life and property. Three-months long movement and blockade by the opposition in 2014 maid the nation lose almost half of its outlay in national budget. The loss in 2014 roughly amounted to some Taka 100,000 crores.
Similar was the loss to economy as a result of identical violence in January-March 2015. All these tend to underscore the fragility of political peace and stability in Bangladesh. The risks that such divisive politics bring forth make business and enterprise equally if not more risky. It is inevitable that in such a situations private sector investment would be sluggish. In fact, the rich usually shun risky situation. It is no wonder that there has been a tremendous flight of resources from Bangladesh in recent years. Instead of billions of dollars coming in the form of Foreign Direct Investment, USD 9.66 billion (around 73 lakh crores) was siphoned off from Bangladesh to developed countries such as Switzerland, Canada and Malaysia in the year 2013 alone! If a realistic solution to the problem of low private investment, both foreign and domestic, has to be found, immediate and serious attention needs to be turned towards the nation's politics. A healthy democracy with all its features, including free, fair and neutral elections respectable political opposition, freedom of speech, assembly and guarantee of fundamental human rights, is the surest means to vibrant private sector investments in the context of meaningful and balanced economic development.
The author, founder Chairman of Centre for Development Research, Bangladesh (CDRB) and Editor quarterly "Asian Affairs" was a former teacher of political science in Dhaka University (1964-1967) and former member of the erstwhile Civil Service of Pakistan (CSP) (1967-1980) and former non-partisan technocrat Cabinet Minister of Bangladesh (1990).