Parents caught napping by Uttara teen gangs
When the shocking news of marauding teenage gangs in Uttara emerged, their parents were caught napping. Most of the parents that The Daily Star talked with after the killing of schoolboy Adnan Kabir seemed completely in the dark about the existence of such gangs, although signs of their violent activities are written on the building and boundary walls in the neighbourhood.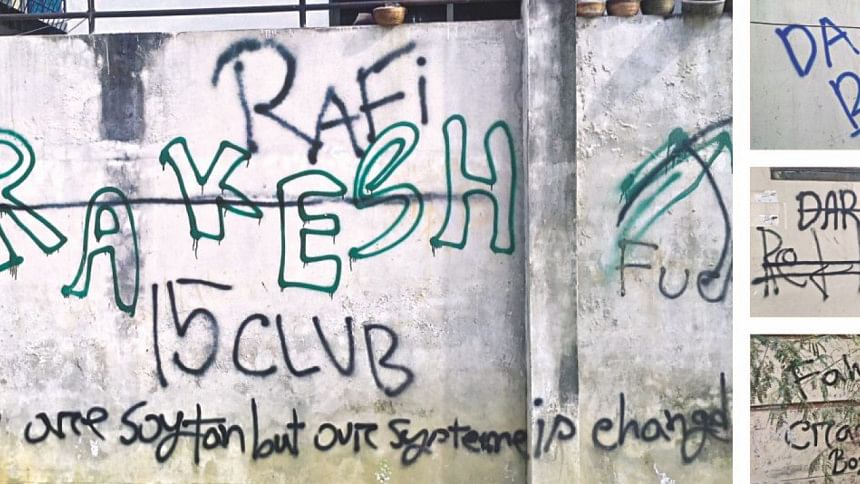 When the shocking news of marauding teenage gangs in Uttara emerged, their parents were caught napping.
Most of the parents that The Daily Star talked with after the killing of schoolboy Adnan Kabir seemed completely in the dark about the existence of such gangs, although signs of their violent activities are written on the building and boundary walls in the neighbourhood.
Over two dozens of such gangs frequently fight with hockey sticks, cricket stumps and sharp knives to show their muscle power, establish supremacy or "draw respect" from elders and juniors in the area. Blissfully oblivious, guardians think their children go out to playgrounds in the evening after school.
"He used to go to play cricket at a nearby field every day for the last two years. We were shocked when police came to arrest him," said a guardian of an accused in the Adnan killing case.
But if you look around, you will find graffiti galore on the street or building walls in Uttara and mistake them for brand shops, music bands or sporting clubs. In fact, those are the names of different teen gangs. Aged 14-18, students from reputed schools and colleges in the area are willingly or unwillingly pledging allegiance to gang leaders, who are either school or college dropouts or local criminals.
To show off strength, these gang members often move in motorbikes at high speed and honks and clash with other group members, said police and locals.
Most of the gang members are from higher and upper middle classes of the society. Some of them end up in taking drugs and mugging.
In many cases, they assault anyone who refuses to "show them respect".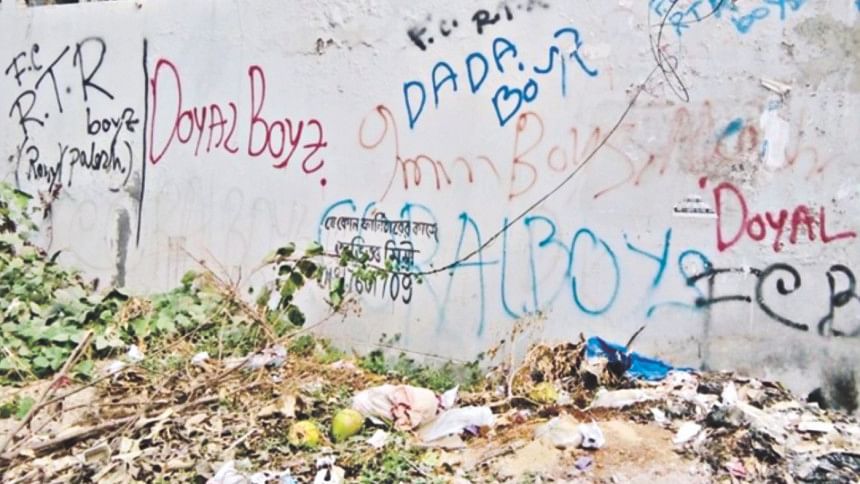 Inspector (investigation) of Uttara West Police Station Abdur Razzak told The Daily Star the parents of the teen boys seemed to have absolutely no idea about the activities of their children.
"They don't even know where their sons are going and with whom they are mixing.
"Even at this early age, they are given motorbikes. Are not the parents responsible for looking after their children?" he said, adding that police alone could not stop such crimes.
According to locals, over two dozens of teen gangs operate in Uttara area alone. These include Disco Boys, Chhoton Group, Nine Star, Power Boys, Big Boss, Dark Shadow, Red Light, Dada Boyz, Dazzling Spirit, DSB, F.C R.TR, 15 Club, Nafiz Don, PL Rakib, Saiko Ridoy, Dare Devil, Gongzilla, HNY and Dark Souls.
Their graffiti names can be seen on various streets and building walls.
Of the gangs, Disco Boys, Nine Star, Seven Star, Big Boss and Chhoton Group are most active. Their members frequently get involved in various crimes in the area and they are turning out to be more dangerous day by day, said locals.
Adnan, 14, had left Disco Boys and was seen with the members of Nine Star gang recently. He was beaten to death on January 6 allegedly over enmity between the two gangs.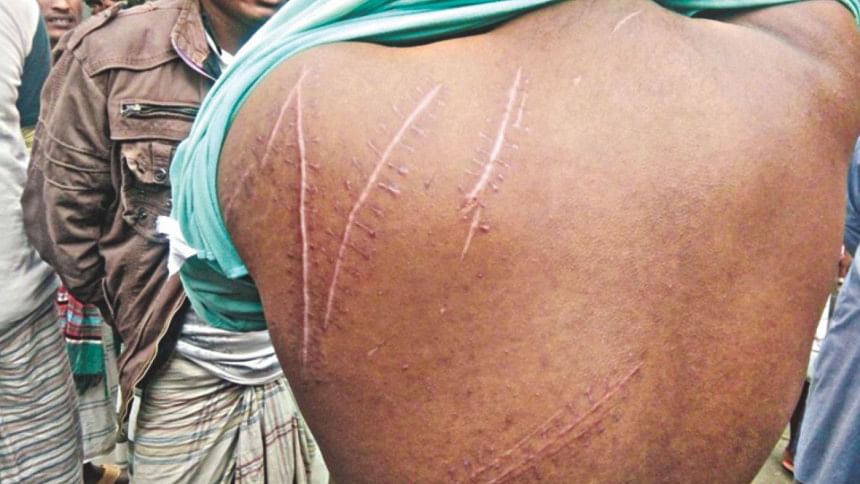 Locals and police said the two gangs were formed following a school-time enmity between their leaders Shetu and Raju. Shetu, a petty criminal from Dakshin Khan area, leads Disco Boys while Raju heads Nine Star, showing their muscle power in some part of the Uttara area.
These gangs have victimised many others.
For example, a small trader in the Uttara Sector 11 kitchen market area has the marks of brutality on his body.
He had to have 122 stitches all over his body after he was assaulted and stabbed with sharp weapons by the members of Disco Boys on December 9 last year.
His only fault was he told the gang that he did not know Raju, the leader of the opponent group, the trader told The Daily Star, adding that the attackers also took away his cell phone.
Two months before the incident, Raju had beaten up Chhoton, a member of Disco Group, Inspector Abdur Razzak told The Daily Star.
The trader was so scared that he did not dare to file a case against his attackers. Initially, he was not ready to talk to this correspondent but later agreed after he was asked by his mother.
The Daily Star is withholding his name for his safety reasons.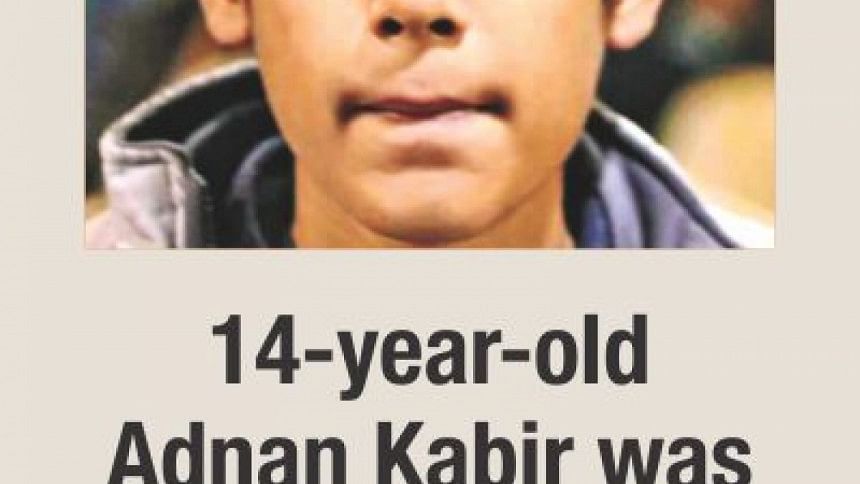 Contacted, Ali Akbar, president of Uttara Nagorik Kalyan Samiti, a platform working for the welfare of the residents in Uttara, said he   had visited the trader at the hospital where he heard about three other assaults by the teenage gangs on the same day.
"Such assaults are now frequent and we are very worried," he said
Meanwhile, the killing of Adnan, a class-IX student, is making many parents in Uttara worried.
"My boy also hangs out with his friends. I was not worried before. But now fear has gripped me," said Mohammad Hossain, whose son studies in the same class in another school.
Talking to this newspaper, several guardians, including Hossain, suggested that a close monitoring from the schools and the parents should be ensured so that the children do not go astray.
Adnan's murder was not an isolated incident but a result of the criminal activities of the teenage gangs, they said. 
Asked, Ali Hossain Khan, officer-in-charge of Uttara West Police Station, denied police failure in tackling the gangs.
"We had arrested 10 to 12 members of such groups in the past. But most of them came out on bail and got engaged in criminal activities again," he said.
Several locals expressed their anger and frustration due to the "arrogant behaviour and movement" by the gang members. According to them, most of the gang members are "spoilt brats studying in some well-known schools".
Adnan's uncle Ziaul Haque said his nephew had started hanging out with his friends "quite often" when he was a student of an English-medium school. For this reason, Adnan was admitted to another school later.
However, the director of the school said as far as he knew, his students were not involved in any such gangs. "We are very strict when it comes to discipline."
HOW THE GANGS FORMED
In most cases, a leader of a gang is a school or college dropout or a local petty criminal, who is older than the schoolkids and so has some dominance in the area, according to several students of different schools in Uttara.
Through various means, the leader tries to trick the school-goers into joining his gang.
For example, the children are told if they have "good relations" with the "Boro Bhai" (big brother), they will have him by their side whenever needed.
If any member of the gang has any fight with anyone else, the entire gang teams up to help him out, said the students, wishing not to be named.
"If you have power, you can fight anyone. This is also related to respect and relations between seniors and juniors," one of the students said.
When the gangs are formed, their members gather and pass time at particular places, such as tea stalls and open fields, to show off their strength.
The gang members are also members of different social media groups which they use to communicate and issue threats to other group members, said the students, adding that similar gangs are active in many other parts of the city, including Dhanmondi, Mohammadpur and Mirpur.
Contacted, Prof Zia Rahman of Dhaka University's criminology department emphasised on taking "timely steps" to counter the "abrupt changes" in the society and cultures for stopping such gangs.
"These teenagers are following the western culture and using the fastest communication like the internet. But we do not have the backup to tackle their bad effects," he said.
"Abroad, teenagers get proper counselling. If their parents are busy, they also get proper care at the daycare centres in their childhood," he said, calling for taking steps to raise awareness about the issue.
OC Ali Hossain Khan said, "We want to sit with the parents, the school authorities, the media and the respected citizens in the area to find out a solution to the problem".
Surveillance in Uttara area has been increased after the killing of Adnan, said a member of Uttara Sector 11 Kalyan Samiti.
Police have arrested three suspects over the murder of Adnan. One of them confessed to his involvement in the crime before a Dhaka court recently.