Talks on EC End: President will now decide next course of action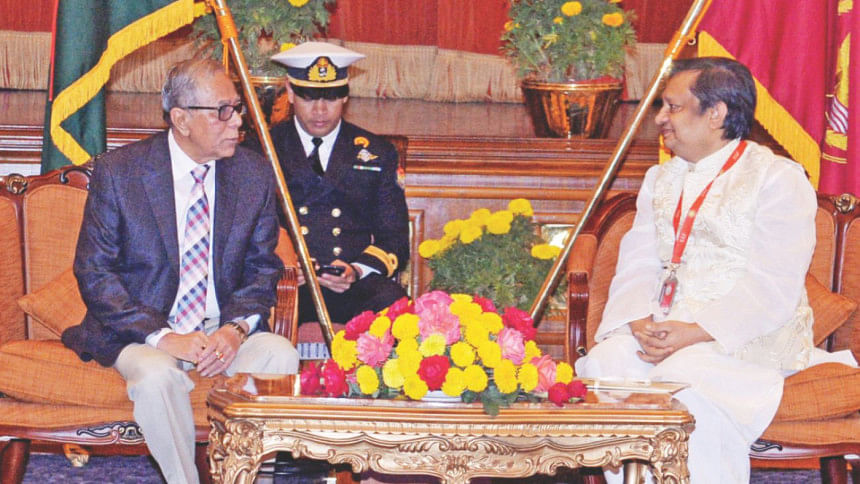 President Abdul Hamid will decide his next course of action after scrutinising the proposals submitted by different political parties on the formation of a new Election Commission.
The president wrapped up his talks with political parties after meeting delegations from three parties at the Bangabhaban yesterday. Earlier, he held dialogues with 28 other registered political parties, including Awami League and BNP.
The president will now analyse the recommendations given by all the political parties to decide his next course of action, president's press secretary Joynal Abedin told The Daily Star last night.
Sources at the Bangabhaban said that following the footsteps of his predecessor Zillur Rahman, President Hamid is likely to form a search committee in next week to form the EC as suggested by almost all 31 political parties.
The tenure of the incumbent EC led by Kazi Rakibuddin Ahmad will expire next month. The new commission has to be neutral, acceptable and strong for holding the next general elections in 2019 in a free and fair manner, said political experts.
The BNP-led 20-party alliance has already warned that it will take to the streets if a non-partisan and acceptable EC is not formed.
Due to time constraints, the sources said, the president may not consider taking steps for a new law in line with the constitution to form the new EC.
During the talks with the president, all the parties have suggested enacting the law.
After the dialogues began on December 18, Hamid sat with 31 political parties who submitted to him around 200 proposals on formation of the EC and the election-time government.
During his talks with political parties, Hamid reiterated that there is no alternative to holding a free and fair election for upholding democracy.
He also said only dialogue can reduce the gaps between different political parties.
YESTERDAY'S DIALOGUE
President Hamid held dialogues with Bangladesh Islami Front, Bangladesh Muslim League and Zaker Party separately at the Bangabhaban.
The parties proposed that the president form a "neutral and acceptable" search committee to pick the EC members.
Emerging from the meeting, Mostafa Amir Faisal, who led a 10-member delegation of Zaker Party, told reporters that they have recommended that the president at first form a high-powered committee comprising one representative from each of the registered political parties. The body would be headed by the president.
"On consultation with the high-powered committee, the president will later form a neutral search committee," he added.
Currently, there are 41 registered political parties in the country. The EC has scrapped registration of Jamaat-e-Islami following a High Court order.
Hamid held dialogues with 30 of the 41 registered parties. Besides, he also held dialogues with a faction of the Jatiya Samajtantrik Dal (Sharif Ambia).