SWAT hunts for 'Neo JMB' men in C'nawabganj
Cordons off hideout; grenades hurled at law enforcers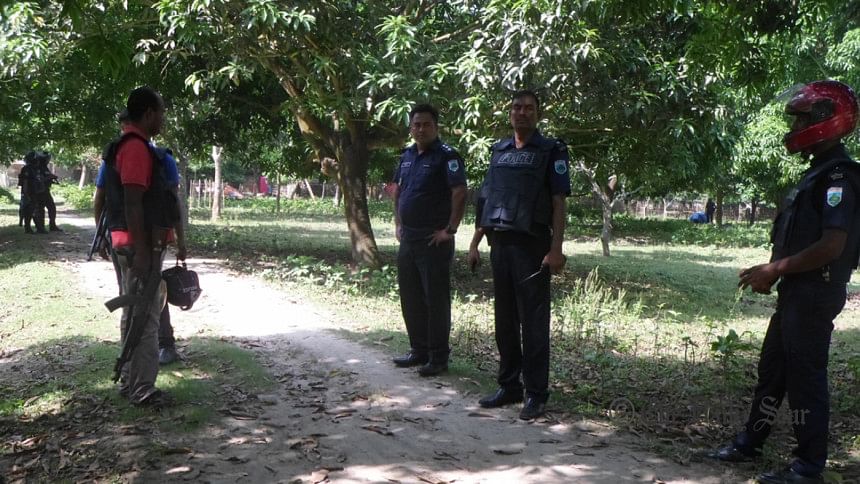 After a daylong operation, police last night suspended their raid on a house in Chapainawabganj where four suspected militants along with two minor children are believed to be holing up.
Investigators believe the four include multiple mid-level leaders of "Neo JMB," a terrorist group police claim was responsible for last year's deadly Gulshan attack.
The operation will resume this morning.
On information, counterterrorism officials and local police cordoned off the one-storey house inside a mango orchard at Shibnagar of Shibganj upazila around 4:30am, said Mohibul Islam Khan, deputy commissioner of Counter Terrorism and Transnational Crime (CTTC) unit of Dhaka Metropolitan Police. 
Sensing the presence of law enforcers, the militants fired shots as officials asked them to surrender, he added.
Later, a team of DMP's Special Weapons and Tactics (SWAT) was airlifted from the capital, which launched the operation codenamed "Eagle Hunt" around 6:40pm, about two hours after reaching the scene.
As the police assault began, the militants hurled four to five grenades, said Proloy Kumar Joarder, deputy commissioner of CTTC.
"Some of those were hurled at the law enforcers at the main gate. Some others were exploded inside the house, which we suspect was part of suicide blasts," he added.
Heavy sounds of gunshots and explosions were heard near the house till 7:30pm, reports our Chapainawabganj correspondent.
No law enforcers were hurt.
"We have suspended the operation at 8:30pm due to darkness," M Khurshid Hossain, deputy inspector general of Rajshahi Range police, told The Daily Star by phone.
Asked about any movement inside, he said they were not sure about that.
But he added there were explosives in the house. "We will resume our operation early in the morning tomorrow [today]."
According to CTTC officials, a man named Rafiqul Islam alias Abu, his wife and two children live in the house. He rented the house in February. Two other people may have joined with them recently.
The local administration imposed restrictions on gathering of people -- Section 144 -- in the area since 6:00am, said Shafiqul Islam, Upazila Nirbahi Officer of Shibganj.
Before launching the operation, law enforcers brought Abu's mother Fulsana Begum and aunty Chameli Begum, among other relatives, to ask them to surrender.
Chameli told The Daily Star that they asked Abu through hand mikes to send the children out. But there was no response from inside, and they went back home after 5:30pm.
Locals said the owner, Saidur Rahman alias Jhentu Biswas, 75, allowed Abu to live in the house for free.
Abu married Sumaiya Begum about nine years ago and the couple has two daughters, aged eight and six. He used to sell different kinds of spices in local markets, his mother said.  
She added her son studied at Trimohoni Alia Madrasa in Shibganj and had a circle of about 10 friends. He didn't have good relations with other people.  
From his early years, Abu used to practise religion in a different way. For example, he used to celebrate Eids on the day Saudi Arabia observes them.   
Meanwhile, police yesterday picked up three people who were in good terms with Abu, a police source said, though there was no official confirmation.
The three were identified by the source as Mahfuzur Rahman alias Mohon, Abdus Salam and Monirul Islam.