STRATEGIC PARTNERS
Dhaka, Beijing upgrade ties; sign biggest ever investment deals; agree on Silk Road initiative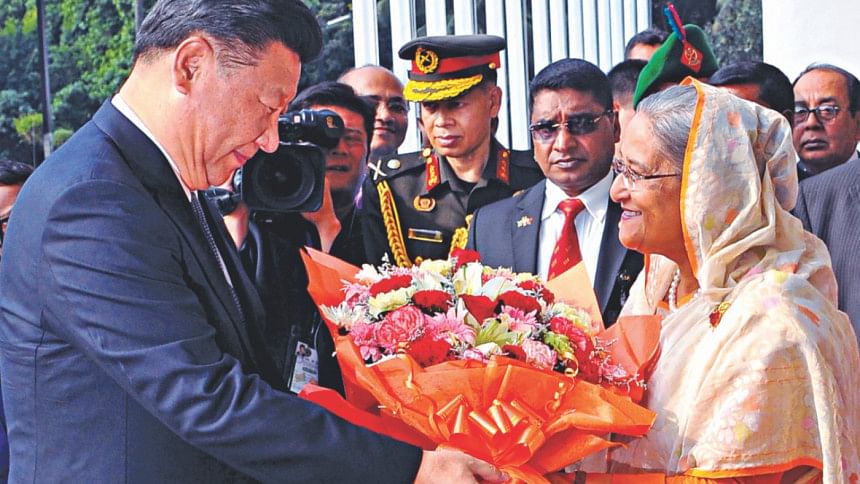 China considers Bangladesh as an important partner in South Asia region and wants to elevate practical relations between the two countries to a higher level, Chinese President Xi Jinping said in a statement moments after landing at Dhaka airport yesterday.  
Only hours later, he translated his words into actions, as China inked with Bangladesh 27 deals worth $24.45 billion in soft loan for various key development projects. 
And as the the Chinese president was attending the deal signing ceremony at the Prime Minister's Office, 13 Bangladeshi entities and as many Chinese companies at a city hotel signed 13 joint venture agreements involving $13.6 billion of Chinese investment in Bangladesh to boost bilateral trade.
Together, the sum of $38.05 billion is the biggest ever assistance pledged to Bangladesh by any single country.
"China-Bangladesh relationship is now at a new historical starting point and heading towards a promising future," said Xi in a statement at the signing ceremony at the PMO.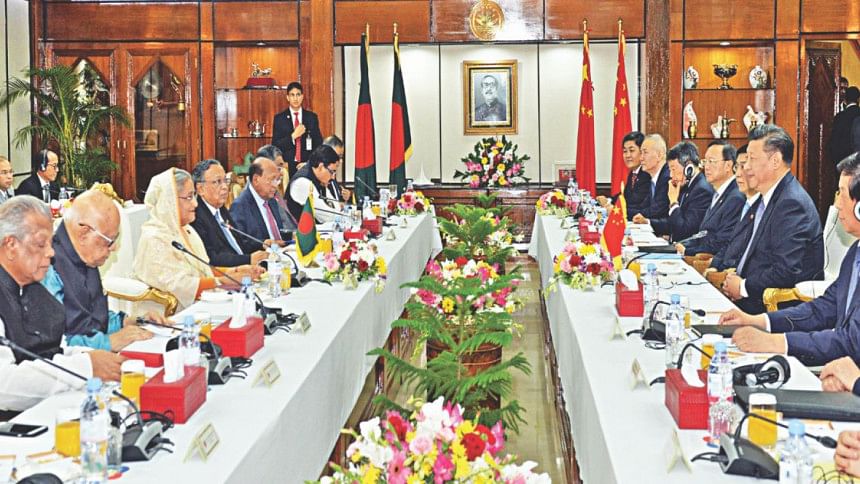 The Chinese leader also promised that his country would continue to do its best to provide capital, technological and human resources to carry out more cooperation on big projects with Bangladesh to support its economic and social development. 
Minutes before the signing, he held talks with Prime Minister Sheikh Hasina where the two leaders agreed to elevate bilateral ties to strategic-partnership cooperation.
"I had very fruitful discussions with President Xi on bilateral, regional and international issues of our common interests," Hasina said in her statement, adding they agreed to work closely and support each other on these issues.
Considered by many as the most powerful leader in China after Mao Zedong, Xi Jinping arrived in Dhaka on a two-day state visit.
This is the first visit by a Chinese head of state to Bangladesh in 30 years.
Li Xiannian was the last Chinese president to come to Dhaka in March 1986.
"I hope to use this visit to chart the course for future growth of China-Bangladesh relations from a strategic and long-term prospective together with the leaders of Bangladesh," Xi said in his statement at the airport.
Strategic partnership in international relations goes beyond simply strengthening cooperation between two countries. This privileged status is commonly associated with security issues, but also covers a wide range of bilateral relations from defence to education, health to development, and also economic relations including trade, investment and banking.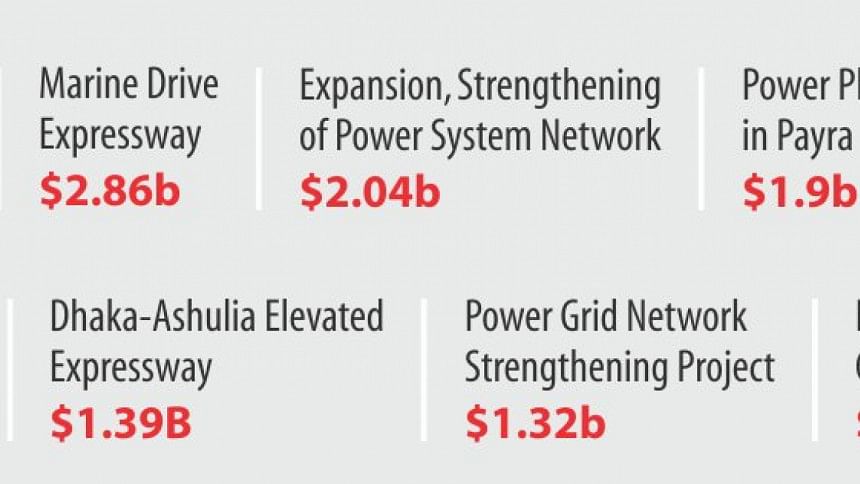 On his arrival, Xi was given a warm reception. Flanked by a dozen of ministers, President Abdul Hamid received him at Hazrat Shahjalal International Airport amid 21-gun salute. Xi was also given a guard of honour there.
A special VVIP flight of Air China carrying the Chinese president landed in Dhaka at 11:36am. As his flight entered the Bangladesh airspace, four aircrafts of Bangladesh Air Force escorted it.
His visit comes only months after the high-profile visit of US Secretary of State John Kerry and nearly one and a half years after that of Indian Prime Minister Narendra Modi.
The Chinese president will leave Dhaka this morning to attend the BRICS conference in Goa, India.
WHY FOCUS ON BANGLADESH?
Prior to his visit, it was widely discussed that the Chinese leader's visit will serve to deepen strategic cooperation to build a new Silk Road economic belt under China's Belt and Road Initiative -- a highly ambitious project masterminded by Xi.
"Xi Jinping's visit will promote the implementation of the 'Belt and Road Initiative' in Bangladesh," said a report of China Central Television yesterday.
Before flying in Dhaka, Xi visited Cambodia and roped the country into his initiative.
During his meeting with Hasina, he pursued his initiative.
"We agreed to form synergy between our respective development strategies, jointly advance the Belt and Road initiative…" Xi said in the statement after the talks.
"Bangladesh is willing to actively work with China within the framework of the Belt and Road initiative and support the building of an economic corridor linking Bangladesh, China, India and Myanmar," reports Xinhua, Chinese official news agency, quoting Hasina as saying. 
The Chinese leader also explained his idea of Belt and Road initiative to BNP Chairperson Khaleda Zia during their meeting, a meeting source said.
"Implementation of the Belt and Road initiative is required for desired developments in Asian countries," the meeting source quoted Xi as telling Khaleda.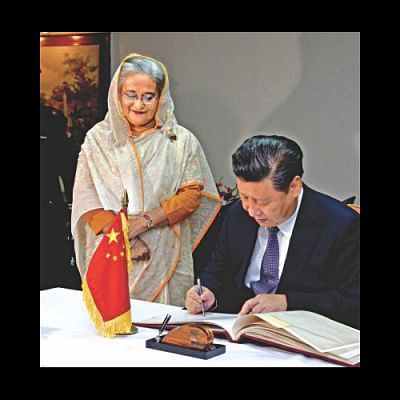 The South Asian region, which has not been in China's focus in the past, has become more important in recent years, especially after China put forward the Belt and Road Initiative in 2013, said Jiang Jingkui, director of the Center of South Asian Studies at Peking University.
"To some extent, the South Asian region is also one of China's backyards," he said, adding that the northern part of South Asia is key for the (Silk Road Economic) Belt, while the southern part is important for the (21st Century Maritime Silk) Road, said a China Daily report. 
Bangladesh has been positive in implementing the China-India-Myanmar-Bangladesh economic corridor, and Xi's visit will bring more practical cooperative results for the two countries, he said.
Ye Hailin, director of the Center of South Asia Studies with the Chinese Academy of Social Sciences, said that Bangladesh, as an important South Asian country located off the Bay of Bengal, can be China's key partner in building the Silk Road Economic Belt and the 21st-Century Maritime Silk Road, also known as "Belt and Road", according to a report of the People's Daily on Thursday.
Chai Xi, former Chinese ambassador to Bangladesh, believes that the president's visit is of great importance.
The visit will surely yield concrete fruits for the construction of the "Belt and Road" and Bangladesh-China-India-Myanmar Economic Corridor as Bangladesh occupies a key position along both routes, the People's Daily reported, quoting the ambassador.  
The Chinese leader focused on South Asian countries to implement his dream project. He has already visited India, Pakistan, Sri Lanka and the Maldives, and China inked deals worth billions of dollars for development projects in those countries.
In the last three years, Xi visited many countries along the ancient Silk Route, and Beijing signed many deals with the countries, promising to invest billions of dollars in different sectors, particularly for infrastructure development.
Under the "One Belt, One Road" initiative comprising the Silk Road Economic Belt and the 21st Century Maritime Silk Road, the Asian giant is focusing on building a trade and infrastructure network for connecting Asian countries with Europe and Africa along the ancient Silk Road routes.
China, the world's largest exporter of goods since 2009, needs such a network to maintain its double digit growth by opening new markets for its consumer goods and to increase its dominance over the region in a peaceful manner in the name of trade, say analysts.
Beijing looks to garner international favour through a massive investment effort in Europe and Asia to surpass the US on the world stage, said Sputnik in a report on June 3.
In recent years, China planned infrastructure projects involving over $200 billion for construction, and $1 trillion for other projects are on the horizon, dwarfing US foreign investment by several orders of magnitude, mentioned the online news and radio broadcast service established by the Russian government-controlled news agency Rossiya Segodnya.
The "Belt and Road" initiative has gathered substantial pace in the last three years.
In November 2014, China announced the creation of a $40 billion Silk Road Fund. Under China's leadership, Asian Infrastructure Investment Bank (AIIB) was set up by 21 countries with a registered capital of $100 billion in October last year for funding Asian energy, transport and infrastructure projects.
"So far, up to 34 countries and international organisations have inked deals with China to build the Belt and Road Initiative, while over 70 countries and organisations have voiced support for and willingness to join the initiative," said China's official news agency Xinhua in a report on June 17 this year.
WHAT'S SILK ROAD
The original Silk Road came into being during the westward expansion of China's Han Dynasty more than 2,100 years ago. It forged trade networks throughout what are today the Central Asian countries of Kyrgyzstan, Tajikistan, Kazakhstan, Uzbekistan, Turkmenistan, and Afghanistan, as well as modern-day Pakistan and India to the South. Those routes eventually extended over 4,000 miles to Europe.
Under the "One Belt, One Road" initiative, China is now working to build an economic land belt that includes countries on the original Silk Road through Central Asia, West Asia, the Middle East and Europe, as well as a maritime road that links China's port facilities with the African coast, pushing up through the Suez Canal into the Mediterranean.
China has also announced investing in port development throughout the Indian Ocean, and in Bangladesh, Sri Lanka, the Maldives and Pakistan to accommodate expanding maritime trade traffic.
The joint statement on strategic partnership of cooperation by Xi and Hasina yesterday said the proposed "Silk Road Economic Belt" and the "21st Century Maritime Silk Road" would bring important opportunities for Bangladesh's goal of becoming a middle-income country by 2021 and a Developed country by 2041.
The statement added: "The two sides condemned terrorism in all its forms and manifestations. The Chinese side conveyed its support for Bangladesh's efforts in combating terrorism and maintaining national security and stability and expressed its readiness to cooperate through sharing of information, capacity building and training with Bangladeshi side. The two sides agreed to explore the possibility of establishing a dialogue mechanism on countering terrorism."