Silence on Teesta
Hasina holds closed-door meeting with Mamata; discusses trade, economic ties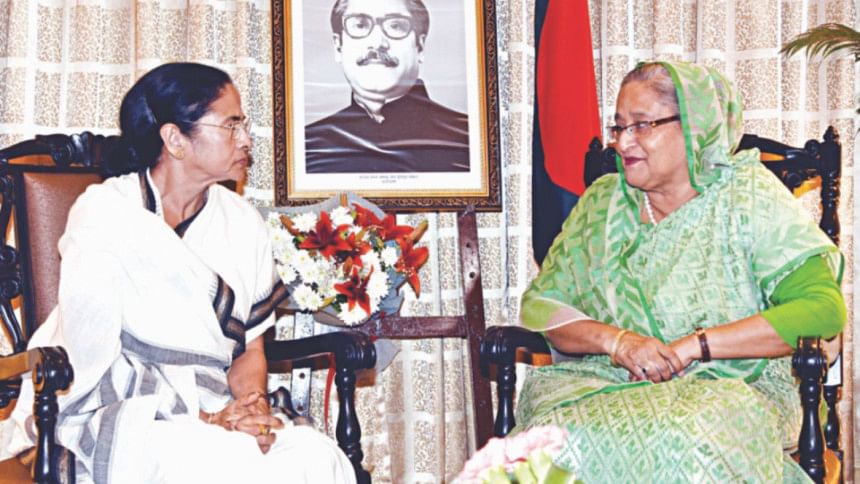 On Friday, two prime ministers and a chief minister shared the stage for four hours at Shantiniketan, the institution set up by Nobel laureate Rabindranath Tagore. But in the end, silence spoke the loudest.
None of them mentioned Teesta, the issue that remains unresolved for decades.
And yesterday, Bangladesh Prime Minister Shiekh Hasina and West Bengal Chief Minister Mamata Banerjee held a closed-door meeting for about an hour at a five-star hotel in Kolkata.
Although they discussed a lot of issues such as education, trade and economic ties, the much anticipated Teesta water-sharing deal did not figure in this all important meeting, according to Indian media reports.
"We have discussed several things in the meeting as we share same relation, same culture and same tradition," United News of India (UNI) quoted Mamata as telling.
"We discussed our education, culture, business, for the well-being of the people of both the countries," she added.
Asked if there was any talk on Teesta water-sharing treaty, the West Bengal chief minister avoided the question, according to the UNI.
Meanwhile, Hasina returned home last night, wrapping up her two-day official visit to West Bengal, reports UNB.
During her stay in West Bengal, the Prime Minister together with Narendra Modi inaugurated 'Bangladesh Bhaban' at Visva-Bharati University in Santiniketan and held a meeting with Modi at Bangladesh Bhaban.
On Friday, she attended Visva Bharati Convocation Ceremony as the Guest of Honour.
Yesterday she received Honorary Degree of Doctor of Literature at Kazi Nazrul University, Asansol.
On Friday, Hasina did not mention Teesta. It was a master class on how to send out a message without saying a word. Teesta, unspoken, message sent.
Bangladesh wants more water from the north Bengal river, and Mamata Banerjee is unwilling to give. It will hurt Bengal's farmers, the Trinamool Congress chief says, Reports NDTV.
Prime Minister Narendra Modi has been unsuccessful on meeting a promise to Bangladesh after he became PM.
Mamata Banerjee spoke before Sheikh Hasina did, reciting poems by Tagore and Bangladesh national poet Kazi Nazrul Islam. The poems spoke of equality of Hindus and Muslims. Banerjee also did not say a word on Teesta.
PM Modi also did not touch on the Teesta and Rohingya issues. He wished Bangladesh well as the country will see its national election. "Sheikh Hasina has a vision of turning Bangladesh into a developed country by 2041. She has all the support India can give for fulfilling the vision," PM Modi said.
He did mention a matter about lack of drinking water. "On my way to this venue for the convocation, students were indicating they wanted water. As the chancellor I apologise for all inconveniences," PM Modi said.