Security beefed up across Bangladesh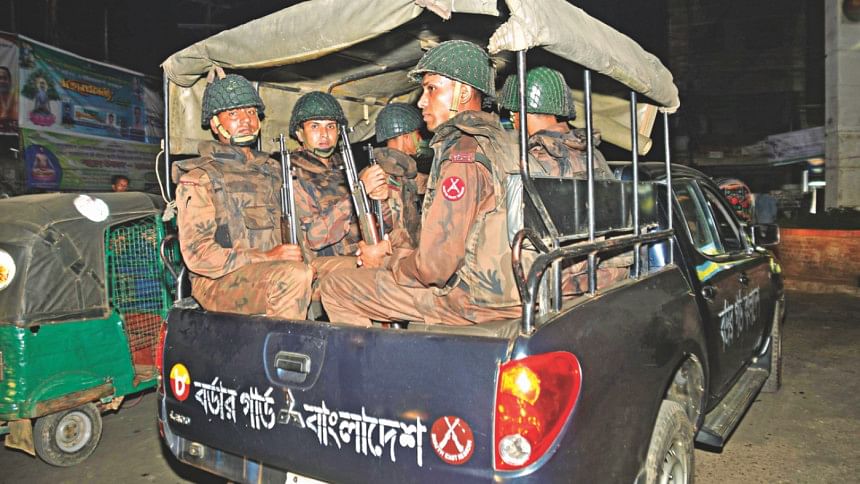 Security was beefed up further in the capital and elsewhere yesterday in a bid to prevent any act of sabotage centring on the execution of war criminals Ali Ahsan Mohammad Mojaheed and Salauddin Quader Chowdhury.
Vehicles were not allowed since the afternoon to ply the roads going to Dhaka Central Jail where the two convicts had been kept. 
The police and Rapid Action Battalion personnel remained vigilant on Dhaka roads and near the jail. Law enforcers were also seen on the roofs of buildings around the jail.
Besides, platoons of Boarder Guard Bangladesh (BGB) were deployed in major cities, including Dhaka, Chittagong and Rajshahi last evening.
The measures were taken hours after Home Minister Asaduzzaman Khan Kamal said Salauddin and Mojaheed had pleaded for presidential clemency.
Their long legal battles ended on Wednesday as the Supreme Court dismissed their appeals for review of the verdicts upholding their death penalty handed down by the International Crimes Tribunals in 2013.
Twenty platoons of BGB deployed in the capital were to remain on duty until this morning, said Mohsin Reza, public relations officer at the BGB headquarters in Dhaka.
Debdas Bhattacharya, additional commissioner (crime and operation) of Chittagong Metropolitan Police, said additional forces had been deployed across the city to prevent subversive activities.
Sixteen teams of special riot force of the police were deployed in the port city, he said, adding they would be on the alert for any untoward incident and conduct raids in different areas.   
Additional forces were also deployed in different upazilas of Chittagong district, said Muhammad Naimul Hasan, additional superintendent of police (special branch) in Chittagong.
A total of 15 platoons of BGB were deployed in Chittagong division around 6:00pm yesterday.
Of those, six platoons in Chittagong city, two each in Lohagara, Satkania and Raozan upazilas and three in Cox's Bazar district, said Lt Col Emarat Hossain, commanding officer of 28 BGB Battalion.
They will be on guard until further instructions, he added.
In Rajshahi, seven platoons of BGB were deployed in the evening, reports our Rajshahi correspondent.
The police were on the alert on roads and in different areas while reserve forces had been kept ready for deployment, said Sushanto Chandra Roy, spokesperson of Rajshahi Metropolitan Police.