Sculpture at SC: Such statue shouldn't be here: PM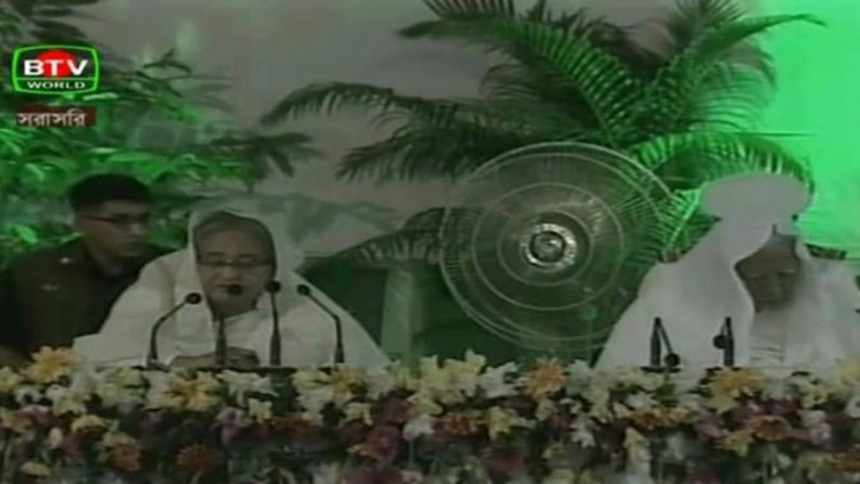 Prime Minister Sheikh Hasina yesterday said she did not like setting up the statue of Greek Goddess Themis on the Supreme Court premises.
"Why would the statue of Greek Themis be set up in Bangladesh? The Greeks had a certain type of costume, but here a statue has been built and it is wearing a sari. It's a funny incident. I don't know why such an incident happened," she said.
The PM was addressing a meeting of the Alem and Ulema from Qawmi madrasas at the Gono Bhaban last night.
The Islamic religious leaders recently demanded the authorities remove the statue from the SC premises.
Hasina said she would soon discuss the matter with the chief justice and urged the Alem-Ulema to have patience. "Keep faith in me, I'll do whatever necessary."
She called upon them to influence the youths and children so that they do not take the wrong path of terrorism and militancy.
"Islam is a religion of peace and this holy religion is now being maligned due to the terrorist and militant activities of some people," she added.
The PM sought blessings from the countrymen and the Alem-Ulema so that the Awami League can run the country successfully.
Later, Allama Shah Ahmad Shafi, chairman of Bangladesh Qawmi Madrasa Education Board, conducted a munajat.
Imam of Sholakia Eidgah and President of National Deenia Education Board Maulana Farid Uddin Masud, Maulana Nur Hossain Quasemi, Maulana Abdul Basir, Maulana Arshad Rahmani, Maulana Abdul Quddus, Maulana Ruhul Amin and Maulana Abdul Halim Bokhari also spoke at the meeting.