Public Transport: 87pc vehicles violate rules
Finds survey by passenger welfare body; puts forward recommendations for safe roads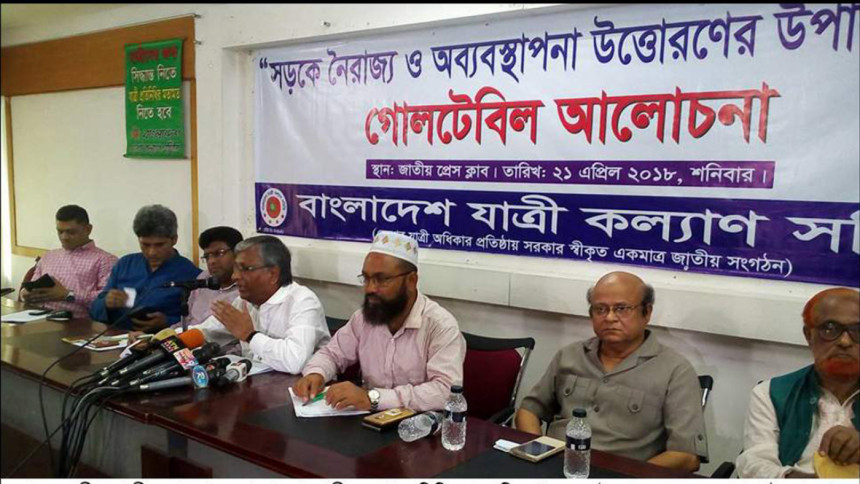 At least 87 percent buses and minibuses ply the roads in the capital recklessly in violation of traffic rules, creating anarchy in the public transport sector, said a passenger welfare platform citing its survey covering over one thousand vehicles.
"The management and order in the road sector has deteriorated severely," said Mozammel Haque Chowdhury, secretary general of Bangladesh Jatri Kalyan Samity, while presenting the findings at a roundtable at the Jatiya Press Club yesterday.
"Commuters, drivers, transport owners and traffic officials and highway police are acting at will. There are relevant laws and rules but nobody is following those. Actually there is no enforcement of laws on roads," Mozammel said in his written speech.
Based on another survey conducted in 2015 in 16 districts including Dhaka, he said around 72 percent vehicles had no fitness clearance while 16 lakh out of 70 lakh drivers didn't have driving licence.
The platform came up with 10 recommendations including bringing all buses under some particular companies to stop unhealthy competitions that contribute to accidents.
The mismanagement in road transport sector, reckless driving and race among vehicles to pick passengers came to the fore recently after several passengers died or suffered grave injuries in     accidents.
On April 3, Titumir College student Rajib Hossain lost his right hand after it got stuck between two speeding buses trying to overtake each other near Sonargaon intersection. He died on Tuesday.
Talking to The Daily Star after the programme yesterday, Mozammel said they surveyed 1,087 buses and minibuses in the capital over the last three months and found 87 percent of those operating recklessly and flouting rules.
"We have checked the number plates with BRTA's database, observed the movement of the vehicles and analysed some other issues."
According to Bangladesh Road Transport Authority (BRTA), about 8,000 buses and minibuses operate in the capital.
Instead of maintaining order and discipline on roads, Mozammel alleged, BRTA and traffic division of police are busy with imposing fines and extortion.
Despite several attempts, BRTA Chairman Md Moshiar Rahman could not be reached for comments over phone.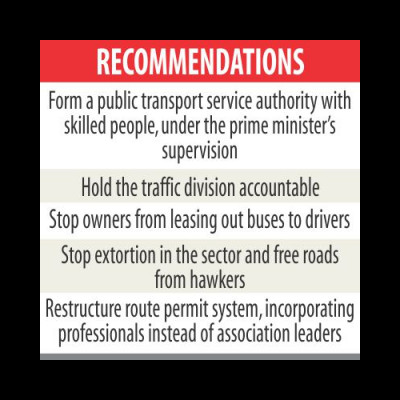 Asked about the survey, Mir Rezaul Alam, additional commissioner (traffic) of DMP, said usually there is a tendency among the drivers to violate traffic rules.
"It is true that many of them drive recklessly, get engaged in unhealthy competition and pick passengers here and there," he said, "But it is also true that we couldn't give them required facilities including bus stoppages."
There is also lack of awareness among commuters and they also violate traffic rules, he said.
"Despite our limitations," he said, "We are trying our best to enforce rules."
Asked about the alleged extortion by police, he said "We will take legal action if we find such allegations to be true."
'PLANNED MURDERS'
The platform said at least 64 people are losing lives while 150 others are getting injured across the country every day.  
At least 1,841 people were killed and 5,477 injured in 1,779 road accidents between January 1 and April 20 this year. Of those wounded, 288 were maimed, it added.
"These are not accidents. We want to call them planned murders. Because, we are being forced to use road in an anarchic situation marked by mismanagement and indiscipline," Mozammel said.
According to the organisation, at least 7,397 people were killed and 16,193 others injured in 4,979 road accidents last year. Among the injured, 1,722 were maimed for life.
Road accidents increased by 15.5 percent, deaths in crashes increased by 22.2 percent and the number of injured by about 2 percent last year from that in 2016.
Around 50 lakh vehicles, including 31 lakhs registered ones, are currently plying roads. Of them, 72 percent lack fitness clearance, Mozammel said, based on BRTA data and their own study.
On the other hand, only 16 lakh drivers out of 70 lakh hold licence, he added.
Dhaka Metro Regional Transport Committee, which is responsible for giving route permit to transport owners, lacks professionals and representatives from passengers, he said.
"Some influential leaders of associations of owners and workers actually control the committee…. The committee plays no role to stop such anarchy and harassment."
Mozammel said bus owners often lease out their vehicles to the drivers, who indulge in rash driving and operate as many trips as possible just to maximise profit. In this situation, drivers are least bothered about road accident.
He also noted that because of unscrupulous contractors with political links, roads and highways have fallen into disrepair. 
Speaking at the programme, National Human Rights Commission Chairman Kazi Reazul Hoque said people's right to life is being crushed under the wheels due to mismanagement and anarchy in the road sector.
"Many of the deaths can be avoided if the laws are executed properly," he said.
Transport expert SM Salehuddin said under the leadership of mayor Annisul Huq, specific plans on "rationalisation of bus routes" and "company-based bus operation in Dhaka" were chalked out and given to the government.
After the death of the mayor, the implementation of the plans suffered a setback but the work resumed recently. If the plans are implemented properly, there will be no more anarchy and mismanagement in this sector, he said.
Supreme Court lawyer Jyotirmoy Barua said the existing laws regarding the transport sector have no application at all.
"Those who are supposed to execute the law are actually responsible for the anarchy in the transport sector. So the law has to be changed," said Jyotirmoy Barua, also vice-chairman of Road Safety Foundation, an organisation working for safe road and safe driving.
He said more than 50 percent of those killed in road accidents are usually the earners in their families. So, provisions have to be incorporated in the new law so that the victims' families get necessary support.
Zonayed Saki, central coordinator of Gono Sanghoti Andolon, and Buet Professor Mahbub Alam Talukder also spoke at the discussion.