Rights situation remains alarming
ASK sees continuing violation of human rights in last 4 years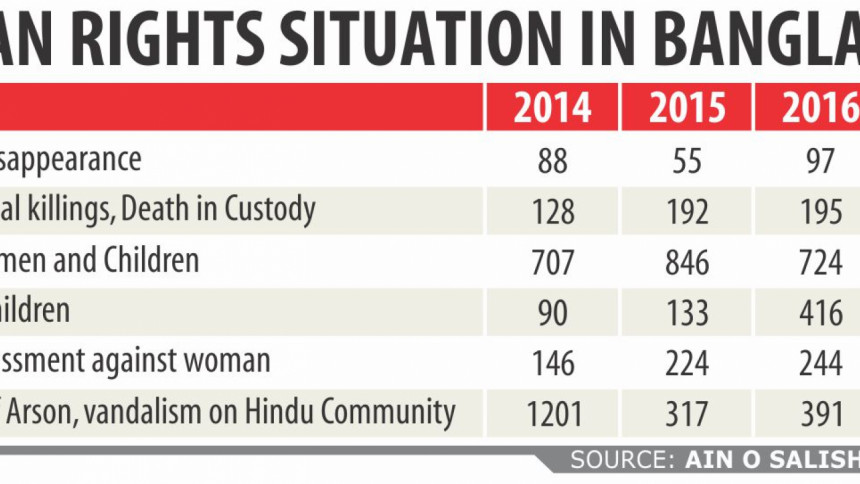 The overall human rights situation in the country was as alarming in the just concluded year as it had been in the past three years, according to rights body Ain o Salish Kendra.
Incidents of extrajudicial killings, enforced disappearances and violence against women and children persisted throughout last year.
Though the country witnessed a continuation of economic and socio-cultural development, there wasn't much progress on civic and political fronts, according to an annual report released yesterday by ASK at the Dhaka Reporters' Unity.
The report, based on media reports and ASK's own investigations, shows an alarming overall state of the country's human rights situation.
And Bangladesh had to pay for it too.
The country came close to winning the London based magazine Economist's "country of the year" title this year for giving shelter to the persecuted Rohingyas who fled violence in Myanmar, its rapid economic growth and a sharp fall in poverty rates. But the Economist passed it over, saying, "Had it not crushed civil liberties and allowed Islamists free rein to intimidate, it might have won."
Former National Human Rights Commission chairman Prof Mizanur Rahman told The Daily Star that it is not possible to have sustainable development without protection of human rights.
"True development is human development. Human development is not possible without respecting human rights," he added.
The Dhaka University Prof also said "The state must be responsive to the needs and to the dignity of its citizens…there has to be strong bond between the state and citizens. The bond can only be through respect for human rights" 
The Daily Star analysed ASK's reports of the previous three years and found the rights body was advocating for improvement of the human rights situation coming up with almost same findings each year. 
The report praised Bangladesh's step to shelter Rohingya refugees and the court verdict on the seven-murders in Narayanganj but it criticised the police action on Titumir College student Siddiqur Rahman on July 20 which damaged both his eyes and the use of 'sound stimulator' (Acoustic Hailing Device) on pro-hartal activists on November 30 at the capital's Shahbagh.
ENFORCED DISAPPEARANCE AND ABDUCTION
Though the number of incidents of abduction and enforced disappearance decreased in last year, people of different professions fell victim of it, according to ASK. Whereas political leaders and activists were mainly the victims in previous years, this year people from all walks of life were targets.
"It is alarming and a matter of grave concern that common people, including a teacher and a journalist, went missing last year. We previously thought that the non-partisan people should have no fear of it but those days are gone," said Sheepa Hafiza, executive director of ASK, while disclosing the findings.
According to the report, at least 60 people fell victim to abduction or enforced disappearances last year.
Bodies of two such victims were recovered later, eight were claimed to have been arrested by law enforcers, seven returned home while the rest are still missing.
The 60 people include former Bangladesh ambassador to Vietnam Maroof Zaman, North South University teacher Mubashar Hasan, journalist Utpal Das and businessman Aniruddha Kumar Roy.  The ambassador is one of those who still remain missing. 
EXTRA-JUDICIAL KILLINGS
In 2017, at least 162 people were killed in "crossfire", "shootout", and "gunfight" with law enforcement agencies or while they were in their custody, a decrease compared to 195 people in the previous year. The number of such deaths was 192 in 2015 and 128 in 2014.
ASK yesterday demanded the formation of an independent commission to investigate incidents of enforced disappearances, abductions, mysterious disappearances and extra-judicial killings.
The National Human Rights Commission is yet to find an answer for the relatives of victims of 154 incidents of enforced disappearances, custodial torture and deaths, extrajudicial killings and other rights violation from 2012 till last year. It did not get investigation reports on those incidents even after writing as many letters.
Rape and violence against women and children
The report said the number of rape, sexual assaults and incidents of violence against women were higher in 2017 than the last couple of years.
A total of 818 women were raped across the country, among which 47 were killed and 11 committed suicide.
A total of 255 women were victims of sexual assaults. Among those, 12 committed suicide, and three women among 13 were killed when they tried to protest against the crime.
A total of 303 women became victims of violence over dowry, among which 145 were killed and 10 committed suicide. Also, 441 women were victims of domestic violence, including 270 who were murdered by their in-laws and 34 were killed by their own family members. 57 victims of such crimes committed suicide.
Besides this, 10 women became victims of fatwa, 43 house helps were tortured among whom 26 died. 32 women were victims of acid attacks which saw the death of one.
ATTACK ON MINORITY COMMUNITY
The repression of minorities decreased in 2017, as per the report.
A total of 258 cases of attacks on minorities, including those against Hindu communities, took place this year. The number was 391 in 2016, 317 in 2015 and 1201 in 2014. In 2014, the general elections were held and the country saw the highest number of attacks on minority communities.
The incidents included attacks on and vandalism of 212 Hindu idols, 45 houses and 21 businesses of people from the Hindu community across the country. One Narayan Chandra Das in Hatiya of Noakhali was killed over extortion.
FREEDOM OF EXPRESSION
Freedom of expression is a constitutional right but it was violated on several occasions, ASK said, adding that government vigilance on different mass and social media under the controversial section 57 of the  Information and Communication Technology (ICT) Act continued this year.
The rights body observed that the proposed Digital Security Act also includes regulations similar to section 57 of the ICT Act, which hinders the freedom of expression of people.
A total of 54 people were sued under section 57 of ICT Act in 2017, it said.
REPRESSION OF JOURNALISTS
A total of 122 journalists across the country faced repression and assault by law enforcers, influential people, local representatives, criminals, political activists and government officials, while performing their duties last year, which was higher than that of 117 in 2016.